Anne and Shubert met in Los Angeles, where she'd grown up and he was attending business school. After their marriage in 1950 the Fendrichs moved to Shubert's hometown of Portland, Oregon, where he went to work in the family furniture store--which, almost immediately, wasn't interesting enough for Shubert. He found the brand-new subject of gerontology much more intriguing. "He got a Social Security Administration job in Billings, Montana," Anne recalls. "We moved. Six months later there was a reduction in force, and that was the end of that job. For a while, he started an insurance company."
When that paled, Shubert contacted an employment agency, where an astute job counselor asked him which courses he'd liked best in college.
"Sociology, theater, English," Anne remembers. "What he liked least, it turned out, was business. So she found him a job as a radio-station copy writer in Cody, Wyoming. It was a small town, but not lacking in culture."
The Fendrichs quickly became enmeshed in what there was of it. Shubert joined the Cody community theater, where he found success as a melodrama villain. Soon he was writing his own melodramas, and he directed Anne in her first (and only) stage appearance, as "a French maid with a phony French accent" in a one-act farce. Anne hated the stage fright.
But her husband loved the theater. Often Anne would find herself sitting in the audience of yet another melodrama, written by and starring Shubert and featuring the amateur actors of Cody. "Being the straight man in the family, I never could see how the actors would ever pull it off," she says. "Rehearsals drove me crazy. I stopped going. Then I'd go to opening night, and everything would be fine in front of an audience."
Shubert was hooked. "Soon," Anne says, "he decided that what the world needed was a publisher of non-royalty, one-act plays." More specifically, the world needed non-royalty, one-act plays that community theaters in small towns such as Cody could put on cheaply and easily. But appropriate one-acts--affordable and with just the right, light touch--were hard to find. So in 1960 Shubert placed a "writers wanted" ad in a playwriting magazine, picked the best ones he received, bought a mailing list and started Pioneer Drama Service.
For the first fifteen years, Pioneer was strictly not-for-profit. Steve and his sister, Karen, would come home from school to find stacks of catalogues piled around the living room and know that they'd be spending the evening pasting on mailing labels. When Shubert left the radio station to take over publication of the Cody Rustler, a local shopper, he gained access to a printing press, and the family started printing Pioneer's catalogues, too.
"Which plays were successful? Very often, not the kind of plays I like to read," Anne remembers. "I would find plays I thought were just beautiful, and no one would buy them." A Pioneer catalogue from the mid-Sixties, however, makes the Cody theater scene sound quite impressive: "If your travels lead you to Yellowstone Park, we hope you'll stop by and pay us a visit," it reads. "Many prominent painters and writers make their home here...and the community is justly proud of its reputation as the world center of Western Art and Western Americana...We also extend a personal invitation for an evening at our own Pioneer Playhouse, where we have the opportunity to try out many of the new plays you will find in our catalogue each season."
The 1966 catalogue had something for everyone--with a vengeance. About one-third of its offerings were melodramas, including no fewer than five one-acts written by Shubert himself and featuring villains with names like Snipe Vermin. "Melodrama is great fun for both actors and audience, because everybody takes part," the catalogue explained. "Add a community sing plus olio numbers and you have the grandest evening of entertainment possible."
For those with less predictable tastes, several avant-garde selections were available, including The Denouement, a thirty-minute piece of "unusual theater" that "takes place in an institution of some type, in which two visitors examine three inmates. Much of it revolves around a white-haired man who sits with his arm in the air because dropping his arm will mean the end of the world. The play ends rather abruptly," the catalogue confessed, "when his arm falls." It was just the right selection for "shock-proof audiences"--or that's how Shubert Fendrich assessed the situation thirty years ago.
But 1966 seems to have had more than its share of shocking drama. In The Cry of Crows, a lovely young girl's life is ruined "by vicious gossip which grows from a chance encounter with an old acquaintance who makes a 'pass' at her in public. The very nature of this type of play makes it somewhat difficult for some audiences to accept," the catalogue warned.
No problem. Pioneer also had children's plays, with the usual complement of talking bunnies and adorable trolls; farces, including The Four-Cornered Triangle, advertised as "an operetta without music for people who can't sing"; and the winner of Shubert's own Best Play of 1965 contest: Not Far From the Giaconda Tree, written by Tim Kelly, who had already written a half-dozen plays for Pioneer and would go on to write more than a hundred more.
In Giaconda Tree, Kelly dealt with the arguably obscure theme of seven Russian princesses living in exile in Israel. It was impressive, but not as impressive as another Kelly skill: He could write with the voice and soul of an eighth-grader--never mind which decade the eighth-grader lived in.
"I don't even know how old Tim Kelly is," Steve Fendrich says. "Maybe mid-fifties? But he's still cranking this stuff out. He thinks like a kid. He even has their sense of humor. Dad recognized his talent right away."
In 1970, when Pioneer was ten years old, Shubert recognized something else: He was bored, a feeling that always acted as a catalyst for change. No longer challenged by the Cody Rustler, he sold the paper to his employees and moved his family to Laramie, where he threw himself into pursuing a master's degree in theater. That was fine with Anne--she decided to get her own master's, in education.
Once they'd earned their degrees, though, the Fendrichs decided to move on. "Sometimes I pushed things and had my way," Anne recalls. "After Laramie, I decided we should have an address that would be more conducive to a publisher of plays."
Albuquerque or Denver, she told Shubert. Either town would be big enough and Western enough--and both had the Jewish communities she'd longed for during the Wyoming years. Shubert picked Denver, and Anne picked a house within walking distance of the Jewish Community Center. With the exception of Steve, who walked into race riots on his first day of junior high, the Fendrichs were excited about their new hometown. Shubert went to work as an adman. Anne tried teaching, hated it, and decided to put her considerable energies--and her education degree--into Pioneer Drama Service.
"That's when we found our focus," Steve recalls. "It turns out junior-high and high-school kids love farces. We began to find plays with lots of cameo roles instead of starring roles, so that everyone can be someone special. Kids don't like to play serious roles. They like to be goofy. Either Tim figured that out or Mom or Dad did, or they all did it together."
Anne remembers strategy sessions during which they picked apart the standard school productions. "Historical plays," she says. "They don't work. The characters are primarily male--and who shows up for auditions? Girls. Shubert knew that. He was also the first to say that we have to have plays that are actor-proof and director-proof. One light, one set, no curtain, and costumes that are incredibly easy."
Thinking they were on to something, Shubert decided to begin charging royalties for Pioneer's product. Playwright and publisher could both make more money that way, and the total amount a small theater or school would have to pay would still be much, much less than the freight for putting on a successful behemoth such as Fiddler on the Roof or Hello, Dolly. Besides, Shubert liked to think he had some properties that the big New York publishers might never have heard of.
Pioneer's biggest hits, however, might strike them as strangely familiar.
"It started with the Fifties phenomenon," Steve says. "We were sitting around the office one day--me and my dad and an editor named Chris Mohr. Grease was really big, and my dad said he wished we could publish something like that, only moral. The whole point should not be that some girl gets laid. And that's how we wrote Ducktails and Bobbysox. I wrote the lyrics myself."

xxxxx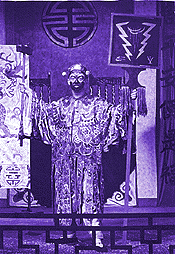 The King: Shubert Fendrich had Pioneer Drama Service humming smoothly. Now, it's Steve Fendrich who has the publishing house whistling a happy tune.

"Life with Shubert was never, never dull."