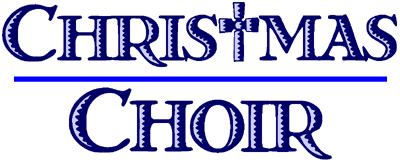 By Pat Cook
CAST: Flexible cast of 12 (about 5M, 7F)
SET: One simple set
TIME: About 40 minutes

Script: $6.25 Director's book: $17.50


ROYALTY:
$45 First Performance
$45 Each Additional Performance

The Christmas choir has never sounded worse! Perhaps it's because of a lack of talent or not enough rehearsals... or it could be because the choir members aren't sincere in their reasons for being there. Dede is trying to drum up votes for the next city council election while Laraine just wants to get out of the house and away from her large, loud family. George is always trying to sell insurance while Phoebe is trying to catch the eye of choir director, Michael, whom she simply adores. Not even Ron, the photographer, can get them to cooperate! Fast lines fly in this zany send-up of human nature — some hilarious, some poignant — with each character getting his or her moment in the spotlight... literally! Read more...
Additional products available:
Director's book: $17.50

Use this script sample — including the cast list, production notes and several pages of the actual script — to help you select your next show. It is open in a new browser tab or window. To open it again, please click here.
Close
MT OLIVE FREE WILL BAPTIST
RUSH, KY
RETREAT BAPTIST CHURCH
WESTMINSTER, SC
STACIE CALE
ST MARYS, WV
KAY DOWNS
MITCHELL, GA
BETHEL BAPTIST CHURCH
HARRIMAN, TN
DAKOTA ADVENTIST ACADEMY
BISMARCK, ND
EMILY LEWIS
SYLVANIA, AL
ST. MARY SCHOOL
SCHWENKSVILLE, PA
BRADFORD ACADEMY
SOUTHFIELD, MI
ECOLE MALLAIG SCHOOL
MALLAIG, AB CANADA
REBEKAH WYLAND
MCCLURE, PA
ABUNDANT LIFE FAMILY CHURCH
DODGE CITY, KS
MICHAEL PARKER
BENTONVILLE, AR
ST PAUL'S SCHOOL
VISALIA, CA
WINCHESTER 1ST BAPTIST CHURCH
WINCHESTER, TN
YOUNG MUSICIANS OF VIRGINIA
VIRGINIA BEACH, VA
JUDY HARRIS
LURAY, VA
EVANGEL CHRISTIAN ACADEMY
MONTGOMERY, AL
HIDDEN VALLEY ELEM SCHOOL
AUSTIN, MB CANADA
MEISHA TANNER
LUCEDALE, MS
EL DORADO SPRINGS HIGH SCHOOL
EL DORADO SPRINGS, MO
MONTESANO JR/SR HIGH SCHOOL
MONTESANO, WA
DEEDEE GEVING
BAKER, MT
SHIRLEY LINDLEY
GRAHAM, NC
RIMBEY CHRISTIAN SCHOOL
RIMBEY, AB, CANADA
MCARTHUR AVENUE PLAYERS
DILLON, SC
SHOWTIME DANCE CENTER FOR ARTS
ALTAMONTE SPRINGS, FL
SECOND BAPTIST CHURCH
GRANITE CITY, IL
WOODSTOCK MIDDLE SCHOOL
MILLINGTON, TN
NEWELL COLONY SCHOOL
BASSANO, AB, CANADA
ELMORE MEMORIAL ADVENT CHURCH
CHARLESTON, WV
THE COVINGTON
ALISA VIEJO, CA
EVANS SENIOR CENTER
GROVE CITY, OH
ST FRANCIS DE SALES HS
CHICAGO, IL
CALVARY CHRISTIAN ACADEMY
ORMOND BEACH, FL
LOWERY FREE WILL BAPTIST
TWIN OAKS, OK
MT CARMEL ACADEMY
HOUSTON, TX
COWEE BAPTIST CHURCH
FRANKLIN, NC
RIVERSIDE ASSEMBLY OF GOD
ROCKFORD, IL
LITTLE WHITE WATER BAPTIST CH
PATTON, MO
CROSSROADS CHURCH
ALBERT LEA, MN
FIRST BAPTIST CHURCH
FRISCO, TX
MOTHER TERESA HALKIRK CATH SCH
HALKIRK, AB, CANADA
CALVARY ASSEMBLY OF GOD
CLIO, AL
Close
Other titles
you may like:
Other products you might be interested in:
ShowSmarts
An easy to understand guide with step-by-step instructions for making any children's performance a successful and rewarding experience.
Christmas on Stage
This book will make Christmas more meaningful — and fun! — for performer and audience alike with this diverse collection of 27 Christmas plays and readings suitable for classroom or youth presentations.