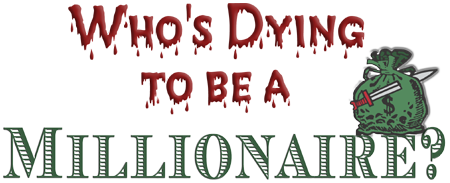 By Pat Cook
"Answer this next question and win a million dollars!" bellows Reginald Smarmy, the oily host of the hottest game show in town. But what can anyone do when a confident and poised contestant responds correctly to a challenging question... and immediately falls down dead?! The next night, the same thing happens to another contestant. The police say he was electrocuted by the phone wire when he was playing his "Mother, May I?" card and calling his mother for help. The next contestant, poor Dede McCoy, didn't even get to introduce herself before being stabbed in the back. After three murders, you have to wonder who would even want to be the next contestant! Read more...
Additional products available:
Director's book: $20.00
DVD of amateur performance: $10.00

Production Photos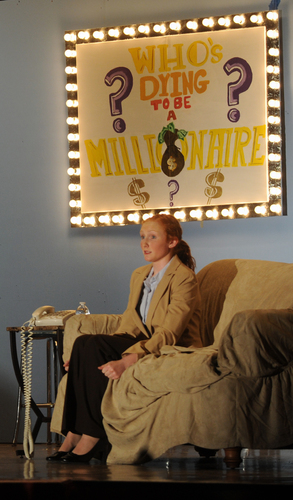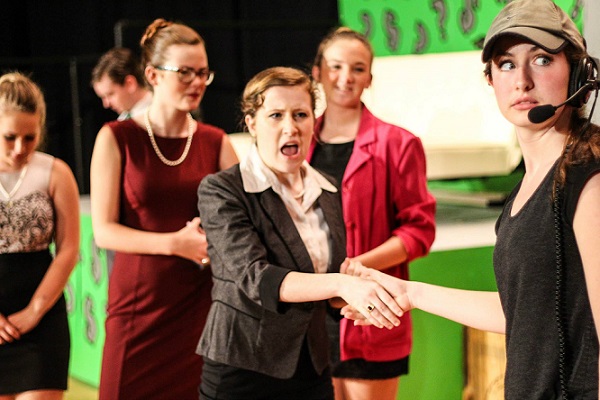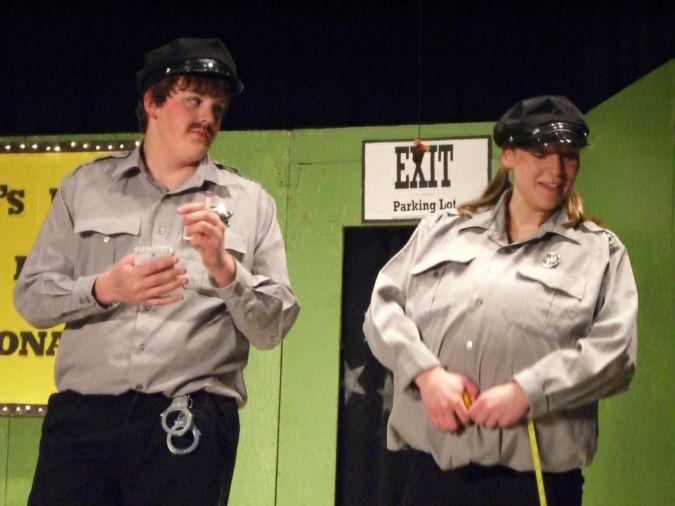 Use this script sample — including the cast list, production notes and several pages of the actual script — to help you select your next show. It is open in a new browser tab or window. To open it again, please click here.
Close
NEW ATHENS CUSD #60
NEW ATHENS, IL
MT PULASKI HIGH SCHOOL
MT PULASKI, IL
ZAMORA MIDDLE SCHOOL
SAN ANTONIO, TX
WALNUT STREET SCHOOL
RIVERSIDE, NJ
ST JOSEPH CATHOLIC CHURCH
TABER, AB CANADA
TIMOTHY CHRISTIAN SCHOOL
ELMHURST, IL
FOWLER SCHOOL
MAYNARD, MA
FALCON RIDGE MIDDLE SCHOOL
APPLE VALLEY, MN
OYSTER RIVER MIDDLE SCHOOL
DURHAM, NH
ST MARIES HIGH SCHOOL
SAINT MARIES, ID
CRESTVIEW MIDDLE SCHOOL
ELLISVILLE, MO
MEMORIAL PARK MIDDLE SCHOOL
FORT WAYNE, IN
GARNER HAYFIELD COMMUNITY SCH
GARNER, IA
PAXON SCHOOL FOR ADV STUDIES
JACKSONVILLE, FL
ST BRENDAN'S SCHOOL
ORMOND BEACH, FL
SENATOR GERSHAW SCHOOL
BOW ISLAND, AB CANADA
DELMAR SCHOOL DISTRICT
DELMAR, DE
HOLSTEIN COMMUNITY THEATRE
HOLSTEIN, IA
SANGAMON VALLEY MIDDLE SCHOOL
ILLIOPOLIS, IL
TIOGA ELEMENTARY SCHOOL
TIOGA CENTER, NY
JOHNSON MIDDLE SCHOOL
WALPOLE, MA
WM PENN HIGH SCHOOL
NEW CASTLE, DE
DODGEVILLE HIGH SCHOOL
DODGEVILLE, WI
NILES ELEMENTARY DIST 71
NILES, IL
MOHAWK JR/SR HIGH SCHOOL
BESSEMER, PA
CARSONVILLE-PORT SANILAC HS
CARSONVILLE, MI
ROOTSTOWN HIGH SCHOOL
ROOTSTOWN, OH
MINT HILL MIDDLE SCHOOL
MATTHEWS, NC
OAKLAND MIDDLE SCHOOL
MURFREESBORO, TN
HOLY CROSS HIGH SCHOOL
COVINGTON, KY
VALLEY SCHOOL
TURKEY, TX
ST BRUNO PARISH SCHOOL
DOUSMAN, WI
AVE MARIA CATHOLIC SCHOOL
PARKER, CO
TEMPLE CHRISTIAN SCHOOL
FORT WORTH, TX
WETMORE HIGH SCHOOL
WETMORE, KS
BERRY MIDDLE SCHOOL
HOOVER, AL
NORTH JEFFERSON MIDDLE SCHOOL
KIMBERLY, AL
GILBERT COMMUNITY SCHOOL
GILBERT, IA
PAVILION CENTRAL SCHOOL
PAVILION, NY
WES-DEL HIGH SCHOOL
GASTON, IN
MARINA HIGH SCHOOL
HUNTINGTON BEACH, CA
CENTENNIAL HIGH SCHOOL
BURLESTON, TX
KELLAM HIGH SCHOOL
VIRGINIA BEACH, VA
PEMBERVILLE PUBLIC LIBRARY
PEMBERVILLE, OH
PLACERITA JUNIOR HIGH SCHOOL
NEWHALL, CA
SOUTH PLAINFIELD MIDDLE SCHOOL
SOUTH PLAINFIELD, NJ
VICTORY BAPTIST ACADEMY
BEAVER, WV
SHRINE CATHOLIC ACADEMY
ROYAL OAK, MI
Close
Other titles
you may like:
Other products you might be interested in:
Spontaneous Performance
Over 300 improvisational exercises and theatre games are offered to develop creative abilities and acting skills. Many different types of improvs are presented, ranging from serious to hilarious.