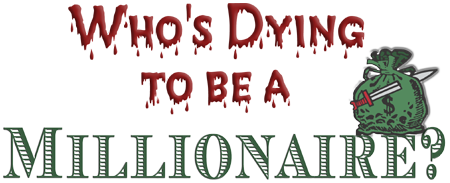 By Pat Cook
'Answer this next question and win a million dollars!' bellows Reginald Smarmy, the oily host of the hottest game show in town. But what can anyone do when a confident and poised contestant responds correctly to a challenging question... and immediately falls down dead?! The next night, the same thing happens to another contestant. The police say he was electrocuted by the phone wire when he was playing his 'Mother, May I?' card and calling his mother for help. The next contestant, poor Dede McCoy, didn't even get to introduce herself before being stabbed in the back. After three murders, you have to wonder who would even want to be the next contestant! With horror happening before everyone's eyes, director Clovis Darnell has her hands full dealing with a police chief who is trying to cancel this popular show while the studio vice president is aggressively skirmishing to keep it on the air. After all, ratings have never been better! And what about all of the other questions that continue to pop up? Does the fishy phone call threatening to blackmail the show writer have anything to do with this madcap mystery? Why does Sally Dean Riviera, a rival show host, just happen to arrive? And is Denny Perkins, stage manager and armchair detective, capable of solving this crime? Clever roles galore include the boisterous Mayor Bertha Hoggens, a group of her hilarious star-struck city council members and eccentric Sofie Mondello, who seems to confess to everything! All of these wild characters combine to make one oddball thriller! Contestants are dropping as fast as the wisecracks in a wild, riotous lampoon of quiz shows, politics and basic human nature. After all, what would you answer if someone asked you, 'Are you dying to be a millionaire?'
Additional products available:
Director's book: $22.50
DVD of amateur performance: $10.00

Production Photos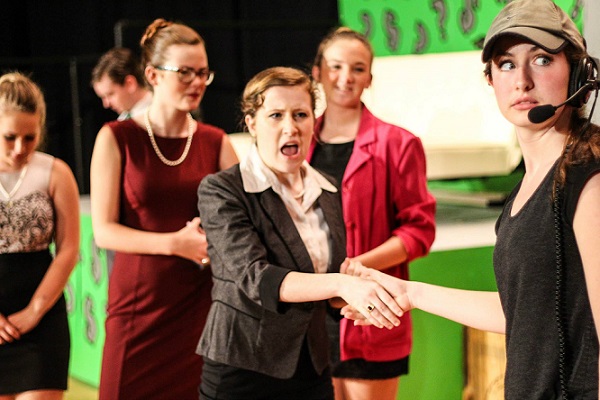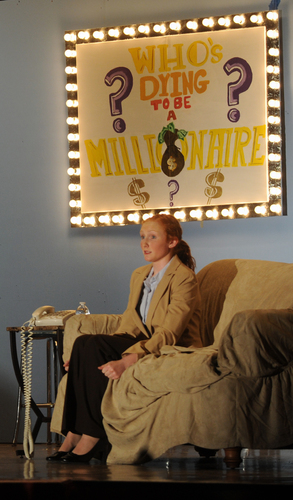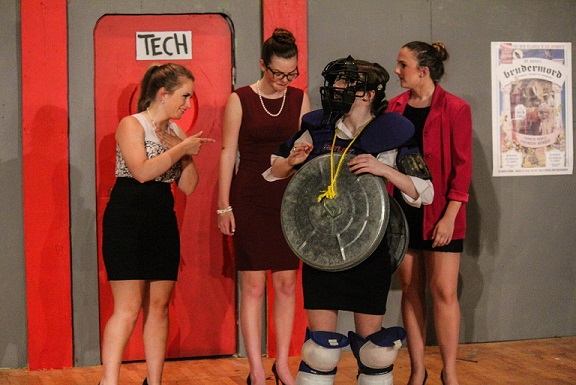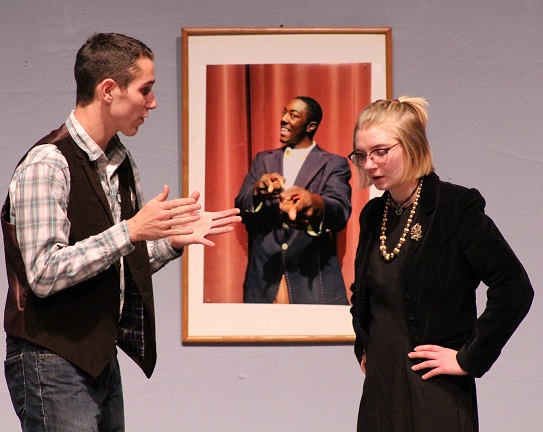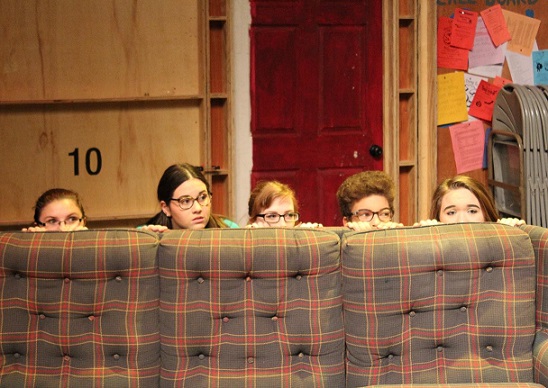 Use this script sample — including the cast list, production notes and several pages of the actual script — to help you select your next show. It is open in a new browser tab or window. To open it again, please click here.
Close
CHESTERTON ACADEMY OF BUFFALO
CHEEKTOWAGA, NY
MITCHELL SCHOOL DISTRICT
MITCHELL, SD
SAINTS PETER AND PAUL CHURCH
GRAND RAPIDS, MI
DEWITT PUBLIC SCHOOLS
DEWITT, MI
IGNACIO SCH DIST 11 JT
IGNACIO, CO
MANSON NORTHWEST WEBSTER CSD
MANSON, IA
LENT ELEMENTARY SCHOOL
PORTLAND, OR
SW CHICAGO CHRISTIAN SCHOOL
PALOS HEIGHTS, IL
LARNED HIGH SCHOOL
LARNED, KS
NEW ATHENS CUSD #60
NEW ATHENS, IL
MT PULASKI HIGH SCHOOL
MT PULASKI, IL
ZAMORA MIDDLE SCHOOL
SAN ANTONIO, TX
WALNUT STREET SCHOOL
RIVERSIDE, NJ
ST JOSEPH CATHOLIC CHURCH
TABER, AB CANADA
TIMOTHY CHRISTIAN SCHOOL
ELMHURST, IL
FOWLER SCHOOL
MAYNARD, MA
FALCON RIDGE MIDDLE SCHOOL
APPLE VALLEY, MN
OYSTER RIVER MIDDLE SCHOOL
DURHAM, NH
ST MARIES HIGH SCHOOL
SAINT MARIES, ID
CRESTVIEW MIDDLE SCHOOL
ELLISVILLE, MO
MEMORIAL PARK MIDDLE SCHOOL
FORT WAYNE, IN
GARNER HAYFIELD COMMUNITY SCH
GARNER, IA
PAXON SCHOOL FOR ADV STUDIES
JACKSONVILLE, FL
ST BRENDAN'S SCHOOL
ORMOND BEACH, FL
SENATOR GERSHAW SCHOOL
BOW ISLAND, AB CANADA
DELMAR SCHOOL DISTRICT
DELMAR, DE
HOLSTEIN COMMUNITY THEATRE
HOLSTEIN, IA
SANGAMON VALLEY MIDDLE SCHOOL
ILLIOPOLIS, IL
TIOGA ELEMENTARY SCHOOL
TIOGA CENTER, NY
JOHNSON MIDDLE SCHOOL
WALPOLE, MA
WM PENN HIGH SCHOOL
NEW CASTLE, DE
DODGEVILLE HIGH SCHOOL
DODGEVILLE, WI
NILES ELEMENTARY DIST 71
NILES, IL
MOHAWK JR/SR HIGH SCHOOL
BESSEMER, PA
CARSONVILLE-PORT SANILAC HS
CARSONVILLE, MI
ROOTSTOWN HIGH SCHOOL
ROOTSTOWN, OH
MINT HILL MIDDLE SCHOOL
MATTHEWS, NC
OAKLAND MIDDLE SCHOOL
MURFREESBORO, TN
HOLY CROSS HIGH SCHOOL
COVINGTON, KY
VALLEY SCHOOL
TURKEY, TX
ST BRUNO PARISH SCHOOL
DOUSMAN, WI
AVE MARIA CATHOLIC SCHOOL
PARKER, CO
TEMPLE CHRISTIAN SCHOOL
FORT WORTH, TX
WETMORE HIGH SCHOOL
WETMORE, KS
BERRY MIDDLE SCHOOL
HOOVER, AL
NORTH JEFFERSON MIDDLE SCHOOL
KIMBERLY, AL
GILBERT COMMUNITY SCHOOL
GILBERT, IA
PAVILION CENTRAL SCHOOL
PAVILION, NY
WES-DEL HIGH SCHOOL
GASTON, IN
MARINA HIGH SCHOOL
HUNTINGTON BEACH, CA
Close
Other titles
you may like:
Other products you might be interested in:
Spontaneous Performance
Over 300 improvisational exercises and theatre games are offered to develop creative abilities and acting skills. Many different types of improvs are presented, ranging from serious to hilarious.