Suggested by Nikolai Gogol's The Inspector General

By Tim Kelly
CAST: Flexible cast of 20 (about 8M, 12F), optional extras
SET: Interior hotel lobby set
TIME: About 90 minutes
Script: $7.00

ROYALTY:
$55 First Performance
$45 Each Additional Performance

Get set for a wild romp suggested by one of the greatest farces ever written. This cockeyed version takes us to Arizona Territory in the 1880s and the dusty town of Tumbleweed. The pompous Mayor Oates has been hired by a Boston businessman to build a town that one day will be the Territory's capital. To fill the local positions — sheriff, schoolmarm, doctor — he hires his incompetent relatives (kickbacks included, of course!). The news that a Pinkerton detective is coming from Boston to inspect the town's development throws the whole family into a panic. Since they've been pocketing the businessman's money, the town hall is nothing but a hole in the ground and the schoolhouse has no roof. A Medicine Show huckster, Professor Burns, is stranded in town because his dancing bear has tangoed away. The relatives assume the professor is the detective and he is only too happy to take advantage of their mistake. Together with the glamorous cardsharp, Lily de Lilac, he has the relatives tripping over one another in hysterical attempts to bribe him. Just when you think the dust is settling, who should turn up but the real detective. The hilarious twists and turns in the plot will have you holding onto your hat (and your sides)!
Additional products available:

Production Photos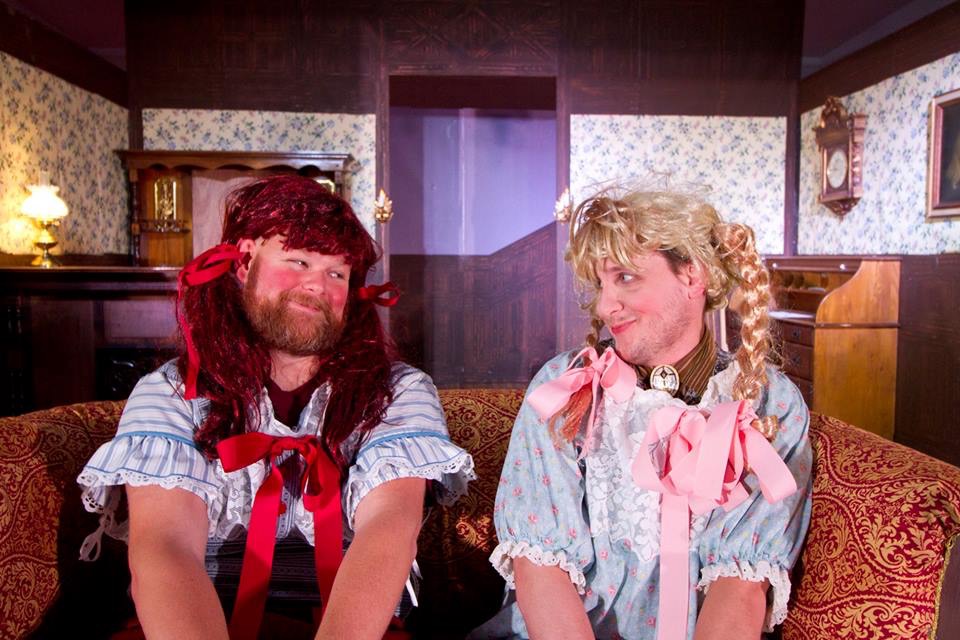 Use this script sample — including the cast list, production notes and several pages of the actual script — to help you select your next show. It is open in a new browser tab or window. To open it again, please click here.
Close
ARC LIGHT PRODUCTIONS
GLASFORD, IL
CROSSPOINTE CHRISTIAN ACADEMY
WILLIAMSON, GA
FORESTVILLE SCHOOL & ACADEMY
FORESTVILLE, CA
NESS CITY USD #303
NESS CITY, KS
MAYMONT CENTRAL SCHOOL
MAYMONT, SK CANADA
PLUM COULEE SCHOOL
PLUM COULEE, MB CANADA
GRACE LUTHERAN CHAPEL
SAINT LOUIS, MO
GARFIELD PALOUSE MIDDLE SCHOOL
GARFIELD, WA
SHELBY COUNTY PLAYERS
SHELBYVILLE, IN
ST ELIZABETH SETON SCHOOL
CALGARY, AB CANADA
ELAINE CONNELLY BLEISCH
ALLIANCE, NE
BRADSHAW MTN HIGH SCHOOL WEST
PRESCOTT VALLEY, AZ
GREENHORN VALLEY PLAYERS
RYE, CO
DOUGLAS COUNTY WEST HS
VALLEY, NE
P J JACOBS JUNIOR HIGH SCHOOL
STEVENS POINT, WI
SCHOOL DISTRICT RE-50J
WIGGINS, CO
WIDEFIELD COMMUNITY CENTER
COLORADO SPRINGS, CO
CEDAR VIEW CHRISTIAN SCHOOL
KINGSPORT, TN
ST STEPHEN SCHOOL
KINGSVILLE, MD
EAGLE ROCK JUNIOR HIGH SCHOOL
IDAHO FALLS, ID
SACAJAWEA JUNIOR HIGH SCHOOL
LEWISTON, ID
MARS AREA HIGH SCHOOL
MARS, PA
WINNER COMMUNITY PLAYHOUSE
WINNER, SD
LAKE WALES LITTLE THEATRE
LAKE WALES, FL
WESTSIDE BAPTIST CHURCH
MARTINEZ, GA
ST JOSEPH HIGH SCHOOL
CONWAY, AR
BREMEN HIGH SCHOOL
BREMEN, IN
POPLAR CREEK CHURCH
BARTLETT, IL
BELLEVUE CHRISTIAN SCHOOL
CLYDE HILL, WA
ST AUGUSTINE SCHOOL
OSSINING, NY
FAITH LUTHERAN CHURCH/SCHOOL
EUSTIS, FL
CHAMPION BAPTIST COLLEGE
HOT SPRINGS, AR
TRINITY CHRISTIAN SCHOOL
OPELIKA, AL
WENDOVER HIGH SCHOOL
WENDOVER, UT
POYNTER MIDDLE SCHOOL
HILLSBORO, OR
SODUS CENTRAL SCHOOL
SODUS, NY
CLAY CENTER HIGH SCHOOL
CLAY CENTER, KS
HAMLIN HIGH SCHOOL
HAYTI, SD
BASSETT HIGH SCHOOL
LA PUENTE, CA
IROQUOIS HIGH SCHOOL
IROQUOIS, SD
Close
Different versions of the
same or similar story:
Other titles
you may like:
Other products you might be interested in:
Play Directing in the School
This text details the world of producing plays in schools. Whether it's budgeting, scheduling or the motivating and management of students, this is a must for anyone in an educational institution.