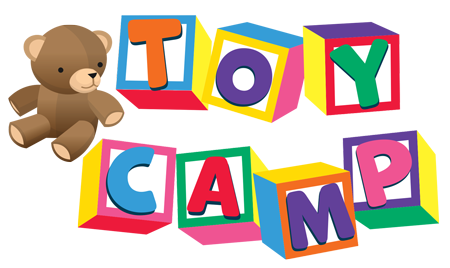 Book, music and lyrics by Paul Collette and Gary Fritzen
Enter into the world of make-believe, a place where toys learn to be good toys... at "Toy Camp." Ted E. Bear, Princess Ann, Glow Toy, and others have come to Toy Camp to hopefully graduate and earn their price tags to be sold at toy stores. Not graduating from Toy Camp means certain doom at the Toy Dump! During their week at camp, our friends learn lessons in paying attention and practicing, overcoming both their fears and their weaknesses. With a subtle moral about liking yourself and having confidence if you want to be loved by others, each toy realizes that it is good at something. This award-winning, lighthearted show will have your audiences tapping their toes to a variety of easily produced songs, including the love ballad "I Go To Pieces" (sung by puzzle pieces Jig and Saw!), Cool Cat's hip rap song, and "Things Are Ruff All Over, Rover," sung by an Elvis-like hound dog.

Winner of the Shubert Fendrich Memorial Playwriting Contest
Additional products available:
Director's book: $20.00
Piano score: $20.00
Production-rehearsal CD set: $75.00
CD sampler B: $4.00
DVD of amateur performance: $10.00

Use this script sample — including the cast list, production notes and several pages of the actual script — to help you select your next show. It is open in a new browser tab or window. To open it again, please click here.
Close
ANGLOPHONE SECT FONTAINEBLEAU
FONTAINEBLEAU FRANCE
LIVE OAK MIDDLE SCHOOL
TULARE, CA
CARDINAL STRITCH UNIVERSITY
MILWAUKEE, WI
TIFFANY SHANNON PRODUCTIONS
CHESTER, MD
ARENA PLAYERS YOUTH THEATRE
BALTIMORE, MD
PHARR-SAN JUAN-ALAMO ISD
PHARR, TX
ST JOHN THE BAPTIST
HAMILTON, ON CANADA
PORTAGE LA PRAIRIE SCHOOL DIV
PORTAGE LA PRAIRIE, MB CANADA
PARK CITY ELEMENTARY SCHOOL
PARK CITY, KY
MITKOF MUMMERS
PETERSBURG, AK
MONOCACY VALLEY MONTESSORI
FREDERICK, MD
NINE MILE PLAYERS
OXFORD, CT
ST PAUL LUTHERAN SCHOOL
CANNON FALLS, MN
RIDGEWOOD HIGH SCHOOL
NEW PORT RICHEY, FL
PENINSULA SCHOOL
PROSPECT HARBOR, ME
EASTERN GREENBRIER MIDDLE SCHL
RONCEVERTE, WV
WESTMOUNT ELEMENTARY SCHOOL
HALIFAX, NS CANADA
DUNN MIDDLE SCHOOL
DUNN, NC
GREENVILLE AREA CMNTY CENTER
GREENVILLE, MI
ST AMBROSE UNIVERSITY
DAVENPORT, IA
BLESSED SACRAMENT SCHOOL
WALPOLE, MA
PENDLETON HEIGHTS MIDDLE SCHL
PENDLETON, IN
EDMUNDO KRAISELBURD
SAN JUAN, PR
STREAMLINE PRODUCTIONS
MT PLEASANT, SC
MAINE SCHOOL ADMIN DIST #30
LEE, ME
TANDRA RHUEMS
PITTSBURG, KS
INC VILLAGE OF NEW HYDE PARK
NEW HYDE PARK, NY
UPPER PERKIOMEN VALLEY LIBRARY
RED HILL, PA
LANDMARK STUDIO FOR THE ARTS
SUTTON, WV
ATHENS MIDDLE SCHOOL
ATHENS, AL
BETTY HUFF ELEMENTARY SCHOOL
SURREY, BC CANADA
RALPH CHANDLER MIDDLE SCHOOL
SIMPSONVILLE, SC
SETON HIGH SCHOOL
CINCINNATI, OH
ST MARY'S SCHOOL
RIVERSIDE, IL
MOFFAT CONSOLIDATED SCH DIST 2
MOFFAT, CO
MAJESTIC THEATRE
MANCHESTER, NH
TOWLE THEATER
HAMMOND, IN
PINEWOOD PLAYERS
MUNDS PARK, AZ
MASCOTTE ELEMENTARY SCHOOL
MASCOTTE, FL
ROCKLEDGE ELEMENTARY SCHOOL
BOWIE, MD
CLYNMALIRA UMC
PHOENIX, MD
ST CYRIL OF ALEXANDRIA SCHOOL
EAST LANSDOWNE, PA
FRANKLIN CIVIC OPERETTA ASSOC.
FRANKLIN, PA
REDONDO UNION HIGH SCHOOL
REDONDO BEACH, CA
SAVANNAH CHILDREN'S THEATRE
SAVANNAH, GA
DAWSON COUNTY MIDDLE SCHOOL
DAWSONVILLE, GA
GLENVIEW PARK DISTRICT
GLENVIEW, IL
REDWOOD MIDDLE SCHOOL
THOUSAND OAKS, CA
CHERRY RIVER ELEMENTARY
RICHWOOD, WV
MILLENNIUM MIDDLE SCHOOL
SOUTH LYON, MI
Close
Different versions of the
same or similar story:
Other titles
you may like:
Other products you might be interested in:
Clues to Acting Shakespeare
Critical principles such as scansion, phrasing, caesura, breathing, antithesis, structure and rhythm are covered in detail.
Ten-Minute Plays for Middle School
These unique books contain much more than just a dozen age-appropriate plays — they are also a great source of supplemental material to facilitate any middle school group interested in scene work.
Listen to a clip of every song from the show
Click on a song title to play that sound clip. Click again to pause, or simply click another title to switch songs.
Can't hear the song samples? Click here for a different song format.
Hear what directors and critics are saying:
Great show with super music and lots of roles!