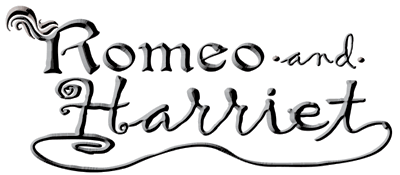 A Musical Tragical Comedy in Two and a Half Acts

Book by Charlie Lovett
Music and lyrics by Bill Francoeur
CAST: Flexible cast of 36 (20M, 6F, plus 10 roles that can be either), chorus, optional doubling
SET: Basic representational set
TIME: About 120 minutes

Script: $7.00 Director's book: $20.00
Piano score: $25.00
Vocal score: $8.00
Production-rehearsal CD set: $65.00
CD sampler E: $4.00
DVD of amateur performance: $10.00
Orchestral Parts [Alto sax, Tenor sax, Baritone sax, Recorder/flute, Trumpet I, Trumpet II, Trombone, Bass, Guitar, Percussion]: $6.00


ROYALTY:
$95 First Performance
$90 Each Additional Performance

This hilarious musical spoof puts the "shake" in Shakespeare! With the help of a group of quarreling chorus members — Oregano, Carpaccio, Risotto, Prosciutto, Antipasto, Pesto, Mayo and Romano — we get a deliciously funny spoof of Romeo and Juliet. Their comedic and intelligent commentary seasons the show with laughter galore so actors and audience alike won't even realize they're learning about Shakespeare! The stage is set in modern-day New York City, where clerks of the swanky Montague's Department store and the second-rate Capulet's Discount Mart meet in the street to trade insults. Words are their daggers, so watch out, you might die laughing! Read more...
Additional products available:
Director's book: $20.00
Piano score: $25.00
Vocal score: $8.00
Production-rehearsal CD set: $65.00
CD sampler E: $4.00
DVD of amateur performance: $10.00
Orchestral Parts [Alto sax, Tenor sax, Baritone sax, Recorder/flute, Trumpet I, Trumpet II, Trombone, Bass, Guitar, Percussion]: $6.00

Production Photos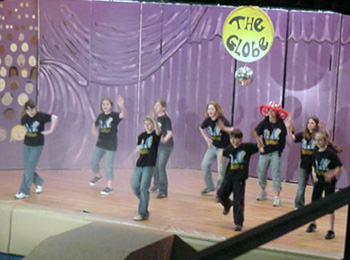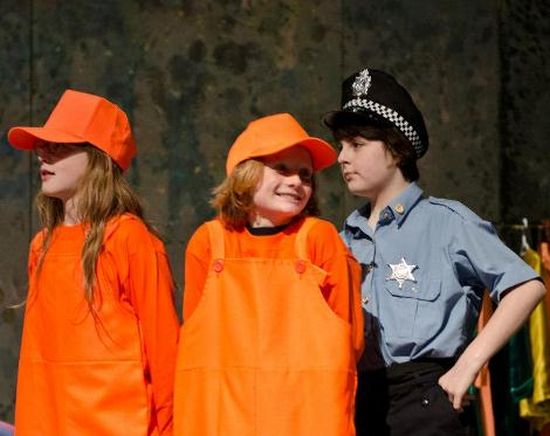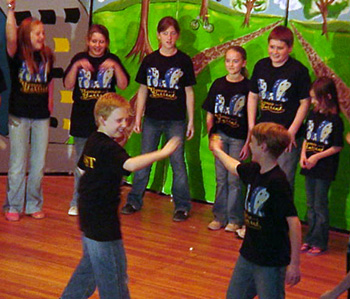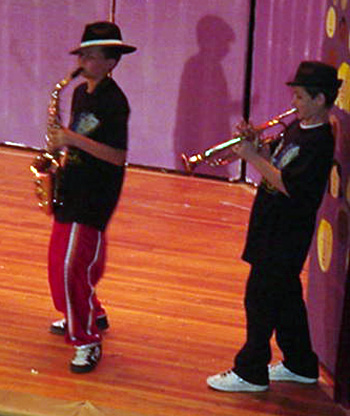 Use this script sample — including the cast list, production notes and several pages of the actual script — to help you select your next show. It is open in a new browser tab or window. To open it again, please click here.
Close
KEEFE TECHNICAL SCHOOL
FRMINGHAM, MA
GILBERTSVILLE-MOUNT UPTON ELEM
GILBERTSVILLE, NY
ARCHBISHOP RIORDAN HIGH SCHOOL
SAN FRANCISCO, CA
DAVIS COUNTY MIDDLE SCHOOL
BLOOMFIELD, IA
ENCORE THEATER COMPANY
DOUGLASSVILLE, PA
KUNSMILLER CREATIVE ARTS ACAD
DENVER, CO
VALLEY HIGH SCHOOL
ORDERVILLE, UT
MICHELINA BEAM
NORTH BAY, ON CANADA
FORBUSH MIDDLE SCHOOL
EAST BEND, NC
HONG KONG 3 ARTS MUSICAL INST.
HONG KONG, HONG KONG
CEDARVIEW MIDDLE SCHOOL
OTTAWA, ON, CANADA
PONTOTOC COMMUNITY THEATRE
PONTOTOC, MS
ROSEDALE ELEM & JUNIOR HIGH
CALGARY, AB, CANADA
AUBURN ACTORS THEATRE
AUBURN, IN
MOUNT AVIAT ACADEMY
CHILDS, MD
ST MARYS JUNIOR SCHOOL
JOHANNESBURG, SOUTH AFRICA
FIRE MOUNTAIN ARTS COUNCIL
MORTON, WA
ST PATRICK SCHOOL
HUDSON, WI
WATERTOWN ELEMENTARY SCHOOL
WATERTOWN, TN
TAIPEI AMERICAN SCHOOL
TAIPEI, TAIWAN, ROC
STONEBRIDGE PUBLIC SCHOOL
MARKHAM, ON, CANADA
ST CECILIA SCHOOL
ROCKAWAY, NJ
ST LUCIE WEST CENTENNIAL HS
PORT SAINT LUCIE, FL
PROVIDENCE CHRISTIAN ACADEMY
LILBURN, GA
HIGHLAND SCHOOL
CHESHIRE, CT
LAKES DISTRICT SEC SCHOOL
BURNS LAKE, BC, CANADA
WILDE LAKE MIDDLE SCHOOL
COLUMBIA, MD
HOUSTON HIGH SCHOOL
HOUSTON, OH
FREDERICA ACADEMY
ST SIMONS ISLAND, GA
OLD ORCHARD THEATRE
CHATTAROY, WA
BEAUMONT COMMUNITY PLAYERS
BEAUMONT, TX
LOS ALISOS INTERMEDIATE SCH
MISSION VIEJO, CA
HOLY FAMILY SCHOOL
ROCKLAND, MA
DAVID'S STAR LUTHERAN SCHOOL
JACKSON, WI
CORNWALLIS JR HIGH SCHOOL
HALIFAX, NS, CANADA
WOODSTOWN MIDDLE SCHOOL
WOODSTOWN, NJ
ST JAMES SCHOOL
MANCHESTER, CT
TRINITY SCHOOL
ELLICOTT CITY, MD
MYERS ELEMENTARY SCHOOL
MUNCY, PA
ST PETER SCHOOL
JEFFERSON CITY, MO
ST JOHN VIANNEY SCHOOL
ALLENTOWN, PA
CARROLL COUNTY ARTS COUNCIL
WESTMINSTER, MD
WAH YAN COLLEGE
KOWLOON, HONG KONG
TREGO COMMUNITY HIGH SCHOOL
WAKEENEY, KS
YATES COUNTY ARTS CENTER
PENN YAN, NY
FRIONA FINE ARTS COUNCIL
FRIONA, TX
BOERNE COMMUNITY THEATRE
BOERNE, TX
CAYMAN INTERNATIONAL SCHOOL
GRAND CAYMAN, CAYMAN ISLANDS
Close
Different versions of the
same or similar story:
Other titles
you may like:
Other products you might be interested in:
Listen to a clip of every song from the show
Click on a song title to play that sound clip. Click again to pause, or simply click another title to switch songs.
Can't hear the song samples? Click here for a different song format.
Hear what directors and critics are saying:
Looks fun, funny, entertaining and educational all in one fell swoop!

Valerie O'Riordan, Archbishop Riordan High School, San Francisco, CA
It's a wonderful play that teaches the actors and the audience about Shakespeare, about iambic pentameter and a bit about the time period. It's age appropriate for the whole family.

Jodi St. Pierre, West Ferris Secondary School, North Bay, ON
This musical is filled with fun, catchy songs and exciting dance. It is an entertaining treat for audiences of all ages.

7th Space Interactive, Hong Kong
The audience laughed until they almost died from this funny spoof of Romeo and Juliet.

Jodi Hoyt, Southern Utah News, Kanab, UT