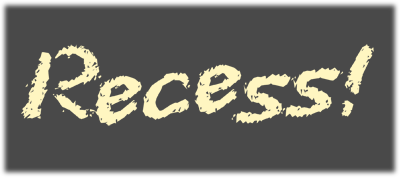 Book by Keith Jackson
Music by Gerald Castle
Lyrics by Michael Vigilant
Okay, class, pop quiz time. What do you get when you mix a young substitute teacher with a classroom full of the seemingly dumbest (and funniest) pupils found anywhere? A wise-cracking musical that's sure to put a smile on the principal's face, that's what. When Miss Quackenbush takes over a class at the Little Red Schoolhouse, she soon discovers why the previous teacher had a nervous breakdown. Bad poetry, mice in the lunch boxes and a student with the measles is enough to drive anyone crazy. Unless the likable but hare-brained pupils can pass a simple exam, they won't advance to the next grade. It's one inane answer after another as Miss Quackenbush tries to promote this bunch of block heads outta here. It won't be easy, though. Read more...
Additional products available:
Director's book: $17.50
Piano score: $20.00
Production-rehearsal CD set: $65.00
CD sampler H: $4.00

Use this script sample — including the cast list, production notes and several pages of the actual script — to help you select your next show. It is open in a new browser tab or window. To open it again, please click here.
Close
SUTTON ELEMENTARY SCHOOL
HOUSTON, TX
CHESAPEAKE MIDDLE SCHOOL
CHESAPEAKE, OH
BOTHWELL SCHOOL
NEW BOTHWELL, MB CANADA
NORTHUMBERLAND PUBLIC SCHOOLS
HEATHSVILLE, VA
CASS CITY HIGH SCHOOL
CASS CITY, MI
PARKWOOD HILL INT SCHOOL
FORT WORTH, TX
SIERRA VISTA PUBLIC SCHOOLS
SIERRA VISTA, AZ
RICH HILL HIGH SCHOOL
RICH HILL, MO
BROWARD COMMUNITY CHARTER
CORAL SPRINGS, FL
SELF EXPRESS PRODUCTIONS
WINFIELD, AL
HARRIS YMCA
CHARLOTTE, NC
JESSE NICHOLS
MCKINNEY, TX
ST BRIGID SCHOOL
XENIA, OH
SAINT JOSEPH ACADEMY
WALTON, KY
SEYMOUR COMMUNITY SCHOOL
SEYMOUR, IA
PLAYMAKERS OF BATON ROUGE INC
BATON ROUGE, LA
FIRST NIGHTERS CIVIC THEATRE
NEW CASTLE, IN
MEMORIAL PARK ELEMENTARY
WATERVILLE, NY
PASEO HILLS ELEMENTARY
PHOENIX, AZ
NORTHWESTERN HIGH SCHOOL
PALMYRA, IL
CATHEDRAL CARMEL SCHOOL
LAFAYETTE, LA
ST PIUS SCHOOL
LOUDONVILLE, NY
BLESSED JOHN XXIII SCHOOL
CALGARY, AB, CANADA
FOREST HILLS MIDDLE SCHOOL
SIDMAN, PA
CENTER FOR ADVANCED LEARNING
LOS ANGELES, CA
ROGERS MIDDLE SCHOOL
ST LOUIS, MO
LETS SING! DANCE! ACT!
HOPKINTON, MA
ST PAUL LUTHERAN SCHOOL
BEVERLY HILLS, FL
CREATIVE DANCE CENTER
ASHBURN, VA
ARIZONA JEWISH THEATRE COMPANY
PHOENIX, AZ
LEARNING FOUNDATION & PERF ART
GILBERT, AZ
BYNE MEMORIAL BAPTIST CHURCH
ALBANY, GA
SOUTHWESTERN ELEMENTARY SCHOOL
SHELBYVILLE, IN
ST PHILIP THE APOSTLE SCHOOL
DALLAS, TX
PATHWAY CHRISTIAN ACADEMY
CHRISTIANSBURG, VA
BELLAMY MIDDLE SCHOOL
CHICOPEE, MA
CALVARY CHRISTIAN CHURCH/SCHL
NAPERVILLE, IL
SOUTH FREMONT JUNIOR HIGH SCHL
SAINT ANTHONY, ID
VALLIANT HIGH SCHOOL
VALLIANT, OK
ST MICHAEL ACADEMY
SAN DIEGO, CA
OUR LADY OF LOURDES PARISH SCH
MIAMI, FL
ST GENEVIEVE SCHOOL
THIBODAUX, LA
MIDLAND COMMUNITY SCHOOL DIST
WYOMING, IA
THISTLEWOOD ARTS CENTER
BANGOR, ME
S HUNTINGTON SUMMER M & A PROG
HUNTINGTON STATION, NY
CORTLAND YOUTH BUREAU
CORTLAND, NY
HAYWARD PARK REC
HAYWARD, CA
RISING STARS CHILDRENS THEATRE
ADAIR, IA
BLUEGRASS THEATRE GUILD
FRANKFORT, KY
FAIRVIEW ELEMENTARY SCHOOL
MARYVILLE, TN
Close
Different versions of the
same or similar story:
Other titles
you may like:
Other products you might be interested in:
Funny Business
This overview of high and low comedy defines all comedy genres: absurdism, tragicomedy, farce and melodrama. A discussion precedes each type of comedy illustrated, explaining the comic devices used.
Play Director's Survival Kit
This book contains basic information for beginners and veterans. Including over fifty-five reproducible checklists, forms and samples, it will help you direct contemporary, period and musical plays.
Listen to a clip of every song from the show
Click on a song title to play that sound clip. Click again to pause, or simply click another title to switch songs.
Can't hear the song samples? Click here for a different song format.