Or... The Villain Came to a Grinding Halt

By Rachel Davidson
CAST: 4M, 7F
SET: Simple interior set
TIME: About 45 minutes
Script: $6.25

ROYALTY:
$45 First Performance
$45 Each Additional Performance


Perk up! This hot melodrama is boiling over with puns and jokes galore! The Pony Expresso, a friendly establishment run by Star Bright and Aunt Dee Caff, is struggling. Their customers are buying their coffee at a lower price from the scheming Mo Cabana and Fifi Latte. But the citizens are falling ill to an unexplained fainting disease. (It's strange... they feel good 'til the last drop.) Luckily, Buck Brawn, our handsome hero, bravely investigates the mysterious health dilemma. Things come to a boil when Mo and Fifi hear that Star and Dee are destined to become rich — the railroad plans to make the Pony Expresso the new train station! When Mo and Fifi devise a plan that almost destroys them, the beans are spilled. Read more...
Additional products available:

Production Photos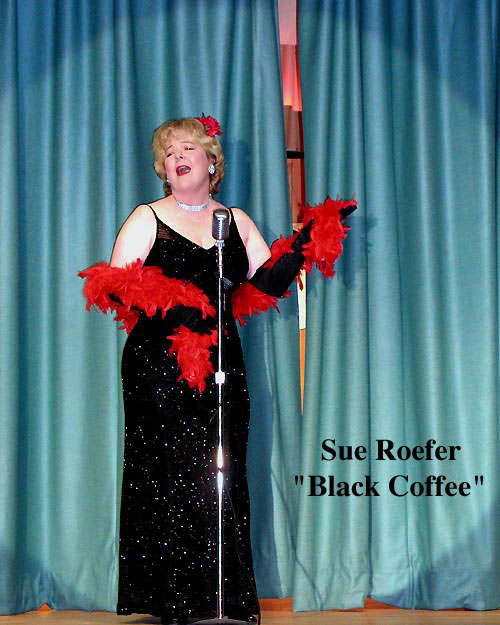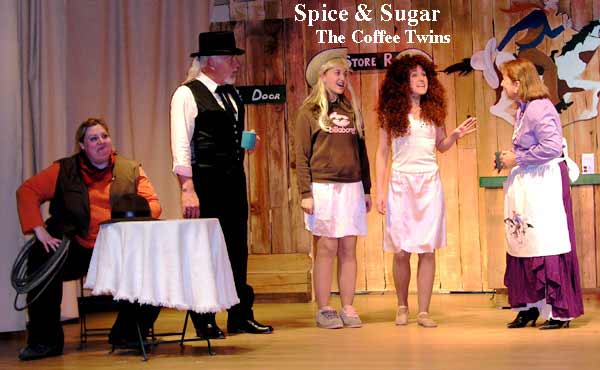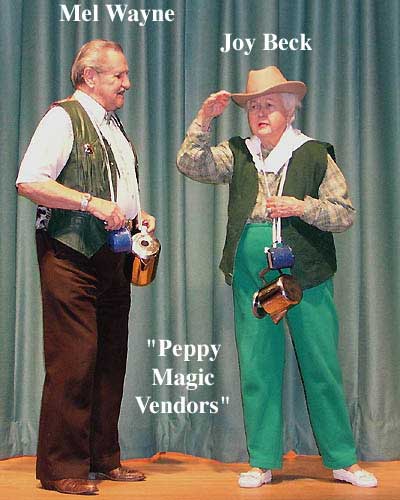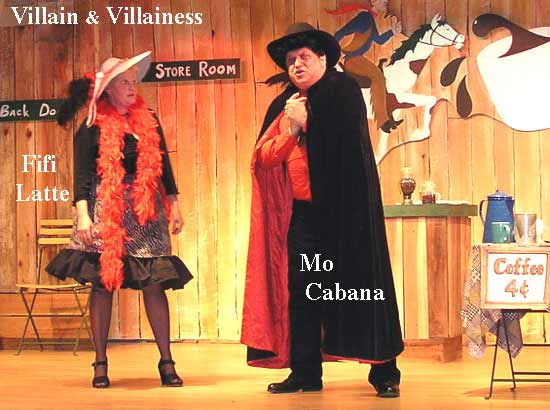 Use this script sample — including the cast list, production notes and several pages of the actual script — to help you select your next show. It is open in a new browser tab or window. To open it again, please click here.
Close
JOHN PAUL II CATHOLIC SCHOOL
HOUSTON, TX
MCPHERSON MIDDLE SCHOOL
MCPHERSON, KS
SHARP ACADEMY
LUBBOCK, TX
HILL COUNTRY RETREAT THTR CO
SAN ANTONIO, TX
INDIAN VALLEY THEATRE
SANDWICH, IL
CENTENNIAL BAPTIST SCHOOL
CALDWELL, ID
ROTHESAY PARK SCHOOL
ROTHESAY, NB CANADA
ROYALTON HIGH SCHOOL
ROYALTON, MN
TROY HIGH SCHOOL
TROY, ID
THE SANCTUARY CHURCH
NEWHALL, CA
BEAVERTON HIGH SCHOOL
BEAVERTON, MI
EDMONTON ROYAL PURPLE OF
ADMONTON, AB, CANADA
LYONS THEATRE
LYONS, CO
MCANGUS WESTERN WEAR
PAHRUMP, NV
DRUMRIGHT COMMUNITY PLAYERS
DRUMRIGHT, OK
POTTER AMER LEGION POST 291
POTTER, NE
MORNINGSIDE OF FULLERTON
FULLERTON, CA
PALM DESER THEATRE ACADEMY
PALM DESERT, CA
HOLY NAME SCHOOL
HENDERSON, KY
LIBERTY CLASSICAL ACADEMY
MAPLEWOOD, MN
MANSFIELD CHRISTIAN SCHOOL
MANSFIELD, OH
EL CAMINO FUNDAMENTAL HS
SACRAMENTO, CA
CRESTVIEW ACADEMY
EAU CLAIRE, WI
ARTSVIEW CHILDREN'S THEATRE
LONGVIEW, TX
THORNTON HIGH SCHOOL
THORNTON, CO
IMMANUEL LUTHERAN CHURCH
WATERLOO, IL
CORPUS CHRISTI CATHOLIC SCHOOL
COLORADO SPRINGS, CO
SHARP ACADEMY
LUBBOCK, TX
ELMIRA HIGH SCHOOL
ELMIRA, OR
WEBSTER SCHOOL DISTRICT 18-4
WEBSTER, SD
MILL CREEK VALLEY HIST SOCIETY
DUMONT, CO
TABERNACLE CHRISTIAN SCHOOL
MARTINSVILLE, IN
GEORGETOWN-RIDGEFARM HS
GEORGETOWN, IL
FOX COUNTRY PLAYERS
YORKVILLE, IL
HAY SPRINGS HIGH SCHOOL
HAY SPRINGS, NE
SANDHILL PLAYERS
THEDFORD, NE
FENN SCHOOL
CONCORD, MA
ST PAUL'S LUTHERAN SCHOOL
ARLINGTON, NE
MITCHELL CHRISTIAN SCHOOL
MITCHELL, SD
MARTIN COMMUNITY PLAYERS
WILLIAMSTON, NC
HERITAGE CHRISTIAN SCHOOL
BOZEMAN, MT
MANATEE SCHOOL FOR THE ARTS
PALMETTO, FL
FEDERATED CHURCH OF EDGARTOWN
EDGARTOWN, MA
CORWITH-WESLEY MS/HS
CORWITH, IA
CARTHAGE IMPROVEMENT ASSOC
CARTHAGE, SD
WELLINGTON CMNTY THEATRE
WELLINGTON, KS
Close
Other titles
you may like:
Other products you might be interested in:
Melodrama: Beyond the Boos and Hisses
The professional actors on this instructional video will demonstrate for both director and actors all the exclusive aspects that make melodrama a unique form of theatre.
The Drama Teacher's Companion
The software contains dozens of fresh scripts, lesson plans and diagrams. It includes warm-ups and games, lesson plans for acting, directing, improvisation and other theatrical subject areas.
Hear what directors and critics are saying:
A melodrama with a modern feel.