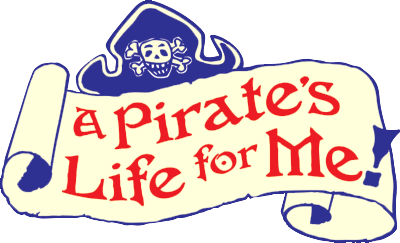 Book by Craig Sodaro
Music and lyrics by Bill Francoeur
CAST: Flexible cast of 25 (about 6M, 11F, plus 8 roles that can be either), chorus
SET: Two simple exterior sets
TIME: About 120 minutes

Script: $7.25 Director's book: $20.00
Piano score: $25.00
Vocal score: $8.00
Production-rehearsal CD set: $65.00
CD sampler N: $4.00
Orchestral Parts [Alto sax/tenor sax, Flute/piccolo, Trumpet I, Trumpet II, Trombone I, Trombone II, French horn, String bass, Percussion, Keyboard (synthesized strings)]: $6.00
Conductor score: $50.00


ROYALTY:
$95 First Performance
$95 Each Additional Performance

Get your peg leg tappin' to this eclectic score of rollicking sea shanties and contemporary styles — a surefire audience-pleaser! Aristocrat Roger Goodman has his heart set on a conventional life married to the wealthy Sarah Huffington and living happily ever after. That is, until he finds out she thinks he's boring and would rather marry a brave and adventurous pirate! Determined to prove himself to his beloved, Roger hires Long John Sliver to tutor him and his newly recruited motley crew in the field of piracy. In exchange for his total pirate makeover (which includes the fearsome new name, Captain Blood!), Roger and his crew sail to Treasure Island seeking the chests of gold doubloons Long John buried there long ago. Read more...
Additional products available:
Director's book: $20.00
Piano score: $25.00
Vocal score: $8.00
Production-rehearsal CD set: $65.00
CD sampler N: $4.00
Orchestral Parts [Alto sax/tenor sax, Flute/piccolo, Trumpet I, Trumpet II, Trombone I, Trombone II, French horn, String bass, Percussion, Keyboard (synthesized strings)]: $6.00
Conductor score: $50.00

Production Photos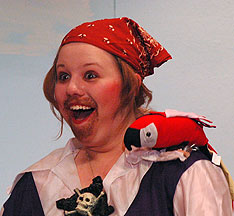 Use this script sample — including the cast list, production notes and several pages of the actual script — to help you select your next show. It is open in a new browser tab or window. To open it again, please click here.
Close
ST CATHERINE OF SIENA
BARRIE, ON CANADA
CORNERSTONE BAPTIST ACADEMY
INDIANAPOLIS, IN
ENRICO FERMI HIGH SCHOOL
ENFIELD, CT
ST ALCUIN MONTESSORI SCHOOL
DALLAS, TX
INDIAN TRAILS MIDDLE SCHOOL
WINTER SPRINGS, FL
LYME SCHOOL
LYME, NH
THORNTON HIGH SCHOOL
THORNTON, CO
LATHROP HIGH SCHOOL
LATHROP, MO
MANTEO HIGH SCHOOL
MANTEO, NC
GIRDWOOD ELEM/JH SCHOOL
GIRDWOOD, AK
HEARTLAND LUTHERAN HIGH SCHOOL
GRAND ISLAND, NE
COLONIAL CHORUS PLAYERS
READING, MA
CALGARY ARTS SUMMER SCHOOL
CALGARY, AB, CANADA
COLORADO ACTS
ARVADA, CO
ST FRANCIS SOLANUS SCHOOL
QUINCY, IL
LEHIGHTON HIGH SCHOOL
LEHIGHTON, PA
PLYMOUTH ELEMENTARY SCHOOL
PLYMOUTH, NH
KESTREL HEIGHTS SCHOOL
DURHAM, NC
PIKE VALLEY HIGH SCHOOL
SCANDIA, KS
BETSY ROSS ELEMENTARY SCH
PROSPECT HEIGHTS, IL
BISMARCK-HENNING HIGH SCHOOL
BISMARK, IL
LUMBERPORT MIDDLE SCHOOL
LUMBERPORT, WV
PRIMROSE ELEMENTARY
SHELBURNE, ON, CANADA
WICKENBURG HIGH SCHOOL
WICKENBURG, AZ
CLINCH COUNTY BOARD OF ED
HOMERVILLE, GA
OAKDALE HIGH SCHOOL
OAKDALE, CA
CAPITOL ARTS YOUTH THEATER
BOWLING GREEN, KY
LIMELIGHT PRODUCTIONS
HOLLISTER, CA
ROSS RAGLAND THEATER
KLAMATH FALLS, OR
HEBREW DAY SCHOOL
MAITLAND, FL
HLV COMMUNITY SCHOOL
VICTOR, IA
DUTTON BRADY HIGH SCHOOL
DUTTON, MT
PIKES PEAK CHRISTIAN SCHOOL
COLORADO SPRINGS, CO
LAKE CASTLE PRIVATE SCHOOL
SLIDELL, LA
IMMANUEL LUTHERAN SCHOOL
PERRYVILLE, MO
RIVERSIDE SCHOOL
RIVERSIDE, CT
ST MARY-ST JOSEPH SCHOOL
WILLIMANTIC, CT
WEST POINT COMMUNITY THEATRE
WEST POINT, NE
VILLAGE SCHOOL
MARBLEHEAD, MA
SHAWNEE HEIGHTS USD #450
TECUMSEH, KS
NORTH VALLEY BAPTIST SCHOOLS
SANTA CLARA, CA
ST. EDWARD SCHOOL
NIPIGON, ON, CANADA
CONNECTICUT FAMILY THEATRE INC
WEST HARTFORD, CT
MARANATHA CHRISTIAN SCHOOL
WILLIAMS LAKE, BC, CANADA
CHASE COUNTY HIGH SCHOOL
COTTONWOOD FALLS, KS
CENTER FOR THE ARTS
MANASSAS, VA
RPI YOUNG ACTORS GUILD
TROY, NY
SAVANNAH CHILDREN'S THEATRE
SAVANNAH, GA
SACAJAWEA JUNIOR HIGH SCHOOL
LEWISTON, ID
FLEMING ISLAND ELEMENTARY SCH
ORANGE PARK, FL
Close
Different versions of the
same or similar story:
Other titles
you may like:
Other products you might be interested in:
On With the Show!
This straight-forward guide — which is really three books in one — gives you the tools to work more effectively and efficiently toward the final production.
Stage Makeup
Filled with large color photographs and actors' design sketches, this gorgeous book will help you acquire the essential skills for doing period makeup, age makeup and special effects applications.
Listen to a clip of every song from the show
Click on a song title to play that sound clip. Click again to pause, or simply click another title to switch songs.
Can't hear the song samples? Click here for a different song format.
Hear what directors and critics are saying:
A Pirate's Life for Me was great. It allowed us to work with three distinct groups which simplified our rehearsals. The kids loved being competing pirates. It was a great show with great music. Audiences loved it! Kathy Paladino, Costa Mesa Middle School/Waldorf School of OC, Costa Mesa, CA
A Pirate's Life for Me was one of our favorite musicals. It had enough large and medium parts to accommodate our cast with students who have been with our youth theatre company for several years. There are wonderful characters for the actors to work to develop. Everyone loved the costumes and the sets. The music was fun and easy to choreograph. Julie Gere, All Children Theatre, Enumclaw, WA
Funny script with many interesting characters and great songs. The kids and the audience loved the show.
It's fun, it's fast, it's raucous. It's a good piece to showcase lots of kids.

Brach Thomson, Bigfork Playhouse Children's Theatre, Bigfork, MT