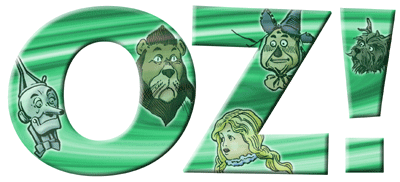 A dazzling musical based on the L. Frank Baum classic story

Book by Tim Kelly
Music and lyrics by Bill Francoeur

The timeless "Wizard of Oz" tale has been adapted into a dazzling musical. A cyclone carries Dorothy and Toto to the magical Land of Oz. When Dorothy's house squashes the Wicked Witch of the East, she is ecstatically thanked by the liberated Munchkins and given permission to wear the witch's powerful silver slippers. From there, Baum's lovable characters, rubber-legged Scarecrow, Cowardly Lion and Tin Woodsman, join Dorothy on a journey to meet the great Oz. While on their trek, they battle the Wicked Witch of the West, who is determined to get revenge for the death of her sister. This bright musical is charged with a bundle of wonderful songs and thrill after thrill... Read more...
Additional products available:
Director's book: $20.00
Piano score: $25.00
Vocal score: $8.00
Production-rehearsal CD set: $65.00
CD sampler F: $4.00
DVD of amateur performance: $10.00
Orchestral Parts [Alto sax, Clarinet, Flute, Trumpet I, Trumpet II, Trombone, Bass, Percussion]: $6.00

Production Photos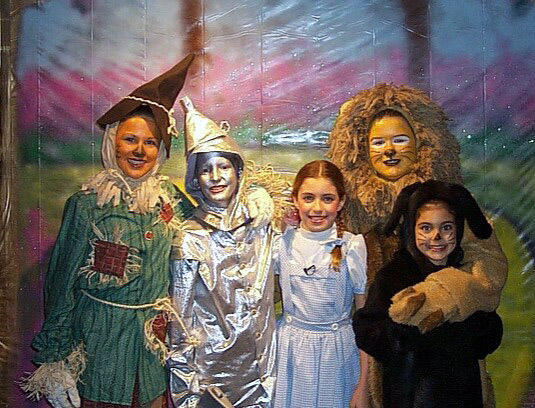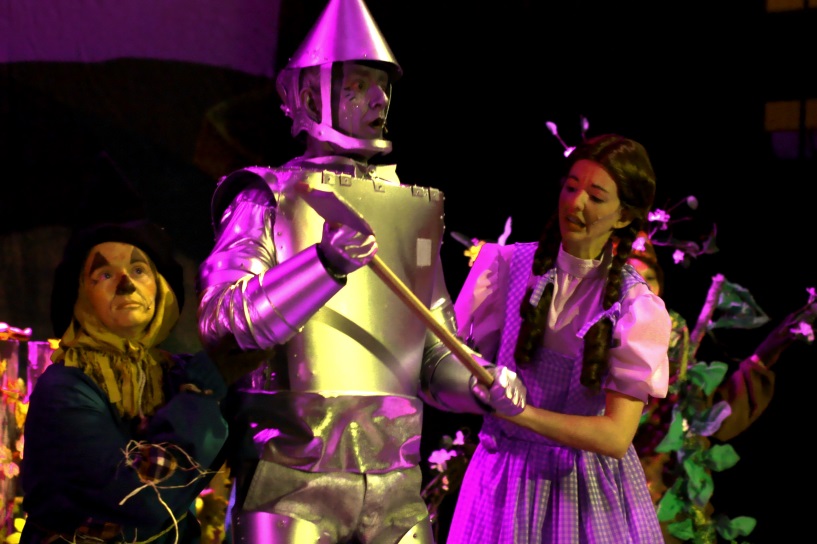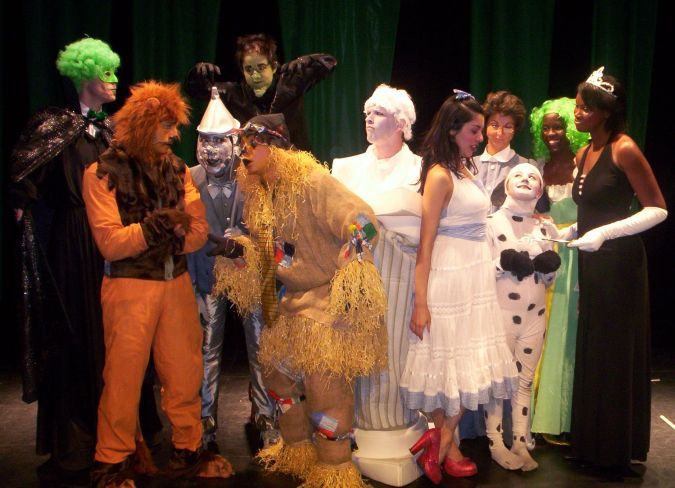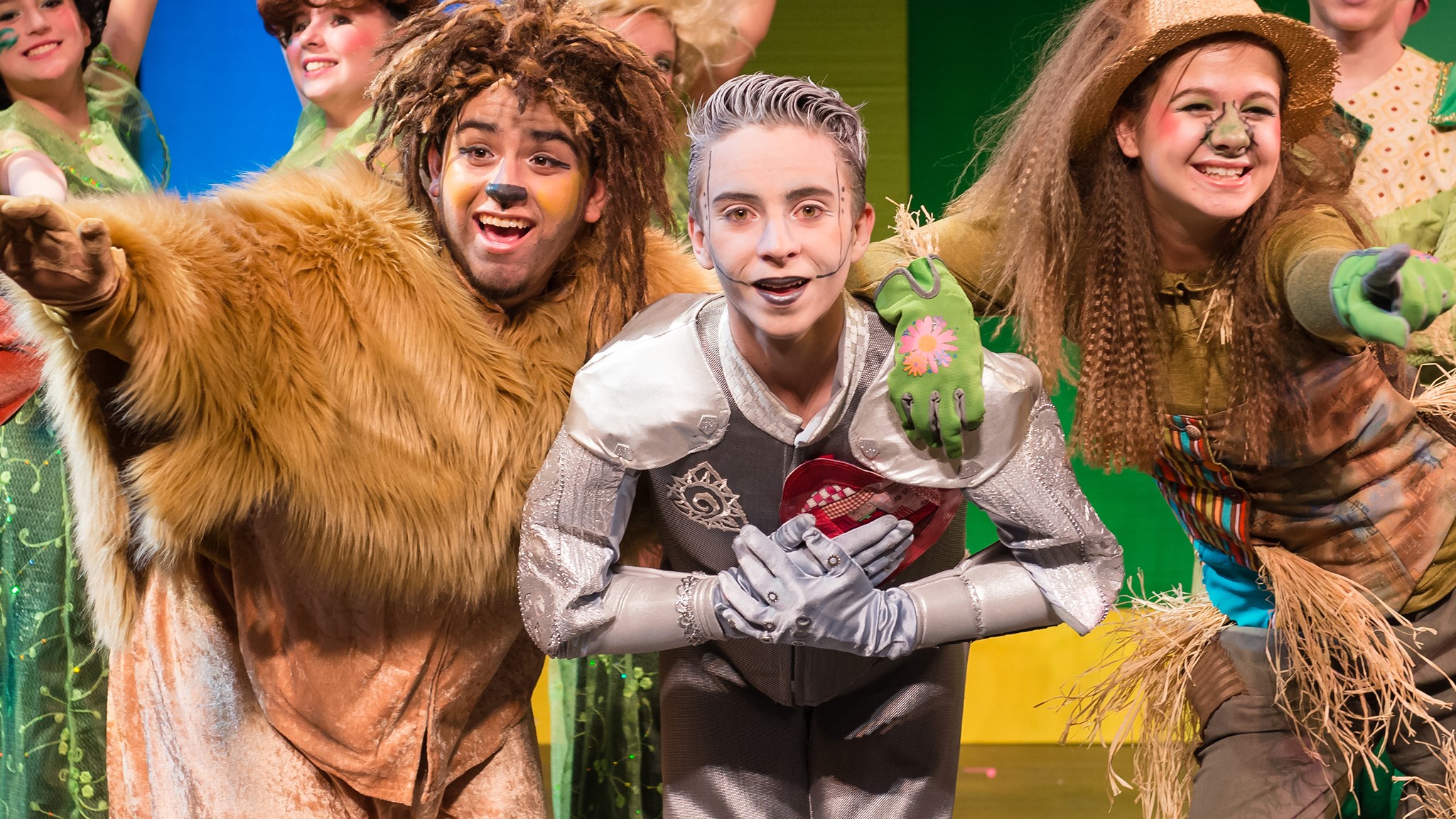 Video Clips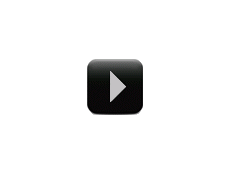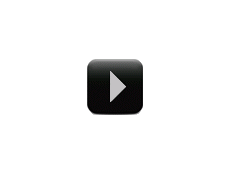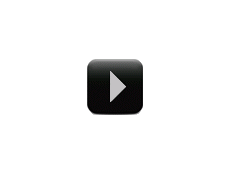 Use this script sample — including the cast list, production notes and several pages of the actual script — to help you select your next show. It is open in a new browser tab or window. To open it again, please click here.
Close
W E JOHNSTON SCHOOL
OTTAWA, ON CANADA
STRIDE ACADEMY PAC
SAINT CLOUD, MN
WYOMING CENTRAL SCHOOL
WYOMING, NY
GEORGETOWN MIDDLE SCHOOL
GEORGETOWN, SC
DOWNIEVILLE SCHOOL
DOWNIEVILLE, CA
PEGGY MILLER-ZELINKO
OXFORD, MI
ST BERNADETTE ELEMENTARY SCHL
NORTHBOROUGH, MA
BRUCE MIDDLE SCHOOL
WINNIPEG, MB CANADA
HASTINGS PUBLIC SCHOOLS
HASTINGS, ON CANADA
TECUMSETH SOUTH CENTRAL P.S.
TOTENHAM, ON CANADA
ALLARDT ELEMENTARY SCHOOL
ALLARDT, TN
ST BENEDICT SCHOOL
MONTBELLO, CA
ECOLE GEORGES P VANIER SCHOOL
DONNELLY, AB CANADA
ST PAUL LUTHERAN HIGH SCHOOL
LUXEMBURG, WI
PARKER JUNIOR HIGH SCHOOL
FLOSSMOOR, IL
BEAVER CREEK SCHOOL DIST #26
RIMROCK, AZ
NORWOOD R-1 SCHOOL DISTRICT
NORWOOD, MO
NORTH SHORE MIDDLE SCHOOL
HARTLAND, WI
OUR LADY OF FATIMA SCHOOL
MILTON, ON CANADA
PLEASANT VALLEY SCHOOL
SOUTH WINDSOR, CT
OUR LADY OF GRACE CATH. SCHOOL
AURORA, ON CANADA
MELONI THOMPSON
PEACHTREE, GA
DENN JOHN MIDDLE SCHOOL
KISSIMMEE, FL
ANDREW HUNTER PRIMARY SCHOOL
BARRIE, ON CANADA
ROCKY MOUNTAIN MIDDLE SCHOOL
IDAHO FALLS, ID
WEST MARSHALL HIGH SCHOOL
STATE CENTER, IA
GRACE BRETHREN CHRISTIAN SCHL
CLINTON, MD
RUSSELL ELEMENTARY SCHOOL
RUMNEY, NH
COUDERSPORT AREA ELEMENTARY
COUDERSPORT, PA
ST THERESA OF AVILA ELEMENTARY
CINCINNATI, OH
OTISVILLE ELEMENTARY SCHOOL
OTISVILLE, NY
WEST GLADES SCHOOL
LABELLE, FL
NORTH MIDDLE SCHOOL
WESTFIELD, MA
HOMEDALE HIGH SCHOOL
HOMEDALE, ID
CHIEF T'SELEHYE SCHOOL
FT GOOD HOPE, NT CANADA
ST LUKE SCHOOL
ERIE, PA
SAINT ANDREWS SCHOOL
BOCA RATON, FL
LYNNE BROYLES
SAN DIEGO, CA
BARNWELL MIDDLE SCHOOL
SAINT CHARLES, MO
CORPUS CHRISTI SCHOOL
CHAMBERSBURG, PA
DELANO UNION SCHOOL DISTRICT
DELANO, CA
MOZINGO CTR FOR CREATIVE ARTS
LAKE ST LOUIS, MO
OSAWATOMIE HIGH SCHOOL
OSAWATOMIE, KS
MEXIA HIGH SCHOOL
MEXIA, TX
REDEEMER LUTHERAN SCHOOL
REDWOOD CITY, CA
GENE BROWN ELEMENTARY SCHOOL
HENDERSONVILLE, TN
CENTER STAGE THEATRE
COMSTOCK, MI
ST PETER CATHEDRAL SCHOOL
ROCKFORD, IL
IMAGINE YOURSELF
ST PAUL, MN
ONEIDA HIGH SCHOOL
ONEIDA, TN
KELLER UNITED METHODIST CHURCH
KELLER, TX
OSCEOLA CREEK MIDDLE SCHOOL
LOXAHATCHEE, FL
GLENN COUNTY THEATRE
WILLOWS, CA
NORTHVILLE CENTRAL SCHOOL
NORTHVILLE, NY
ROCKWALL INDEPENDENT SCH DIST
ROCKWALL, TX
TRINIDAD SCHOOL DIST
TRINIDAD, CA
VICKIE CULLIGAN
WEST HARTFORD, CT
ST MARGARET SCHOOL
BEL AIR, MD
TRINITY CHRISTIAN ACADEMY
BARNSTABLE, MA
YOUNG MIDDLE SCHOOL
ATLANTA, GA
SCIENCE HILL SCHOOL
SCIENCE HILL, KY
PINON HIGH SCHOOL
PINON, AZ
Close
Different versions of the
same or similar story:
Other titles
you may like:
Other products you might be interested in:
Middle Mania!
These books help you use drama to bring pre-teens together in creative, collaborative ways. They're a great tool for fostering a drama-healthy curriculum.
Listen to a clip of every song from the show
Click on a song title to play that sound clip. Click again to pause, or simply click another title to switch songs.
Can't hear the song samples? Click here for a different song format.
Hear what directors and critics are saying:
I absolutely love this show! It is a great script with great music. We filled the auditorium for both shows.
My favorite play was Oz. The story is a classic. The music in your play is very upbeat. There are some great lines. The kids really got into their characters. It was our top audience attractor! Jack Hully, Shasta Elementary, Chico, CA
We had a great cast; the costumes and scerery were fantastic as was the choreography. Everything just seemed to come together. The vast majority of comments regarding this play was, 'Best one ever.'