By Tim Kelly
CAST: Flexible cast of 10M, 15F, extras
SET: Simple exterior set
TIME: About 90 minutes

Script: $6.75 Director's book: $20.00


ROYALTY:
$55 First Performance
$45 Each Additional Performance

Summer camp was never like this! On one side of beautiful Lake Lookeeloo is Camp Pocahontas, an exclusive resort for young ladies. On the other side is Camp John Smith, inhabited by a wild bunch of unruly males, Camp John Smith has been declared "unfit for habitation" and given only a few days to get itself in shape. The camp director pleads with the director of Pocahontas to allow the boys "shelter" for a day or two (otherwise he'll have to return their tuition!). What happens when peaceful Pocahontas shares space with the crazies from ramshackle John Smith? Naturally, no one is to know the boys are staying, including the camp's owner, Mrs. Thistlemist. Read more...
Additional products available:
Director's book: $20.00

Production Photos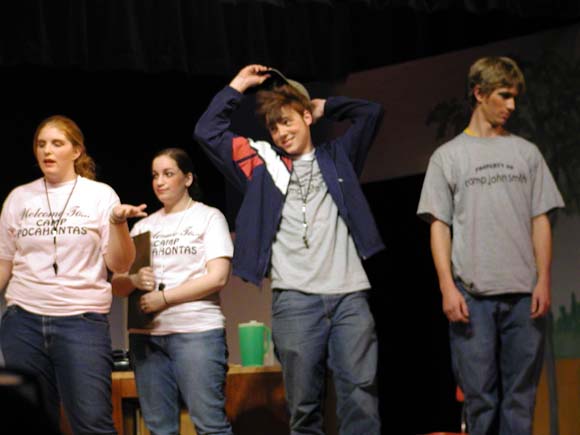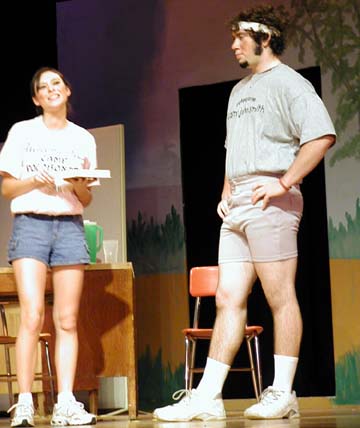 Use this script sample — including the cast list, production notes and several pages of the actual script — to help you select your next show. It is open in a new browser tab or window. To open it again, please click here.
Close
SUNBURST COMMUNITY THEATRE
SUNBURST, MT
COPPELL ISD
COPPELL, TX
NORTH PALOS SCHOOL DIST #117
PALOS HILLS, IL
HANNAH CRAWFORD ELEMENTARY
CRESTLINE, OH
BLUE VALLEY MIDDLE SCHOOL
STILWELL, KS
THE BARN THEATRE
STUART, FL
PENN-OHIO YOUNG ACTORS PLYHS
GREENVILLE, PA
TEMPLETON MIDDLE SCHOOL
TEMPLETON, CA
HARRIMAN MIDDLE SCHOOL
HARRIMAN, TN
HANCOCK CENTRAL SCHOOL DIST
HANCOCK, NY
PINKERTON ACADEMY
DERRY, NH
FRANKLIN COUNTY HIGH SCHOOL
BROOKVILLE, IN
SCHROON LAKE CENTRAL SCHOOL
SCHROON LAKE, NY
HAMILTON COUNTY HIGH SCHOOL
MCLEANSBORO, IL
WAUKEE MIDDLE SCHOOL
WAUKEE, IA
CONTINENTAL LOCAL SCHOOL
CONTINENTAL, OH
GRACE LUTHERAN SCHOOL
GLENDALE, AZ
SAINTS PETER AND PAUL SCHOOL
BOONVILLE, MO
CONESTOGA VALLEY MIDDLE SCHOOL
LANCASTER, PA
HOLY FAMILY SCHOOL
JASPER, IN
HOLY FAMILY CATHOLIC SCHOOL
ROCKFORD, IL
HOLY ROSARY SCHOOL
EVANSVILLE, IN
PULASKI MIDDLE/SR HIGH SCHOOL
PULASKI, NY
ROTH MIDDLE SCHOOL
HENRIETTA, NY
HALEYVILLE HIGH SCHOOL
HALEYVILLE, AL
SENATOR GERSHAW SCHOOL
BOW ISLAND, AB, CANADA
SHRINE CATHOLIC ACADEMY
ROYAL OAK, MI
HERSHEY MIDDLE SCHOOL
HERSHEY, PA
ST PAULS LUTHERAN SCHOOL
SAINT LOUIS, MO
OSCEOLA PUBLIC SCHOOL
OSCEOLA, NE
FERNDALE AREA HIGH SCHOOL
JOHNSTOWN, PA
JENISON CHRISTIAN SCHOOL
JENISON, MI
JOHN MUIR MIDDLE SCHOOL
WAUSAU, WI
LEWISTON MIDDLE SCHOOL
LEWISTON, ME
ST STEPHEN'S & ST AGNES MS
ALEXANDRIA, VA
THREE FORKS PUBLIC SCHOOLS
THREE FORKS, MT
O'MALLEY ELEMENTARY SCHOOL
ANCHORAGE, AK
TAMMY MANNING
LANSING, IA
MONTGOMERY MIDDLE SCHOOL
SAN DIEGO, CA
MORGAN MIDDLE SCHOOL
ELLENSBURG, WA
CHRIST-ST PETER LUTHERAN SCH
MILWAUKEE, WI
VAIL RANCH MIDDLE SCHOOL
TEMECULA, CA
KASTNER INTERMEDIATE SCHOOL
FRESNO, CA
BARTELS MIDDLE SCHOOL
TAMPA, FL
JENKS MIDDLE SCHOOL
JENKS, OK
HAMLIN HIGH SCHOOL
HAYTI, SD
Close
Different versions of the
same or similar story:
Other titles
you may like:
Other products you might be interested in:
Cool Characters for Kids
The characters in this book were created to showcase the talent and personality of the actors performing them. The monologues are one minute and under-perfect for a child's memorization capabilities.
Sketch-O-Frenia
Actors have the chance to perform wildly different character types in off-the-wall situations. Imagine ants, fish and other unlikely creatures satirizing everything we consider normal and acceptable!