A 50s Musical!

By Charlie Lovett
Music and lyrics by Bill Francoeur
It's the 1950s, hula-hoops are in high demand, and so is Little Red Riding Hood! Wise Prince Jason (winner of the Math Olympics and the Nobel Prize), Strong Prince Justin (who can bench press his own mother) and ordinary Loud Prince Frank all want to woo Red Riding Hood. So the king and queen hire the Fairy Godmother to set three tasks for the princes. Only the prince who can find the missing girl, defeat the dragon and awaken a castle visitor from her slumber earns the right to woo Wed Widing Hood... that is, Red Riding Hood! Alas, Little Red's couch-potato parents don't want to lose their little girl. How else will they get their cookies delivered to Grandmother? So they hire the evil queen to thwart the Fairy Godmother's contest. Read more...
Additional products available:
Director's book: $17.50
Piano score: $20.00
Vocal score: $8.00
Production-rehearsal CD set: $65.00
CD sampler H: $4.00

Production Photos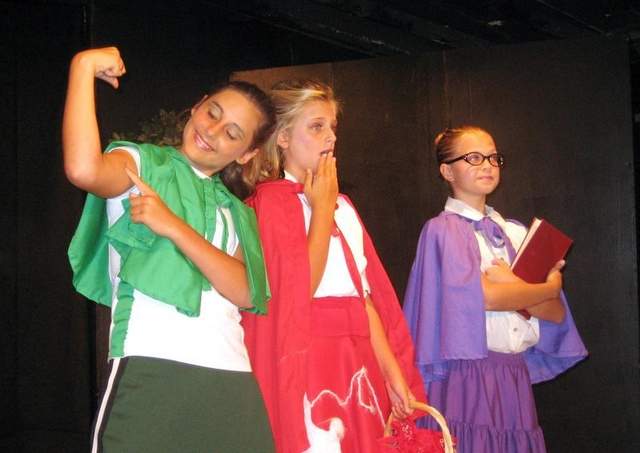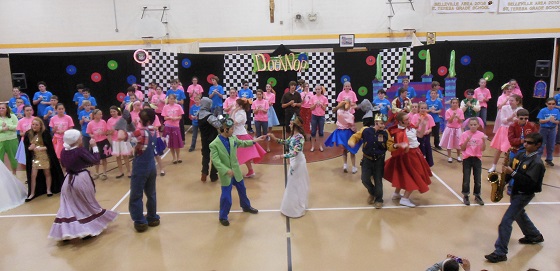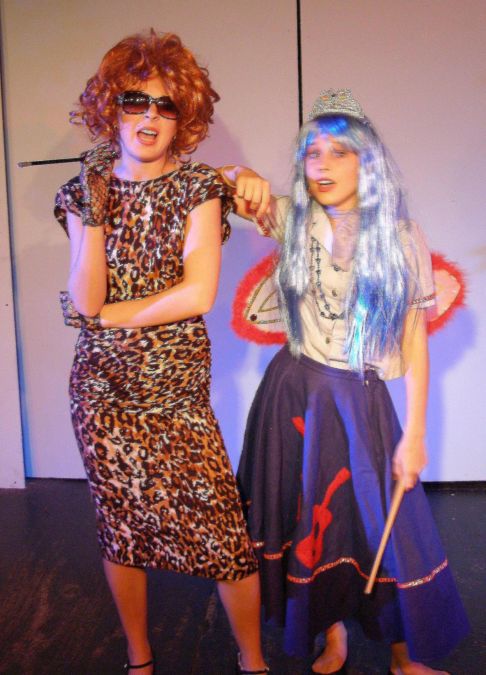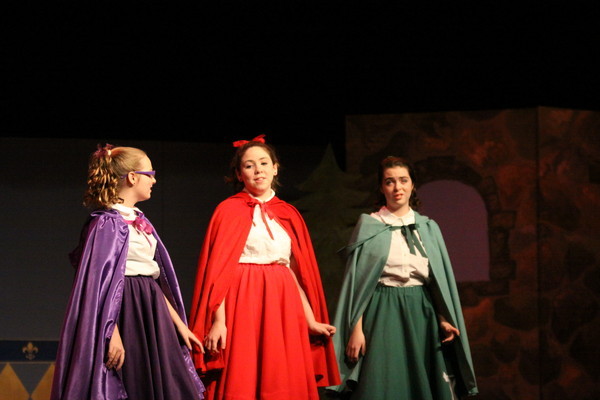 Production Slide Shows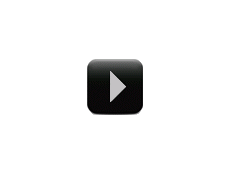 Video Clips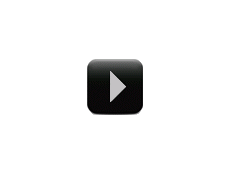 Use this script sample — including the cast list, production notes and several pages of the actual script — to help you select your next show. It is open in a new browser tab or window. To open it again, please click here.
Close
WINDSOR RECREATION CENTER
WINDSOR, CT
ART CENTER THEATRE
HERNANDO, FL
BEN PEAKE
CRANBOURNE EAST, VIC AUSTRALIA
H.B. HACKETT ELEMENTARY SCHOOL
PHILADELPHIA, PA
HEATHER SAYERS
WEST HAVEN, CT
GOOD SHEPHERD SCHOOL
BORING, OR
ST CHARLES ELEMENTARY SCHOOL
CHELMSFORD, ON CANADA
BEAR VALLEY ELEMENTARY SCHOOL
ANCHORAGE, AK
C E BROUGHTON P S
WHITBY, ON CANADA
WAGON WHEEL THEATRE
WARSAW, IN
GATEWAY ACAD FOR PERF ARTS
RICHMOND, BC CANADA
CELIA MCCOY
POMEROY, OH
UNITY MIDDLE SCHOOL
BALSAM LAKE, WI
PARKWAY CHRISTIAN SCHOOL
DAVIE, FL
NORTHUMBERLAND MIDDLE SCHOOL
HEATHSVILLE, VA
RHONDA REDKEY
GOLETA, CA
ST. MARY'S SCHOOL
WAPPINGERS FALLS, NY
MURDOCK MIDDLE SCHOOL
PORT CHARLOTTE, FL
DENELLE DEVRIES
MT VERNON, WA
REDWOOD PREP CHARTER SCHOOL
FORTUNA, CA
GABRIELA LIVELY
CHULA VISTA, CA
COMPANY OF FRIENDS PRODUCTIONS
SHARPSBURG, GA
CROSBY-IRONTON ISD #182
CROSBY, MN
REATHA L POWERY
STEVENSON RANCH, CA
EAGLE BAY ELEMENTARY
FARMINGTON, UT
WESTSIDE HIGH SCHOOL
CLEAR FORK, WV
FR JOHN THERRY CATHOLIC PRI SC
SYDNEY, NSW AUSTRALIA
KENT PLACE SUMMER CAMP
SUMMIT, NJ
WILMINGTON DRAMA LEAGUE
WILMINGTON, DE
NEW DAY CHILDRENS THEATRE
COLLIERVILLE, TN
PINE TREE PLAYHOUSE
WINNSBORO, SC
SING VOICE STUDIOS
CENTERVILLE, UT
LONGMONT THEATRE COMPANY
LONGMONT, CO
OXFORD MIDDLE SCHOOL
OXFORD, MA
PINEWOOD PLAYERS
GLENDALE, AZ
HARMONY HALL REG CTR
FORT WASHINGTON, MD
COMMODORE OPTIONS SCHOOL
BAINBRIDGE ISLAND, WA
MURRAY CITY CULTURAL ARTS
MURRAY, UT
CARVER CENTER/LOUDOUN COUNTY
PURCELLVILLE, VA
ST HENRYS SR SCHOOL
MELVILLE, SK CANADA
GEORGETOWN MIDDLE SCHOOL
GEORGETOWN, SC
OLIVER HOOVER ELEMENTARY
MIAMI, FL
GEORGETOWN MIDDLE SCHOOL
GEORGETOWN, SC
PS/IS 270Q
ROSEDALE, NY
ST MATTHEW SCHOOL
OAKVILLE, ON CANADA
OUR LADY OF ASSUMPTION SCHOOL
FAIRFIELD, CT
ST TERESA CATHOLIC SCHOOL
BELLEVILLE, IL
IMMACULATE CONCEPTION SCHOOL
ELKTON, MD
HEATHER HILLS ELEMENTARY
BOWIE, MD
ST. JOSEPH CATHOLIC SCHOOL
DES MOINES, IA
BOONEVILLE HIGH SCHOOL
BOONEVILLE, AR
MARY HOGAN ELEMENTARY SCHOOL
MIDDLEBURY, VT
BUSBEE CREATIVE ARTS ACADEMY
CAYCE, SC
CHERRY HILL ELEMENTARY SCHOOL
MISSION, BC CANADA
FELLOWSHIP ACADEMY
KENNEDALE, TX
BRIMMER AND MAY SCHOOL
CHESTNUT HILL, MA
RIVER RIDGE ELEMENTARY
EVANS, GA
ANNA C SCOTT SCHOOL
LEONIA, NJ
ST THOMAS MORE SCHOOL
CINCINNATI, OH
THEATRE WITH A TWIST
ACTON, MA
Close
Different versions of the
same or similar story:
Other titles
you may like:
Other products you might be interested in:
The Physical Comedy Handbook
This is a one-of-a-kind resource for students, actors, teachers and directors interested in physical comedy — from slapstick pratfalls to the theatre of the absurd.
Listen to a clip of every song from the show
Click on a song title to play that sound clip. Click again to pause, or simply click another title to switch songs.
Can't hear the song samples? Click here for a different song format.
Hear what directors and critics are saying:
They (the students) worked so hard on this show. It's doo-wop music so it should be fun for everyone and there are poodle skirts and who doesn't love poodle skirts?

Jaimee Semsky, Dorner Middle School, Ossining, NY
It was perfect for my 6th graders. Loved the variety of characters,storyline, humor and music.
It's a very funny show. The audience last night was cracking up.... and the music captures the heart of the 1950's!!!!

Carousel Performing Arts, Kennett Square, PA
I like the music and how it seems to fit the characters. These types of plays are greatly suited for younger audiences and draw them to our HS and MS programs in the future when they reach our level.