CAST: 2M, 5F, plus 2 roles that can be either, extras
SET: One interior set
TIME: About 40 minutes

Script: $6.25 Director's book: $15.00


ROYALTY:
$45 First Performance
$45 Each Additional Performance

This hilarious murder mystery comedy is easy to produce and perfect for either a stage production or dinner theatre. Rosemary Saint-John is a loud, annoying hypochondriac convinced she is allergic to water. Celebrating her birthday at a restaurant with her four kooky sisters–a hippie, a valley girl, a trucker and a banker–Rosemary makes enemies with everyone around her. When she disappears and is presumed murdered, the only objective witnesses in the restaurant are the audience members, who must cast their vote. Was it one of Rosemary's sisters? The self-taught detective? The passionate French chef? The polite and proper mâitre d'? The sarcastic waiter? No one is above suspicion in this delightful dinner theatre murder mystery! Read more...
Additional products available:
Director's book: $15.00

Production Photos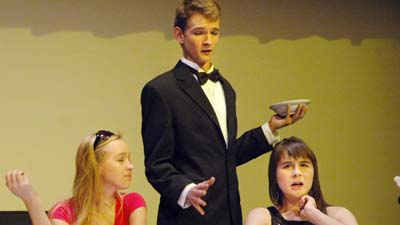 Video Clips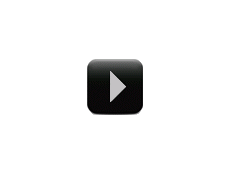 Use this script sample — including the cast list, production notes and several pages of the actual script — to help you select your next show. It is open in a new browser tab or window. To open it again, please click here.
Close
NEWFOUND MEMORIAL MIDDLE SCH
BRISTOL, NH
NOTRE DAME HIGH SCHOOL
BONNYVILLE, AB CANADA
MASONIC CENTER
DANVILLE, IL
NORTHEAST METRO ISD 916
WHITE BEAR LAKE, MN
INTERNATIONAL SCHOOL SERVICES
PRINCETON, NJ
MARJORIE MUELLER
BRINNON, WA
NUREMBERG COMMUNITY PLAYERS
NUREMBERG, PA
NORTH COUNTY MIDDLE SCHOOL
DESLOGE, MO
AMBER GUENTHER
MORDEN, MB CANADA
MACHIAS MEMORIAL HIGH SCHOOL
MACHIAS, ME
MORGAN CITY HIGH SCHOOL
MORGAN CITY, LA
DULUTH HIGH SCHOOL THEATRE
DULUTH, GA
LA FARGE HIGH SCHOOL
LA FARGE, WI
FOWLER UNIFIED SCHOOL DISTRICT
FOWLER, CA
TROY HIGH SCHOOL
TROY, ID
JOANNE FLORIN
HUDSON, FL
CHAPEL POINTE
HUDSONVILLE, MI
BJORN NELSON
RICHFIELD, MN
ST GEORGE & ST ANDREW UNITED
ANNAPOLIS ROYAL, NS CANADA
KATHY BURT
FORT WORTH, TX
ST. MARY HIGH SCHOOL
PADUCAH, KY
SEELELY LAKE AREA CHAMBER
SEELEY LAKE, MT
POPE JOHN PAUL II HIGH SCHOOL
SLIDELL, LA
RANDY MILLER
BELMONT, NC
MARCIA JEFFREY
LOGAN, OH
LEE SCOTT ACADEMY
AUBURN, AL
WILTON COMMUNITY SCHOOL DIST
WILTON, IA
CYPRESS PALM MIDDLE SCHOOL
NAPLES, FL
HEIDI CRAIG
FORT YUKON, AK
MARY BERTRAND
LACROSSE, WA
CHARLOTTE PREPARATORY SCHOOL
CHARLOTTE, NC
J L WILKINSON JR HIGH SCH
MIDDLEBURG, FL
RINCON VALLEY CHRISTIAN SCHOOL
SANTA ROSA, CA
CHERRILL WARREN
BLAINE, MN
BENJAMIN BANNEKER MIDDLE SCH
BURTONSVILLE, MD
RAPID CITY DRAMA CLUB
RAPID CITY, MB CANADA
UINTA COUNTY SCHOOL DIST #1
EVANSTON, WY
ALTMAR PARISH WILLIAMSTOWN HS
PARISH, NY
EARLY COLLEGE EAST
HAVELOCK, NC
GLASCOCK COUNTY CONS. SCHOOL
GIBSON, GA
KEYTESVVILLE R-III SCHOOLS
KEYTESVILLE, MO
TONAWANDA HIGH SCHOOL
TONAWANDA, NY
RINGWOOD HIGH SCHOOL
RINGWOOD, OK
FRANKLIN HIGH SCHOOL
COLDWATER, MI
MARIETTA PUBLIC SCHOOL DIST
MARIETTA, OK
MISSION OAK HIGH SCHOOL
TULARE, CA
MIDLAND TRAIL HIGH SCHOOL
HICO, WV
BAYSIDE INTERMEDIATE SCHOOL
LEAGUE CITY, TX
CAPITOL CHRISTIAN MS
SACRAMENTO, CA
PUNTA GORDA MIDDLE SCHOOL
PUNTA GORDA, FL
HUTTON DISCOVERY UMC
HUTTON, TX
DUNWOODY HIGH SCHOOL
DUNWOODY, GA
NEWBURGH FREE ACADEMY
NEWBURGH, NY
MARY LOU HARDY
BRECHIN, ON CANADA
ST LUCIE WEST CENTENNIAL HS
PORT SAINT LUCIE, FL
CAMPBELL COUNTY HIGH SCHOOL
JACKSBORO, TN
ANN MUMM
OXFORD, MA
SOUTHWEST PLAYHOUSE
CLINTON, OK
MCANGUS WESTERN WEAR
PAHRUMP, NV
PLAZA PLAYHOUSE THEATRE
CARPINTERIA, CA
LONGFELLOW MIDDLE SCHOOL
DALLAS, TX
ST JOSEPH CARE CENTER
LOUISVILLE, OH
Close
Other titles
you may like:
Other products you might be interested in:
Spontaneous Performance
Over 300 improvisational exercises and theatre games are offered to develop creative abilities and acting skills. Many different types of improvs are presented, ranging from serious to hilarious.
Hear what directors and critics are saying:
We recently purchased scripts and rights to perform Cafe Murder for an Independent Alabama School Drama festival. I am happy to announce our kids placed 1st place at Regional and 3rd place at State with a cutting from this play! Thanks for being easy to work with!! Tricia Oliver, Lee-Scott Academy, Auburn, AL
My cast was fantastic. We set up as a dinner theater, and one of our families who owns a Mexican restaurant provided food. The play was funny and engaging for the cast and the audience.
I liked this play because we were able to use our cafeteria because of the setting and didn't have to spend much money on sets. I highly recommend this play for beginning clubs and actors.

Patti Guercio Landreau, Central Freshman Academy, Phenix City, AL