CAST: 2M, 5F, plus 2 roles that can be either, extras
SET: One interior set
TIME: About 40 minutes

Script: $6.25 Director's book: $15.00


ROYALTY:
$45 First Performance
$45 Each Additional Performance

This hilarious murder mystery comedy is easy to produce and perfect for either a stage production or dinner theatre. Rosemary Saint-John is a loud, annoying hypochondriac convinced she is allergic to water. Celebrating her birthday at a restaurant with her four kooky sisters–a hippie, a valley girl, a trucker and a banker–Rosemary makes enemies with everyone around her. When she disappears and is presumed murdered, the only objective witnesses in the restaurant are the audience members, who must cast their vote. Was it one of Rosemary's sisters? The self-taught detective? The passionate French chef? The polite and proper mâitre d'? The sarcastic waiter? No one is above suspicion in this delightful dinner theatre murder mystery! Read more...
Additional products available:
Director's book: $15.00

Production Photos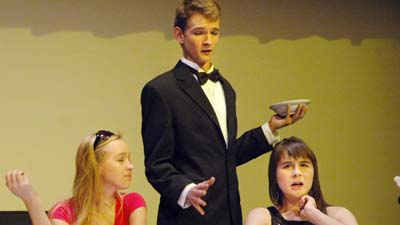 Video Clips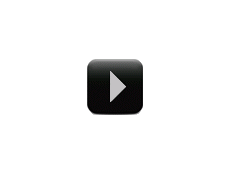 Use this script sample — including the cast list, production notes and several pages of the actual script — to help you select your next show. It is open in a new browser tab or window. To open it again, please click here.
Close
GOLDEN LEARNING CENTER PS
BALMERTOWN, ON CANADA
LYNDA PEER
SARANAC LAKE, NY
BRAZOSPORT ISD
CLUTE, TX
SS FIRST BAPTIST CHURCH YOUTH
FLORESVILLE, TX
CRESTWOOD MIDDLE SCHOOL
CHESAPEAKE, VA
HARRISON PREPARATORY SCHOOL
LAKEWOOD, WA
NINA JERKE
WICHITA, KS
HANSHEW MIDDLE SCHOOL
ANCHORAGE, AK
AMY DIDRIKSEN
HUNTSVILLE, AL
CARROLL CHRISTIAN SCHOOL
WESTMINSTER, MD
HORIZON CHRISTIAN SCHOOL
BALAKLAVA, SA AUSTRALIA
HARPER SCHOOL DISTRICT #66
HARPER, OR
ELLWOOD CITY AREA SCHOOL DIST
ELLWOOD CITY, PA
WALNUT GROVE CHRISTIAN SCHOOL
FORT MILL, SC
MARY BETH CUNNINGHAM
STREATOR, IL
CHERYL CHILDS
ALBUQUERQUE, NM
RAYMORE SCHOOL
RAYMORE, SK CANADA
IMMACULATE HEART OF MARY SCH
CORNER BROOK, NL CANADA
ROBERT MOUNTS
DEBARY, FL
RIVERMONT COLLEGIATE
BETTENDORF, IA
OAKRUN MIDDLE SCHOOL
NEW BRAUNFELS, TX
ALLAN COMPOSITE SCHOOL
ALLAN, SK CANADA
NORTHBOROUGH SENIOR CENTER
NORTHBOROUGH, MA
COLUMBIA CREST WINERY
PATERSON, WA
JOE EARLY
MIDDLESEX UNITED KINGDOM
OXFORD HILLS COMPREHENSIVE HS
SOUTH PARIS, ME
ST JAMES LUTHERAN SCHOOL
LAFAYETTE, IN
DEB CORMIER
IMLAY CITY, MI
MT ZION UMC
GRANDY, NC
SHANGHAI AMERICAN MIDDLE SCH
SHANGHAI CHINA
JUDITH JOHNSTON
DAWSON SPRINGS, KY
DEBORAH PLETZER
NORTHVILLE, MI
HOPE COMMUNITY RESOURCES
ANCHORAGE, AK
MAIN ST UNITED METHODIST CHRCH
ALBEMARLE, NC
BAY HAVEN CHARTER ACADEMY MS
PANAMA CITY, FL
JORDAN RICHTER
COLUMBIA, IL
FROG REPERTOIRE THEATRE
VINELAND, NJ
GENESEE INTERMEDIATE SCHL DIST
FLINT, MI
GENEE FIGUIERAS
LAWRENCE, KS
OXFORD HILLS CHRISTIAN ACADEMY
SOUTH PARIS, ME
ODIN HIGH SCHOOL
ODIN, IL
PETERSBURG ARTS COUNCIL
PETERSBURG, AK
DONNA JACKA
OAKMONT, PA
BETHANY FREE WILL BAPTIST
BROKEN ARROW, OK
RANDY COCHERAN
CYRIL, OK
JULIA MARRA
HULL, IA
CHESAPEAKE MONTESSORI SCHOOL
ANNAPOLIS, MD
PIKE LIBERAL ARTS SCHOOL
TROY, AL
WOODLAND HILLS BAPTIST CHURCH
TYLER, TX
SOLVAY HIGH SCHOOL
SOLVAY, NY
MAPLE CREST MIDDLE SCHOOL
KOKOMO, IN
LEAKEY ISD
LEAKEY, TX
DAVID JONES
ST AUGUSTINE, FL
MATTHEW RAMM
LITCHFIELD PARK, AZ
STATE COLLEGE COMMUNITY THTR
BOALSBURG, PA
FLORESVILLE HIGH SCHOOL
FLORESVILLE, TX
BRIDGETOWN HIGH SCHOOL
BRIDGETOWN, NJ
CLAY COUNTY ARTS COUNCIL
RECTOR, AR
SHERRI DIENSTFREY-SWANSON
POCATELLO, ID
GOLDSBORO HIGH SCHOOL
GOLDSBORO, NC
HUNTLEY PROJECT SCHOOLS
WORDEN, MT
DAWSON ISD
WELCH, TX
GRAY AVENUE MIDDLE SCHOOL
YUBA CITY, CA
WEST ASHLEY HIGH SCHOOL
CHARLSTON, SC
Close
Other titles
you may like:
Other products you might be interested in:
Spontaneous Performance
Over 300 improvisational exercises and theatre games are offered to develop creative abilities and acting skills. Many different types of improvs are presented, ranging from serious to hilarious.
Hear what directors and critics are saying:
We recently purchased scripts and rights to perform Cafe Murder for an Independent Alabama School Drama festival. I am happy to announce our kids placed 1st place at Regional and 3rd place at State with a cutting from this play! Thanks for being easy to work with!! Tricia Oliver, Lee-Scott Academy, Auburn, AL
I liked this play because we were able to use our cafeteria because of the setting and didn't have to spend much money on sets. I highly recommend this play for beginning clubs and actors.

Patti Guercio Landreau, Central Freshman Academy, Phenix City, AL
My cast was fantastic. We set up as a dinner theater, and one of our families who owns a Mexican restaurant provided food. The play was funny and engaging for the cast and the audience.