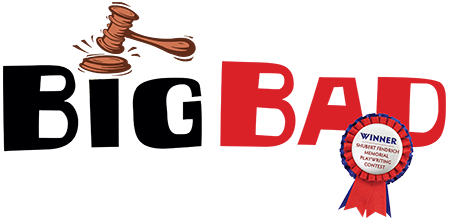 By Alec Strum
CAST: Flexible cast of 14 (3M, 5F, plus 6 roles that can be either)
SET: Simple courtroom set
TIME: About 45 minutes

Script: $6.25 Director's book: $17.50


ROYALTY:
$45 First Performance
$45 Each Additional Performance

Big Bad provides actors and audiences of any age with a smart and wickedly funny play that lets the audience determine the outcome of the play! The most notorious criminal in the fairy-tale world, Big Bad Wolf, is being slapped with a class-action lawsuit by the countless quirky characters he has wronged. Now, the two greatest legal minds in the Enchanted Forest — the Evil Stepmother and the Fairy Godmother — will clash (on live Court TV, no less, with Sydney Grimm as commentator!) in a trial that will be remembered forever after. As Little Red Riding Hood, her Grandmother, the Three Little Pigs and the Shepherd in charge of the Boy Who Cried Wolf testify, the wolf seems deserving of all that's coming. Read more...
Additional products available:
Director's book: $17.50

Production Photos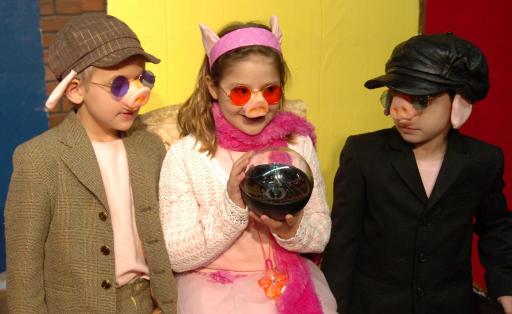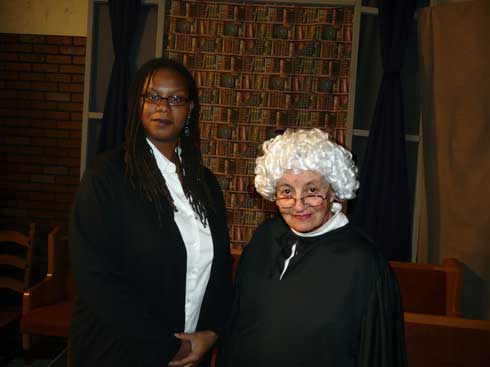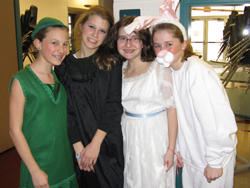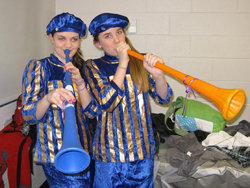 Use this script sample — including the cast list, production notes and several pages of the actual script — to help you select your next show. It is open in a new browser tab or window. To open it again, please click here.
Close
PARAGON ACADEMY
HOLLYWOOD, FL
UNION MIDDLE SCHOOL
SANDY, UT
BLESSED SACRAMENT CATH SCHOOL
SAVANNAH, GA
LISA HERNANDEZ
VIRGINIA BEACH, VA
CREMONA SCHOOL
CREMONA, AB CANADA
HIGH PIONT R-III
CALIFORNIA, MO
ARKOMA HIGH SCHOOL
ARKOMA, OK
MILLER'S RUN SCHOOL
SHEFFIELD, VT
OUR MOTHER OF PEACE SCHOOL
CHURCH POINT, LA
SMITH HALE MIDDLE SCHOOL
KANSAS CITY, MO
ST PAUL SCHOOL DISTRICT #45
SAINT PAUL, OR
ST PAUL PUBLIC SCHOOL
SAINT PAUL, NE
ANDREW SCHOOL
ANDREW, AB CANADA
SIERRA MIDDLE SCHOOL
ROSWELL, NM
BRIGHT BEGINNINGS MIDDLE SCHL
CHANDLER, AZ
PLEASANT HILL MIDDLE SCHOOL
PLEASANT HILL, CA
WESTOVER SENIOR HIGH SCHOOL
FAYETTEVILLE, NC
HOLDEN MIDDLE SCHOOL
HOLDEN, MO
JOHNSON CENTRAL HIGH SCHOOL
PAINTSVILLE, KY
ALLISON GARDNER
ALPHARETTA, GA
CLARENDON HILLS MIDDLE SCHOOL
CLARENDON HILLS, IL
SMITH MIDDLE SCHOOL
CYPRESS, TX
MACARTHUR FUNDAMENTAL SCHOOL
SANTA ANA, CA
EVELYN RICHARDSON MEMORIAL
SHAG HARBOR, NS CANADA
IMPERIAL MIDDLE SCHOOL
LA HABRA, CA
KINGWOOD TOWNSHIP BOARD OF ED
FRENCHTOWN, NJ
KINGSFORD HIGH SCHOOL
KINGSFORD, MI
OREGON TRAIL MIDDLE SCHOOL
OLATHE, KS
RAPID CITY AREA SCHOOLS
RAPID CITY, SD
FRIENDS OF MOUNT PLEASANT
MT PLEASANT, NC
SUNY POTSDAM
POTSDAM, NY
MONTELLO SCHOOL
LEWISTON, ME
SOUTH CARLETON HIGH SCHOOL
RICHMOND, ON CANADA
CARLIN ELEMENTARY MIDDLE SCHL
TAPPEN, BC CANADA
VALCERDE SCHL OF PERF ARTS
RANCHO CUCAMONGA, CA
WYEAST MIDDLE SCHOOL
VANCOUVER, WA
DAGGETT MONTESSORI
FORT WORTH, TX
CANAAN MIDDLE SCHOOL
PLAIN CITY, UT
CALLANAN MIDDLE SCHOOL
DES MOINES, IA
SOUTHERN HIGHLANDS PREP SCHOOL
LAS VEGAS, NV
DANNY JONES MIDDLE SCHOOL
MANSFIELD, TX
HAMLIN SCHOOL
SAN FRANCISCO, CA
CANYON PARK JUNIOR HIGH SCHOOL
BOTHELL, WA
TH ROGERS SCHOOL
HOUSTON, TX
HEATHER RESLER
LOGANVILLE, WI
STAGECOACH SOT
STAFFS UNITED KINGDOM
HARBORLIGHT MONTESSORI SCHOOL
BEVERLY, MA
PINE PRAIRIE HIGH SCHOOL
PINE PRAIRIE, LA
ST MARY'S SCHOOL
COLLINGWOOD, ON CANADA
OLD ORCHARD JR HIGH SCHOOL
SKOKIE, IL
EAST KENTWOOD HIGH SCHOOL
KENTWOOD, MI
SHANNON NEVELS
CENTERVILLE, IN
TURNER MIDDLE SCHOOL
BERTHOUD, CO
ROCKWOOD VALLEY MIDDLE SCHOOL
GLENCOE, MO
SOUTH VALLEY MIDDLE SCHOOL
LIBERTY, MO
ST ROSE OF LIMA CATHOLIC SCHL
HOUSTON, TX
PUMPKIN CENTER INTERMEDIATE
LINCOLNTON, NC
SHORTGRASS THEATRE/PLAYHOUSE
HOBART, OK
MICHAEL HARTMAN
OCEAN CITY, NJ
LIBERTY LAKE COMMUNITY THEATRE
LIBERTY LAKE, WA
ST DOMINIC ACADEMY
AUBURN, ME
LAURA ANDERSON
BRIDGEWATER, MA
QUICK AS A WINK THEATRE
WINDSOR, NS CANADA
OLD FORT PLAYERS, INC
FORT MADISON, IA
CLOUDCROFT LIGHT OPERA COMPANY
CLOUDCROFT, NM
IMAGINE DISCOVERY P.C.S.
BALTIMORE, MD
Close
Different versions of the
same or similar story:
Other titles
you may like:
Other products you might be interested in:
Multicultural Folktales
Introduce your students to other countries and cultures through the traditional folk and fairy tales in these engaging readers theatre scripts.
Stage Makeup
Filled with large color photographs and actors' design sketches, this gorgeous book will help you acquire the essential skills for doing period makeup, age makeup and special effects applications.
Hear what directors and critics are saying:
Big Bad was a fun play to produce because of the fun our kids had in creating the set and becoming the characters! Jonathon Klingeman, Altoona Area Junior High School, Altoona, PA
The story was hysterical and the audience was really liking the very tiny wolf we cast in a zoot suit. Such a well written script!
Loved the humor of the script and the pacing. There was no need to clean up the script for my students/audience.
Good number of characters, easy to build set, appropriate for my school.