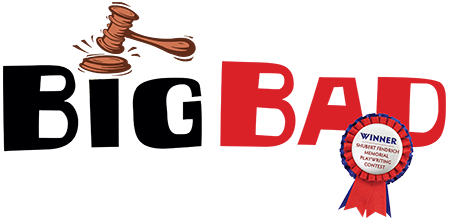 By Alec Strum
CAST: Flexible cast of 14 (3M, 5F, plus 6 roles that can be either)
SET: Simple courtroom set
TIME: About 45 minutes

Script: $6.25 Director's book: $17.50


ROYALTY:
$45 First Performance
$45 Each Additional Performance

Big Bad provides actors and audiences of any age with a smart and wickedly funny play that lets the audience determine the outcome of the play! The most notorious criminal in the fairy-tale world, Big Bad Wolf, is being slapped with a class-action lawsuit by the countless quirky characters he has wronged. Now, the two greatest legal minds in the Enchanted Forest — the Evil Stepmother and the Fairy Godmother — will clash (on live Court TV, no less, with Sydney Grimm as commentator!) in a trial that will be remembered forever after. As Little Red Riding Hood, her Grandmother, the Three Little Pigs and the Shepherd in charge of the Boy Who Cried Wolf testify, the wolf seems deserving of all that's coming. Read more...
Additional products available:
Director's book: $17.50

Production Photos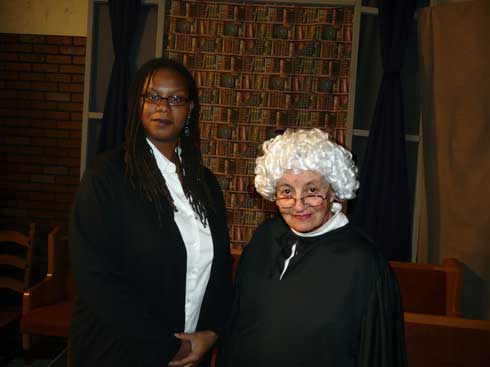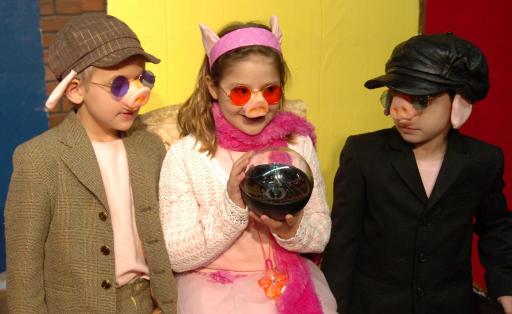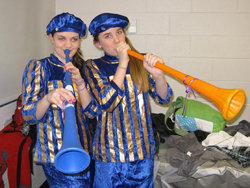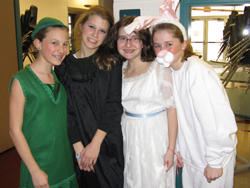 Use this script sample — including the cast list, production notes and several pages of the actual script — to help you select your next show. It is open in a new browser tab or window. To open it again, please click here.
Close
MICHAEL HARTMAN
OCEAN CITY, NJ
STANDARD SCHOOL
STANDARD, AB CANADA
NORTH CACHE 8-9 CENTER
RICHMOND, UT
GRAY AVENUE MIDDLE SCHOOL
YUBA CITY, CA
SANTA LUCIA SCHOOL
TEMPLETON, CA
TRINITY LUTHERAN
NICOLLET, MN
CUMBERLAND PLAYERS
VINELAND, NJ
HUNTINGTOWN UMC
HUNTINGTOWN, MD
LOU MCNARIN SCHOOL
DIEPPE, NB CANADA
WESTERN ROCKINGHAM MIDDLE SCHL
MADISON, NC
HOPE CHRISTIAN SCHOOL
PELHAM, AL
APPLETON CHRISTIAN SCHOOL
KIMBERLY, WI
MILFORD CHRISTIAN ACADEMY
MILFORD, OH
MT PLEASANT MIDDLE SCHOOL
MOUNT PLEASANT, IA
MOUNT PROSPECT PARK DISTRICT
MOUNT PROSPECT, IL
JERRY & KRISTIN MATHEWS
MATTESON, IL
ST CLAIR COMMUNITY COLLEGE
PORT HURON, MI
BROOKE IVERSON
SIGNAL MOUNTAIN, TN
LIVSEY ELEMENTARY SCHOOL
TUCKER, GA
VALLEY HIGH SCHOOL
ORDERVILLE, UT
ROBERT ALDRICH
BENZONIA, MI
DEBORAH PLETZER
NORTHVILLE, MI
BEAVER LOCAL MIDDLE SCHOOL
LISBON, OH
PHILIP BARBOUR HIGH SCHOOL
PHILIPPI, WV
CHRIST-ST PETER LUTHERAN SCHL
MILWAUKEE, WI
TRENTON CATHOLIC ACADEMY
HAMILTON, NJ
CONCORDIA INTL SCHOOL HANOI
DULLES, VA
JACKSONVILLE THEATRE GUILD
JACKSONVILLE, IL
BOYS GIRLS CLUB GREATER SALEM
SALEM, MA
ELIZABETH JONES
SAINT AMANT, LA
WAKEFIELD SCHOOL
THE PLAINS, VA
AURORA MIDDLE SCHOOL
AURORA, NE
SHRINE OF ST ANNE'S SCHOOL
ARVADA, CO
SAUK RAPIDS-RICE HIGH SCHOOL
SAUK RAPIDS, MN
KEMPS LANDING MAGNET SCHOOL
VIRGINIA BEACH, VA
DAHLSTROM MIDDLE SCHOOL
BUDA, TX
PAULINE JOHNSON COLLEGIATE
BRANTFORD, ON CANADA
RIDGEVIEW CHARTER SCHOOL
ATLANTA, GA
SWEET PEA COTTAGE
SEATTLE, WA
CARDINAL HEIGHTS UPPER MS
SUN PRAIRIE, WI
FOOTLIGHTERS
PORTHILL, ID
NORTHRIDGE MIDDLE SCHOOL
JOHNSTOWN, OH
PAWNEE HEIGHTS HIGH SCHOOL
ROZEL, KS
FLORENCE SAWYER SCHOOL
BOLTON, MA
REDFIELD PUBLIC SCHOOL
REDFIELD, SD
BUFFALO HIGH SCHOOL
BUFFALO, MO
MILLER GROVE ISD
CUMBY, TX
ALL SAINTS CATHOLIC SCHOOL
BROKEN ARROW, OK
TENAKILL MIDDLE SCHOOL
CLOSTER, NJ
JAMES WOOD HIGH SCHOOL
WINCHESTER, VA
GREAT NECK MIDDLE SCHOOL
VIRGINIA BEACH, VA
HERGET MIDDLE SCHOOL
AURORA, IL
KATELYN MATTSON-LEVY
LEE'S SUMMIT, MO
ST JOHN LA LANDE SCHOOL
BLUE SPRINGS, MO
EMMANUEL LUTHERAN SCHOOL
TEMPE, AZ
ST JOHNS LUTHERAN SCHOOL
LANESVILLE, IN
MONROE MIDDLE SCHOOL
MONROE, NC
SOUTH KNOX MIDDLE HIGH SCHOOL
VINCENNES, IN
SLIDELL JR HIGH SCHOOL
SLIDELL, LA
THE CARROLL PLAYERS
WESTMINSTER, MD
CAROUSEL PERF ARTS CENTER
KENNETT SQUARE, PA
VALATIE COMMUNITY THEATRE
VALATIE, NY
ENCORE STAGE & STUDIO
ARLINGTON, VA
SOUTHWEST CHRISTIAN SCHOOL
FT WORTH, TX
Close
Different versions of the
same or similar story:
Other titles
you may like:
Other products you might be interested in:
Multicultural Folktales
Introduce your students to other countries and cultures through the traditional folk and fairy tales in these engaging readers theatre scripts.
Stage Makeup
Filled with large color photographs and actors' design sketches, this gorgeous book will help you acquire the essential skills for doing period makeup, age makeup and special effects applications.
Hear what directors and critics are saying:
Good number of characters, easy to build set, appropriate for my school.
The story was hysterical and the audience was really liking the very tiny wolf we cast in a zoot suit. Such a well written script!
My favorite play I have directed was Big Bad. It had a variety of characters with enough smaller parts for inexperienced actors. The set was simple and costuming was a breeze! The kids were familiar with the basic story and were able to engage the audience. It was a huge hit! Erin Druckenmiller, Russell Elementary School, Rumney, NH
Big Bad was a fun play to produce because of the fun our kids had in creating the set and becoming the characters! Jonathon Klingeman, Altoona Area Junior High School, Altoona, PA