CAST: 6M, 11F, extras
SET: Simple interior set
TIME: About 90 minutes

Script: $7.00 Director's book: $20.00


ROYALTY:
$60 First Performance
$50 Each Additional Performance

Chaos and hilarity ensue in this hysterical spoof of several popular reality TV shows! When poor King Evian uses his last dying words (as he falls out the window) to pass royal succession not to greedy Prince Daft but to Yokel, a foolish hillbilly, everyone agrees Yokel needs a wife to help him run the kingdom. Reminiscent of The Bachelor, his staff brings in eligible young ladies to vie for the new king's hand, including Agatha Peabody, a high-society matron; Priscilla Tradewells-Ayers-Hollander-Morley, a four-times-married gold digger; Sally Valley, a ditzy cheerleader from L.A.; Crushin' Kanisha, a New York City gangster-type; and Jane Claxton, a true-hearted cowgirl from Texas. Read more...
Additional products available:
Director's book: $20.00

Production Photos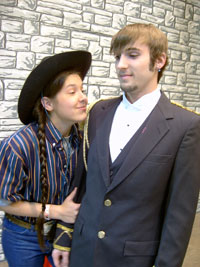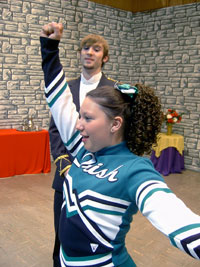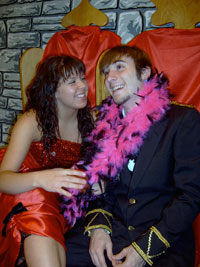 Video Clips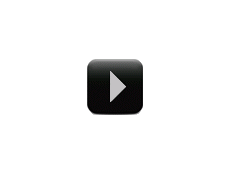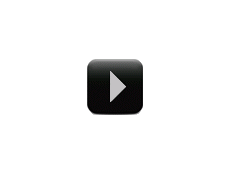 Use this script sample — including the cast list, production notes and several pages of the actual script — to help you select your next show. It is open in a new browser tab or window. To open it again, please click here.
Close
WESTVIEW SECONDARY SCHOOL
MAPLE RIDGE, BC CANADA
CENTRAL HIGH SCHOOL OF CLAY CO
LINEVILLE, AL
WINSTON HIGH SCHOOL
WATROUS, SK CANADA
VILLA ANGELA-ST JOSEPH HS
CLEVELAND, OH
ELLSWORTH PUBLIC SCHOOL
ELLSWORTH, MN
REBECCA RUSH
PEMBROKE, NH
RICH JR HIGH SCHOOL
LAKETOWN, UT
SAMUEL OGLE MIDDLE SCHOOL
BOWIE, MD
CLEVELAND CENTRAL CATHOLIC HS
CLEVELAND, OH
ST LUKE LUTHERAN SCHOOL
CABOT, PA
MACEDONIA SCHOOL
SECTION, AL
PLENTYWOOD SCHOOLS
PLENTYWOOD, MT
LOWER DAUPHIN MIDDLE SCHOOL
HUMMELSTOWN, PA
BRAY-DOYLE HIGH SCHOOL
MARLOW, OK
CARNEY-NADEAU SCHOOL
CARNEY, MI
STUTTGART SCHOOL DIST #22
STUTTGART, AR
CHICAGO W SIDE CHRISTIAN SCHL
CHICAGO, IL
CANTON R-V HIGH SCHOOL
CANTON, MO
OKAWVILLE JR/SR HIGH SCHOOL
OKAWVILLE, IL
HOLY ROSARY SCHOOL
SAINT MARYS, OH
SCHOOL DISTRICT OF POYNETTE
POYNETTE, WI
ISAAC E YOUNG MIDDLE SCHOOL
NEW ROCHELLE, NY
WASKADA SCHOOL
WASKADA, MB CANADA
DAKOTA CHRISTIAN SCHOOL
CORSICA, SD
GRACE UNITED CHURCH
STURGIS, SK CANADA
WALHALLA HIGH SCHOOL
WALHALLA, SC
LEBANON HOMESCHL DRAMA TROUPE
LEBANON, MO
DONALD MELKE
GRAVOIS MILLS, MO
UNIVERSITY CHRISTIAN SCHOOL
JACKSONVILLE, FL
WEST MARSHALL HIGH SCHOOL
STATE CENTER, IA
GRIFFITHS-SCOTT MIDDLE SCHOOL
MILLET, AB CANADA
O W BEST MIDDLE SCHOOL
DEARBORN HEIGHTS, MI
CENTRAL ALGOMA SECONDARY SCHL
DESBARATS, ON CANADA
MADISON HIGH SCHOOL
MADISON, KS
NEW ATHENS CUSD #60
NEW ATHENS, IL
JOHN MUIR MIDDLE SCHOOL
BURBANK, CA
MEGAN NEMIER-GREEN
CHATEAUGAY, NY
MORRIN SCHOOL
MORRIN, AB, CANADA
TRINITY LUTHERAN SCHOOL
DAVENPORT, IA
ST PAUL SECONDARY SCHOOL
MISSISSAUGA, ON, CANADA
BROOKHURST JUNIOR HIGH SCHOOL
ANAHEIM, CA
EAST SELKIRK MIDDLE SCHOOL
EAST SELKIRK, MB CANADA
TRINITY HIGH SCHOOL
MANCHESTER, NH
CUBA CITY HIGH SCHOOL
CUBA CITY, WI
INDIAN VALLEY HIGH SCHOOL
GNADENHUTTEN, OH
ST BERNARD MIDDLE SCHOOL
ST BERNARD, LA
ME CALLAGHAN JUNIOR HIGH SCH
ELMSDALE, PE, CANADA
CHRISTIAN FAITH ACADEMY
VAN, WV
MANKOTA SCHOOL
MANKOTA, SK, CANADA
CENTRAL YORK MIDDLE SCHOOL
YORK, PA
FLASHER PUBLIC SCHOOL
FLASHER, ND
ST STANISLAUS SCHOOL
JEFFERSON CITY, MO
CENTRAL JUNIOR HIGH SCHOOL
EAST PEORIA, IL
WEBSTER CITY HIGH SCHOOL
WEBSTER CITY, IA
VALLEY LUTHERAN HIGH SCHOOL
SAGINAW, MI
CALVARY UMC
COLORADO SPRINGS, CO
Close
Different versions of the
same or similar story:
Other titles
you may like:
Other products you might be interested in:
Tough Acts to Follow
These monologs take a strong look at teenage attitudes, lifestyles and problems. It focuses on those classic teenage quirks and idiosyncrasies–those weird, twisted qualities that make them teenagers.