CAST: Flexible cast of 5-19
SET: Simple interior and exterior sets
TIME: About 50 minutes
Script: $6.25

ROYALTY:
$40 First Performance
$40 Each Additional Performance

Anansi, the celebrated spider from African folklore, tells the story of an African mother and daughter who are kidnapped and sold into slavery. In prison and later on a slave ship coming to America, Shontay's mother calms her by telling her stories of Anansi and how he inherited the box of stories from Nyame the Sky God. The stories are about the bad things that greed can do and how every one of us is strong, even if we don't know it. With each story, Anansi springs to life along with the story characters for action-packed, light-hearted adventures. Shontay plays different roles throughout, the audience gets involved and an African drummer, if available, can even accent the stories. Taking comfort in Anansi's stories, Shontay is no longer afraid and makes it through the grueling journey on the slave ship. When mother and daughter arrive in America as slaves, they carry with them the folk tales and wisdom of their homeland — stories that make their lives bearable and give them meaning. This wonderfully theatrical children's play offers a unique perspective, imbuing the dismal tale of the slave trade with the bright, spirited folklore of African culture.

---
"An imaginative re-telling of the Anansi folktales put into a new context as the tales come to America on a slave ship...Wonderfully theatrical."
Omaha World-Herald
Additional products available:

Production Photos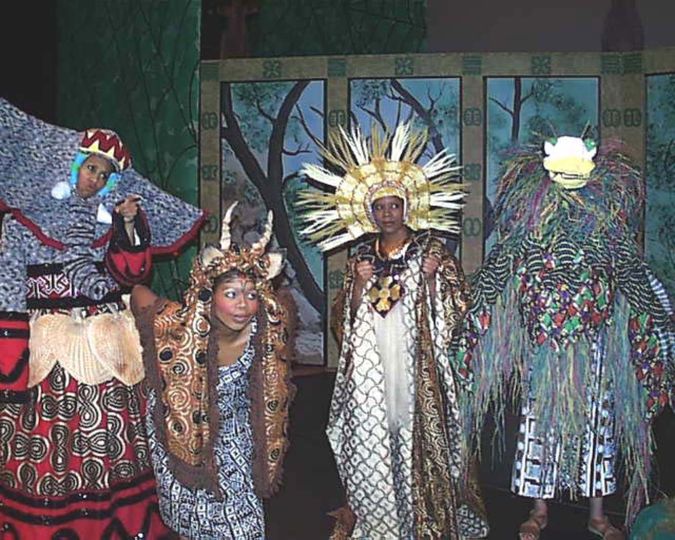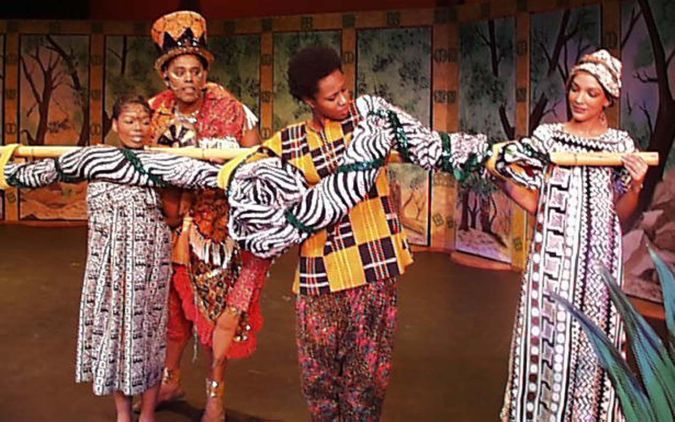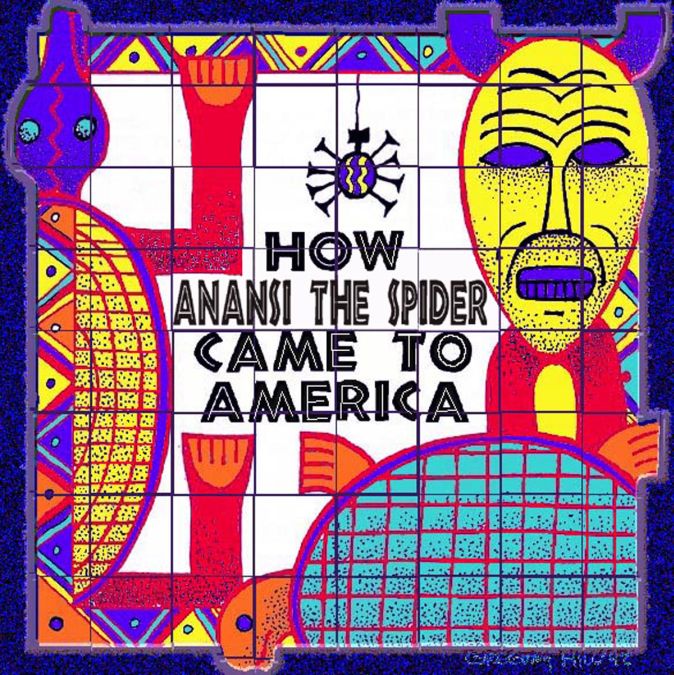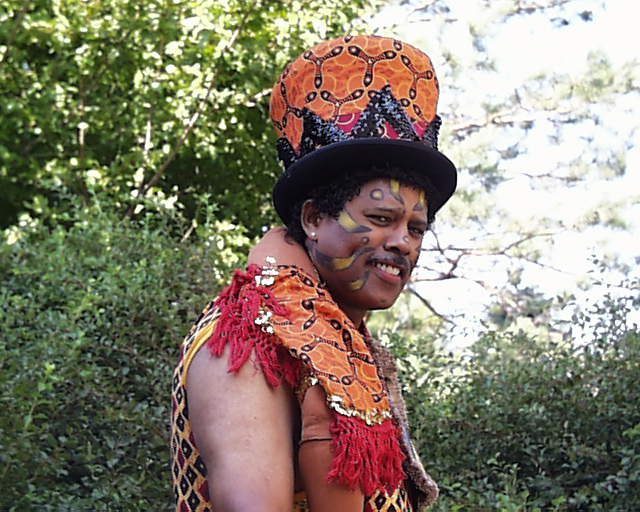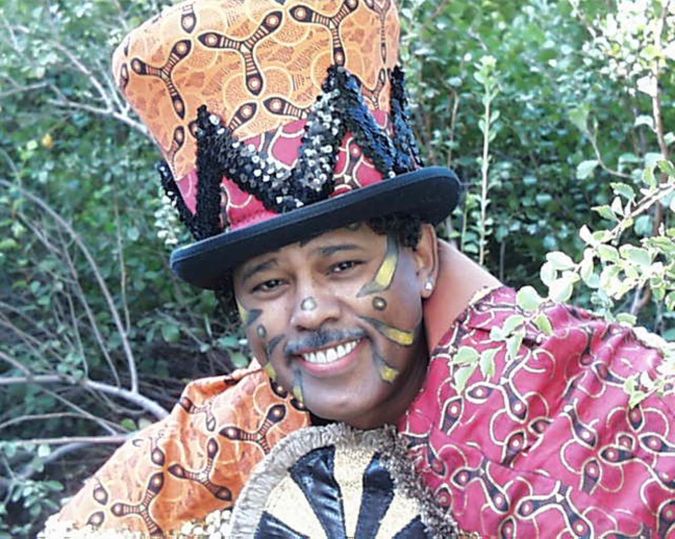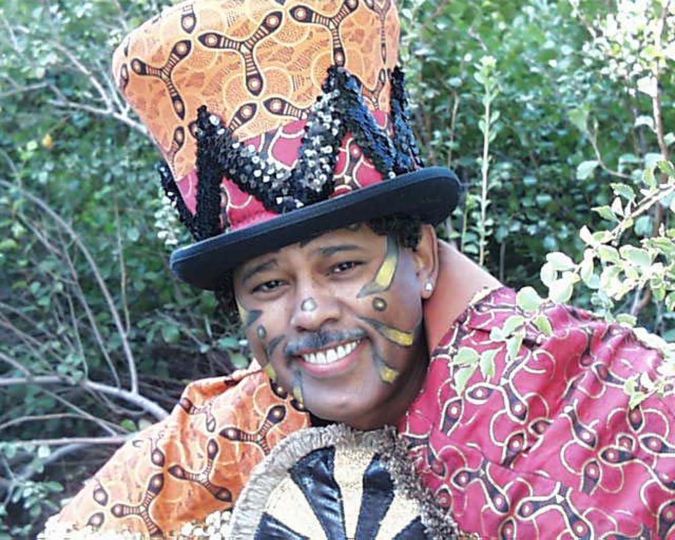 Use this script sample — including the cast list, production notes and several pages of the actual script — to help you select your next show. It is open in a new browser tab or window. To open it again, please click here.
Close
CRISP COUNTY HIGH SCHOOL
CORDELE, GA
NICHOLS MIDDLE SCHOOL
BUFFALO, NY
RANCHO SOLANO PREP SCHOOL
SCOTTSDALE, AZ
CHRYSALIS CENTER
LAKE CITY, FL
JAY-WESTFIELD ELEMENTARY SCHL
JAY, VT
HERITAGE HIGH SCHOOL
NEWPORT NEWS, VA
HERETAUNGA INTERMEDIATE SCHOOL
HAWKES BAY NEW ZEALAND
THEATRE FOR YOUNG AMERICA
MISSION, KS
IRVINGTON ELEMENTARY SCHOOL
PORTLAND, OR
FOREIGN LANGUAGE ACADEMY
KANSAS CITY, MO
JOHN MARSHALL MID/HIGH SCHOOL
OKLAHOMA CITY, OK
TIMBERVIEW MIDDLE SCHOOL
COLORADO SPRINGS, CO
BROWNS RIVER MIDDLE SCHOOL
JERICHO, VT
URBAN ASSEMBLY
NEW YORK, NY
NACO ELEMENTARY
NACO, AZ
GEORGIA COLLEGE & STATE UNIV
MILLEDGEVILLE, GA
GENESEE COMMUNITY COLLEGE
BATAVIA, NY
MAIN STREET THEATRE
HOUSTON, TX
NICHOLS MIDDLE SCHOOL
BUFFALO, NY
HARPERS FERRY HISTORICAL ASSN
HARPERS FERRY, WV
HELEN PETERSEN
OAKLAND, KY
SANTA MONICA MONTESSORI SCHOOL
SANTA MONICA, CA
SEABURY SCHOOL
TACOMA, WA
COMMANDER/USACFSC
FORT BELVOIR, VA
BEAUFORT HIGH SCHOOL
BEAUFORT, SC
AURORA FOX CHILDREN'S THEATRE
AURORA, CO
BROOKLYN JESUIT PREPARATORY
BROOKLYN, NY
MS 313
BROOKLYN, NY
Close
Other titles
you may like:
Other products you might be interested in:
Multicultural Theatre
These 37 scenes and monologs by writers of the multicultural experience are certain to inspire actors and directors. This is an excellent collection for expressing cultural diversity.
Multicultural Folktales
Introduce your students to other countries and cultures through the traditional folk and fairy tales in these engaging readers theatre scripts.