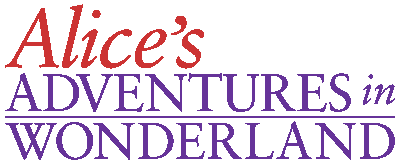 Adapted by Tim Kelly
CAST: Flexible cast of 15-30, extras
SET: Simple settings
TIME: About 90 minutes

Script: $7.00 Director's book: $17.50


ROYALTY:
$60 First Performance
$50 Each Additional Performance

Follow that rabbit to a delightful, entertaining world of childhood fantasies. Alice journeys into a world of talking animals, comic royalty and races where the contestants run in circles! There are also the Mad Hatter's frantic tea party, the watch-carrying White Rabbit and talking flowers. Along the way Alice must deal with a sneezing duchess and a baby that turns into a pig! The finale has Alice watching a trial, but she suddenly finds herself the accused! The play gives a modern view to an old classic, where nonsense makes quite good sense.
Additional products available:
Director's book: $17.50

Production Photos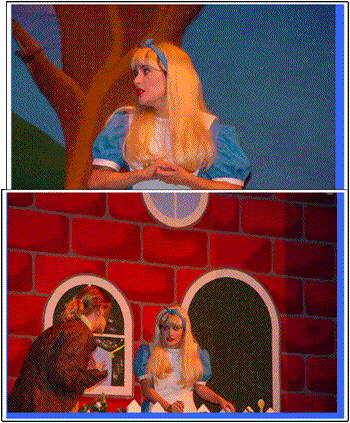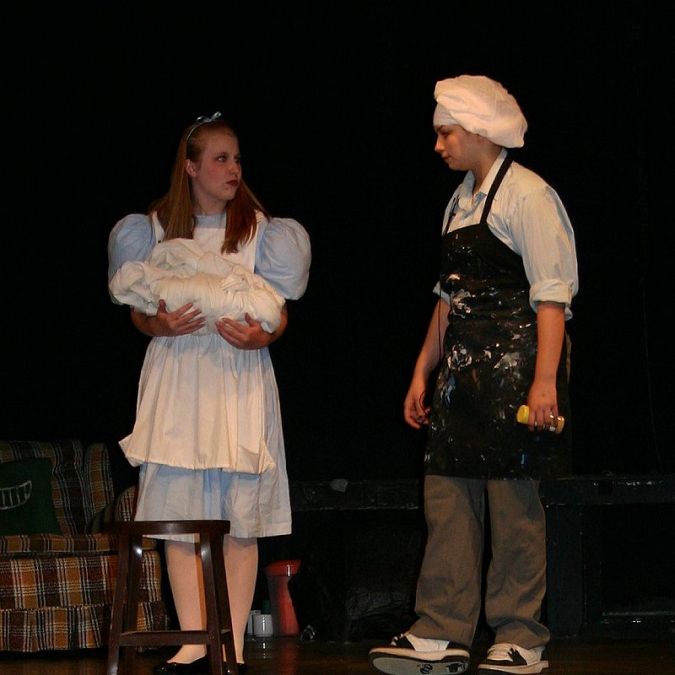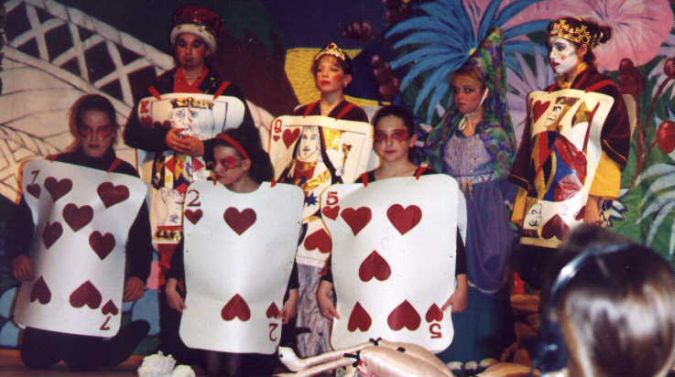 Production Slide Shows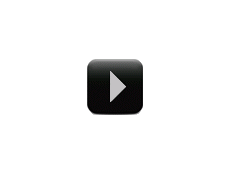 Use this script sample — including the cast list, production notes and several pages of the actual script — to help you select your next show. It is open in a new browser tab or window. To open it again, please click here.
Close
GIPPSLAND GRAMMER
SALE, VIC AUSTRALIA
ST PIUS X SCHOOL
TORONTO, ON CANADA
LINWOOD MONROE COMMUNITY SCH
SAINT PAUL, MN
SANFORD COLLEGIATE
SANFORD, MB CANADA
MIAMI VALLEY CHRISTIAN ACADEMY
CINCINNATI, OH
CALVARY BAPTIST SCHOOL
LANSDALE, PA
CLINTON HIGH SCHOOL
CLINTON, AR
CASTON HIGH SCHOOL
FULTON, IN
SHILOH MIDDLE SCHOOL
SHILOH, IL
MURPHYSBORO MIDDLE SCHOOL
MURPHYSBORO, IL
JEFFERSON HIGH SCHOOL
LAFAYETTE, IN
VINCENT MASSEY JR HIGH SCHOOL
CALGARY, AB CANADA
HILTON HIGH SCHOOL
HILTON, NY
RRMR CMNTY SCHOOL DISTRICT
ROCKFORD, IA
CLEAR LAKE INTERMEDIATE SCHOOL
HOUSTON, TX
WEST CANADA VALLEY HIGH SCHOOL
NEW PORT, NY
EAU CLAIRE YMCA
EAU CLAIRE, WI
BAY PATH COLLEGE
LONGMAEDOW, MA
DON JUAN AVILA MIDDLE SCHOOL
ALISO VIEJO, CA
C.A.S.T. INC.
MANCHESTER, CT
NORTH ENGLISH HIGH SCHOOL
NORTH ENGLISH, IA
NEW LIFE CHRISTIAN SCHOOL
FREDERICK, MD
PENQUIS VALLEY HIGH SCHOOL
MILO, ME
COLLEGIATE SCHOOL OF MEMPHIS
MEMPHIS, TN
GATEWAY SCIENCE ACADEMY SOUTH
ST LOUIS, MO
SILVER LAKE HIGH SCHOOL
SILVER LAKE, KS
WADE RODRIGUE
THIBODAUX, LA
TAKE ONE PERFORMING ARTS
RONKONKOMA, NY
TACONIC HILLS MIDDLE SCHOOL
CRARYVILLE, NY
BOAZ HIGH SCHOOL
BOAZ, AL
GRIFFIN HIGH SCHOOL
GRIFFIN, GA
ST PETER PRINCE OF APOSTLES
SAN ANTONIO, TX
BUXTON OPERA HOUSE
DERBYSHIRE ENGLAND
LEWISTON-PORTER MIDDLE SCHOOL
YOUNGSTOWN, NY
SWEET PEA COTTAGE
SEATTLE, WA
WATERTOWN HIGH SCHOOL
WATERTOWN, CT
ROANE ARTS & HUMANITIES CNCL
SPENCER, WV
SIEGEL HIGH SCHOOL
MURFREESBORO, TN
KINGS MOUNTAIN LITTLE THEATRE
KINGS MOUNTAIN, NC
RIDGE JUNIOR SCHOOL
WEST CHESTER, OH
WATERVILLE DRAMA CLUB
WATERVILLE, WA
GLASGOW MIDDLE SCHOOL
ALEXANDRIA, VA
HASTINGS HIGH SCHOOL
HASTINGS, MI
TRUESDELL MIDDLE SCHOOL
WICHITA, KS
WEST MIDDLE SCHOOL
BROCKTON, MA
WEST PERRY SR HIGH SCHOOL
ELLIOTTSBURG, PA
AIM ACADEMY
CONSHOHOCKEN, PA
SETON SCHOOL
MANASSAS, VA
ANTLERS HIGH SCHOOL
ANTLERS, OK
RIVERDALE HIGH SCHOOL
FORT MYERS, FL
CURTIS MIDDLE SCHOOL
ALLEN, TX
NORTH CENTRAL HIGH SCHOOL
FARMERSBURG, IN
MANKATO EAST HIGH SCHOOL
MANKATO, MN
MOTLOW COLLEGE
TULLAHOMA, TN
DR EDWARD ROBERSON MIDDLE SCH
HOUSTON, TX
HESPERIA HIGH SCHOOL
HESPERIA, CA
RED MASK PLAYERS
DANVILLE, IL
TRINITY HIGH SCHOOL
MANCHESTER, NH
PERFORMING ARTS
DEPEW, NY
ANTIOCH CHILDREN'S THEATRE
ANTIOCH, CA
WICHITA HIGH SCHOOL NORTH
WICHITA, KS
CRIGHTON THEATRE FOUNDATION
CONROE, TX
Close
Different versions of the
same or similar story:
Other products you might be interested in:
Mother Goose Readers Theatre for Beginning Readers
Written for children reading at first and second grade levels, this readers theatre book uses the endearing Mother Goose rhymes as its basis, making it especially valuable to teachers and librarians.
Hear what directors and critics are saying:
Well written, lots of characters for our youth group and 'get creative' opportunities.
This is a play that will appeal to young kids as well as teens and even adults.

David Sousa, New Britain Youth Theatre, New Britain, CT
Alice's Adventures in Wonderland was just what I was looking for after reading several other adaptations (poor in my mind) of the same story. This one told the classic story without being too saccharine or long, considering we wanted to appeal to a mixed audience. ...appealing to adults, teens and younger children. Abigail Kean, Kettle Moraine High School, Wales, WI
I've always enjoyed Lewis Carol's books. I like that the play has a lot of neat characters, and it also let me be flexible in how many kids I could cast.

Ellen Kline, Kettle Run High School, Nokesville, VA