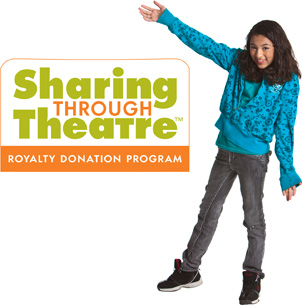 Sharing Through Theatre
We know people all over the world need help. We also know
we have the capacity to touch lives through theatre
, so Pioneer Drama Service has created the
Sharing Through Theatre
™ Royalty Donation Program.
We have invited our playwrights and composers to contribute a portion of their royalties to one of four top-rated charities and are matching their donations, dollar for dollar. The response from our playwrights and composers has been tremendous, and you'll see their generous spirit throughout the website.
Any play or musical that has a portion of its
performance royalties designated for a charity proudly
displays our Sharing Through Theatre™ emblem
indicating one of these fine non-profit organizations:
Thanks to the generosity of our playwrights and matching
dollars from Pioneer Drama Service, in the last three years
Sharing Through Theatre™ has donated over $20,000
to these fine charities!
PLEASE JOIN US IN THANKING THESE PLAYWRIGHTS AND COMPOSERS WHO HAVE CHOSEN TO PARTICIPATE: