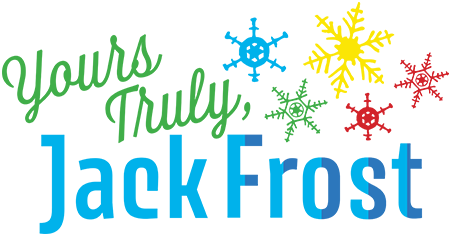 By Tim Kelly
CAST: Flexible cast of 11 (roughly 4M, 7F, can be all female), optional extras
SET: Simple interior set
TIME: About 30 minutes
Script: $5.50

ROYALTY:
$30 First Performance
$30 Each Additional Performance

Jack Frost, who decorates windowpanes during the Christmas season, has his office atop the Smiles Department Store. He runs things in an old-fashioned way. He doesn't even know what a credit card is! Enter Evilina of the Muggleworth Advertising Agency. She's convinced money will buy anything. Evilina attempts to force Jack into signing over his frost formula. She wants to forget about Christmas and market a line of shoddy products: Jack Frost Burgers, Jack Frost Snowcones, Jack Frost T-shirts. When her original plot fails, Evilina steals the formula. However, only Jack knows about the necessary "secret ingredient." Evilina is left holding a useless bottle of pooch cologne called "Doggone Good," and Jack continues to bring goodwill to the world.
Additional products available:

Use this script sample — including the cast list, production notes and several pages of the actual script — to help you select your next show. It is open in a new browser tab or window. To open it again, please click here.
Close
PAUL BREAUX MIDDLE SCHOOL
LAFAYETTE, LA
BROOME COMMUNITY COLLEGE
BINGHAMTON, NY
MCLEAN SCHOOL
MCLEAN, SK CANADA
WEST DESERT HIGH SCHOOL
TROUT CREEK, UT
HUEYTOWN MIDDLE SCHOOL
HUEYTOWN, AL
GREATER OCEAN CITY THEATRE CO
OCEAN CITY, NJ
HARPERS FERRY MIDDLE SCHOOL
HARPERS FERRY, WV
OAKS ROAD ELEMENTARY
NEW BERN, NC
CLAYTON JUNIOR HIGH SCHOOL
CLAYTON, NM
OUR LADY OF ASSUMPTION SCHOOL
ATLANTA, GA
MID MICHIGAN COMMUNITY COLLEGE
HARRISON, MI
CITY OF KALAMAZOO
KALAMAZOO, MI
BROOME COMMUNITY COLLEGE
BINGHAMTON, NY
HERMON DEKALB CENTRAL SCHOOL
DEKALB JUNCTION, NY
REHOBETH HIGH SCHOOL
DOTHAN, AL
ANSONIA HIGH SCHOOL
ANSONIA, OH
EUNICE PUBLIC SCHOOLS
EUNICE, NM
BROOKLAND MIDDLE SCHOOL
RICHMOND, VA
POCKET FULL OF TALES
LOS ANGELES, CA
LAKESIDE PLAYERS
TAFTON, PA
SAME DIFFERENCE INCLUSIVE
BUTTE, MT
MCDONALD MIDDLE SCHOOL
MESQUITE, TX
Close
Other titles
you may like:
Other products you might be interested in:
The Drama Teacher's Companion
The software contains dozens of fresh scripts, lesson plans and diagrams. It includes warm-ups and games, lesson plans for acting, directing, improvisation and other theatrical subject areas.
Dramatizing Myths and Tales
Explore the richness of five cultures with five scripts. Dramatic illustrations set the scene for each culture, and follow-up questions explore the history and theatrical traditions of each one.