A Hair-Raisin' Musical Spoof in Two Acts

Book by Tim Kelly
Music and lyrics by Bill Francoeur
Here's a zany spoof of the 1950s grade B horror films! Life at Riverdale High is hard for our hero Rupert Lydecker. Most everyone, except the compassionate Claudia, considers him a loser. But we all know he's not. He's just terribly unsure of himself. So he takes it upon himself to visit the eerie hilltop asylum of the old and ancient Doctor Murdock Dangerfield. This creepy place is filled with the doc's kooky experiments, everything from a two-headed teenager to a malfunctioning robot. A youth serum, in fact, has left our elderly scientist looking 14 years old! Hoping to change his personality, Rupert gulps down some icky goop, and we get to witness an amazing transformation: boy to hairy 'n scary beast!!! Talk about a confused teenager! Read more...
Additional products available:
Director's book: $20.00
Piano score: $25.00
Vocal score: $8.00
Production-rehearsal CD set: $65.00
CD sampler L: $4.00
DVD of amateur performance: $10.00
Orchestral Parts [Bass, Percussion]: $6.00

Production Photos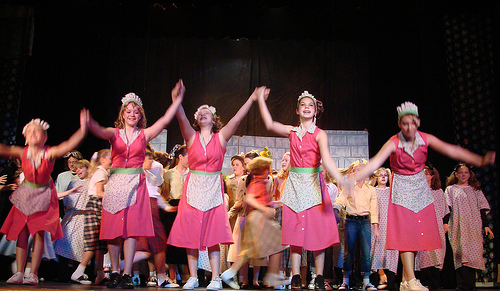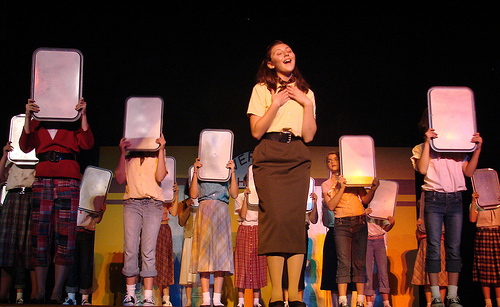 Use this script sample — including the cast list, production notes and several pages of the actual script — to help you select your next show. It is open in a new browser tab or window. To open it again, please click here.
Close
PCM MIDDLE SCHOOL
PRAIRIE CITY, IA
BELLEISLE REGIONAL HIGH SCHOOL
SPRINGFIELD, NB CANADA
ST JEAN BREBEUF SCHOOL
CALGARY, AB, CANADA
FORBUSH MIDDLE SCHOOL
EAST BEND, NC
ARCHERWILL CENTENNIAL CENTRE
ARCHERWILL, SK, CANADA
HASTINGS HIGH SCHOOL
HOUSTON, TX
KNOLLWOOD SCHOOL
FAIR HAVEN, NJ
BURNEY HIGH SCHOOL
BURNEY, CA
LINCOLN HIGH SCHOOL
LINCOLN, AR
BAKER ACTING STUDIO
TUCSON, AZ
LARNED HIGH SCHOOL
LARNED, KS
ASHLAND PRODUCTIONS
MAPLEWOOD, MN
SYRACUSE CHILDREN'S THEATRE
EAST SYRACUSE, NY
BERKSHIRE MIDDLE SCHOOL
BEVERLY HILLS, MI
SUNSRISE R-9 SCHOOL
DESOTO, MO
ILWACO MIDDLE HIGH SCHOOL
ILWACO, WA
LAKE CASTLE PRIVATE SCHOOL
SLIDELL, LA
BELLBROOK MIDDLE SCHOOL
BELLBROOK, OH
KENNER COLLEGIATE VOCAT INSTIT
PETERBOROUGH, ON, CANADA
HOUSTON HIGH SCHOOL
HOUSTON, OH
TWIN OAKS ELEMENTARY SCHOOL
LEESBURG, GA
LOST IN THE ARTS
BRANCHVILLE, NJ
RICHARD E BYRD MIDDLE SCHOOL
SUN VALLEY, CA
BETHEL-TATE MIDDLE SCHOOL
BETHEL, OH
DAVIS COUNTY MIDDLE SCHOOL
BLOOMFIELD, IA
CASHMERE MIDDLE SCHOOL
CASHMERE, WA
FRANK MADDOCK HIGH SCHOOL
DRAYTON VALLEY, AB, CANADA
SOUTHERN HILLS MIDDLE SCHOOL
BOULDER, CO
IMMACULATE CONCEPTION SCHOOL
COLUMBUS, OH
SUSSEX SCHOOL
MISSOULA, MT
CARROLL COUNTY ARTS COUNCIL
WESTMINSTER, MD
GORHAM MIDDLE SCHOOL
GORHAM, ME
ARTS PARTNERSHIP
FINDLAY, OH
ST MARY MAGDALEN SCHOOL
WILMINGTON, DE
LUTHER BURBANK MIDDLE SCHOOL
LANCASTER, MA
OAK TREE SCHOOL
FOREST GROVE, OR
ROTHESAY HIGH SCHOOL / SD #8
ROTHESAY, NB, CANADA
SOUTHERN ARKANSAS UNIVERSITY
MAGNOLIA, AR
PARKERS CHAPEL HIGH SCHOOL
EL DORADO, AR
CARRABEC HIGH SCHOOL
NORTH ANSON, ME
CLINCH COUNTY BOARD OF ED
HOMERVILLE, GA
DEER LAKES HIGH SCHOOL
RUSSELLTON, PA
Close
Different versions of the
same or similar story:
Other titles
you may like:
Other products you might be interested in:
The Ultimate Audition Book For Teens
This series is a wealth of fabulous award-winning material written specifically for today's teens. And the best part? It all happens in a minute!
Listen to a clip of every song from the show
Click on a song title to play that sound clip. Click again to pause, or simply click another title to switch songs.
Can't hear the song samples? Click here for a different song format.
Hear what directors and critics are saying:
I have done this play twice and always enjoy the combination of Tim Kelly/Bill Francoeur. It was enjoyable for all ages.