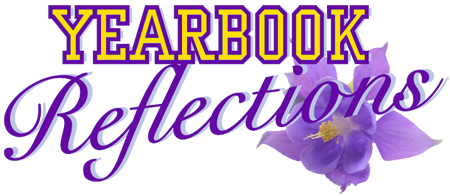 Book by Steven Fendrich
Music and lyrics by Scott DeTurk

Your school and community will revel in this inspiring play, filled with songs that will touch the hearts of everyone both watching and performing. Yearbook Reflections is a sensitive, upbeat musical about the will power, compassion and humor that you find in every school. Susan and Beth ask Jack and Eric to help move the boxes of hot-off-the-press yearbooks that have just arrived at their school. Between loads, they stop and flip through the pages of time, reflecting back on the year's highlights. With the help of flashback scenes, we meet superstitious Debbie, who sings about her "lucky" locker helping her get asked to the school dance. Read more...
Additional products available:
Director's book: $20.00
Piano score: $25.00
Vocal score: $8.00
Production-rehearsal CD set: $65.00
CD sampler U: $4.00

Use this script sample — including the cast list, production notes and several pages of the actual script — to help you select your next show. It is open in a new browser tab or window. To open it again, please click here.
Close
HERITAGE HEIGHTS SCHOOL
DEWINTON, AB CANADA
JOHN F. PARKER MIDDLE SCHOOL
TAUNTON, MA
CHOTEAU HIGH SCHOOL
CHOTEAU, MT
WISE COUNTY SCHOOLS
WISE, VA
OAK HILL MIDDLE SCHOOL
SABATTUS, ME
VIRGIN VALLEY HIGH SCHOOL
MESQUITE, NV
CHICOPEE HIGH SCHOOL
CHICOPEE, MA
PLEASANTVILLE CMNTY SCHL DIST
PLEASANTVILLE, IA
MASSABESIC MIDDLE SCHOOL
EAST WATERBORO, ME
EAST RIDGE MIDDLE SCHOOL
WHITESBURG, TN
HENRY CO R-1 SCHOOLS
WINDSOR, MO
SCHLEY COUNTY MS/HS
ELLAVILLE, GA
WEST CRAVEN MIDDLE SCHOOL
NEW BERN, NC
CREATIVE CHARACTERS
ALLEN PARK, MI
NORTH BABYLON HIGH SCHOOL
NORTH BABYLON, NY
WILLOWCREEK MIDDLE SCHOOL
PORTAGE, IN
WELLWOOD MIDDLE SCHOOL
FAYETTEVILLE, NY
BERKLEY ACCELERATED MIDDLE SCH
AUBURNDALE, FL
SPRINGBORO HIGH SCHOOL
SPRINGBORO, OH
RABBIT RUN CMNTY ARTS ASSOC
MADISON, OH
CURTAIN CALL THEATRE
BRAINTREE, MA
BURKE HIGH SCHOOL
CHARLESTON, SC
THOMPKINS MIDDLE SCHOOL
EVANSVILLE, IN
ASA CLARK MIDDLE SCHOOL
PEWAUKEE, WI
ROBERT H LAGERQUIST PUB SCH
BRAMPTON, ON, CANADA
NEWMAN HIGH SCHOOL
MASON CITY, IA
ELMWOOD HIGH SCHOOL
ELMWOOD, IL
SAN CARLOS CHILDRENS THEATER
SAN CARLOS, CA
ST BENEDICT CATHEDRAL SCHOOL
EVANSVILLE, IN
CALGARY ARTS SUMMER SCHOOL
CALGARY, AB, CANADA
MENNO SIMONS CHRISTIAN SCHOOL
CALGARY, AB, CANADA
KELLOGG HIGH SCHOOL
KELLOGG, ID
MELCHER-DALLAS HIGH SCHOOL
MELCHER, IA
FRANKLIN MIDDLE SCHOOL
FRANKLIN, NH
DORCHESTER PUBLIC SCHOOL
DORCHESTER, NE
ROANE COUNTY HIGH SCHOOL
SPENCER, WV
PINEWOOD SCHOOL
LOS ALTOS HILLS, CA
KERNODLE MIDDLE SCHOOL
GREENSBORO, NC
HERBERT HOOVER HIGH SCHOOL
CLENDENIN, WV
KINGSTON HIGH SCHOOL
KINGSTON, NY
BLUE OAKS SCHOOL
NAPA, CA
URSULINE ACADEMY
SAINT LOUIS, MO
Close
Different versions of the
same or similar story:
Other titles
you may like:
Other products you might be interested in:
The Right Way to Sing
This easy-to-read text exposes many misconceptions about singing and replaces them with a tested, systematic program.
Listen to a clip of every song from the show
Click on a song title to play that sound clip. Click again to pause, or simply click another title to switch songs.
Can't hear the song samples? Click here for a different song format.