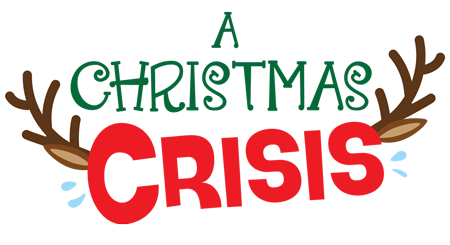 A Holiday Melodrama

By R. Eugene Jackson
CAST: 6M, 4F, doubling possible
SET: Simple exterior set
TIME: About 40 minutes
Script: $5.75

ROYALTY:
$35 First Performance
$35 Each Additional Performance

Imagine two people so mean they would ban Christmas, rip down all the decorations and outlaw Christmas wrapping! Well, Mama and Ebenezer Grunch do exactly that when they trick Happy Holiday into signing over the deed to the town of Mistletoe Mesa. They even kidnap Santa Claus and lock him in the outhouse, along with his eight reindeer. Just when it seems that Mama and Ebenezer Grunch will succeed with their evil plans, they are defeated by our hero, Happy Holiday. Tiny Kim and our heroine, Mary Christmas, discover the real deed to the town, which has been left to the citizens by Happy's father. Santa is released in time to finish his rounds, and everything ends on a "Happy Holiday" note. This is a real "knee-slapping" yuletide melodrama — the perfect play for any Christmas program.
Additional products available:

Use this script sample — including the cast list, production notes and several pages of the actual script — to help you select your next show. It is open in a new browser tab or window. To open it again, please click here.
Close
TRACY CATHEY
LAGO VISTA, TX
PLAYCRAFTERS
TUCSON, AZ
FIRST UNITED METHODIST CHURCH
COLORADO SPRINGS, CO
YOUNG FOOTLITERS YOUTH THEATRE
IOWA CITY, IA
DUSTIN PUBLIC SCHOOL
DUSTIN, OK
JUDYANN HELLRUNG
PORTERVILLE, CA
MILLER INTERMEDIATE SCHOOL
CRESCENT CITY, FL
PULASKI FINE ARTS ASSOCIATION
WAYNESVILLE, MO
GREENCASTLE ANTRIM HIGH SCH
GREEN CASTLE, PA
EL DORADO SPRINGS R-2 SCHOOL
EL DORADO SPRINGS, MO
PERKINS HIGH SCHOOL
SANDUSKY, OH
OUR LADY OF ASSUMPTION SCHOOL
ATLANTA, GA
COTTER HIGH SCHOOL
COTTER, AR
CAVE CITY INT/MIDDLE SCHOOL
CAVE CITY, AR
WORD OF MOUTH PRODUCTIONS
FRISCO, TX
WATSEKA PARK DISTRICT
WATSEKA, IL
MANVEL JUNIOR HIGH SCHOOL
MANVEL, TX
RAVENNA HIGH SCHOOL
RAVENNA, MI
NOTRE DAME SCHOOL
WARREN, OH
CEMENT HIGH SCHOOL
CEMENT, OK
SOUTHWESTERN OKLAHOMA STATE U
WEATHERFORD, OK
GRANT MIDDLE SCHOOL
ENGLEWOOD, CO
MANASSAS PARK HIGH SCHOOL
MANASSAS PARK, VA
MAYBELL ELEMENTARY SCHOOL
MAYBELL, CO
LAKE VIEW HIGH SCHOOL
SAN ANGELO, TX
CLARK JUNIOR HIGH SCHOOL
PRINCETON, TX
OAKDALE HIGH SCHOOL
OAKDALE, CA
SIERRA ELEMENTARY SCHOOL
TOLLHOUSE, CA
MT OLIVE HIGH SCHOOL
MOUNT OLIVE, IL
JOSHUA CIRCLE ELEMENTARY
HESPERIA, CA
DIXON MIDDLE SCHOOL
DIXON, MO
SPRING CREEK SCHOOL
DECKER, MT
Close
Other titles
you may like:
Other products you might be interested in:
Christmas on Stage
This book will make Christmas more meaningful — and fun! — for performer and audience alike with this diverse collection of 27 Christmas plays and readings suitable for classroom or youth presentations.
Hear what directors and critics are saying:
This slapstick, westernized takeoff on A Christmas Carol will add an interesting slant to the usual dramtic holiday fare. Plays for Children and Young Audiences