CAST: Flexible cast of 15
SET: Several simple sets
TIME: About 60 minutes
Script: $6.25

ROYALTY:
$45 First Performance
$45 Each Additional Performance

The immortal characters from The Wizard of Oz live again in this delightful fantasy. A spell cast by the wicked witch sends Dorothy, the Cowardly Lion, the Scarecrow and the Tin Man back through time and into the western frontier of the 1880's. There they meet Wild Bill Hickock, Buffalo Bill, Annie Oakley and Billie the Kid who engages in a shootout with the Tin Man. Dorothy and her friends share with the Old West some of the immortal qualities they acquired in Oz; such lessons as courage, intelligence and heart! The play ends with Dorothy finally returning to Kansas while her three friends remain in a frontier community where they have each gained positions of respect because of their 'very special' assets. Read more...
Additional products available:

Production Photos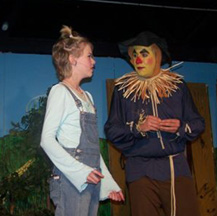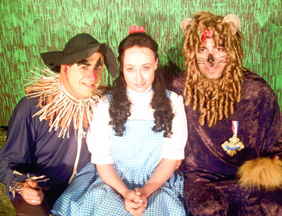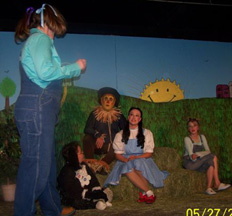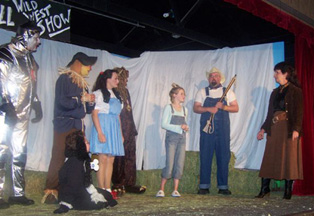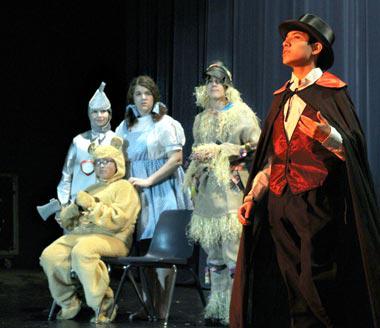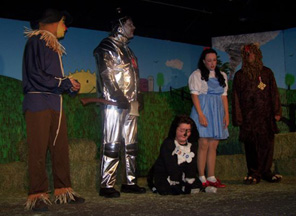 Production Slide Shows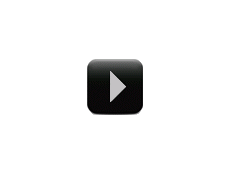 Video Clips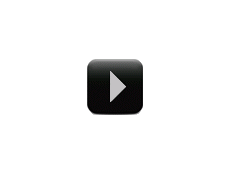 Use this script sample — including the cast list, production notes and several pages of the actual script — to help you select your next show. It is open in a new browser tab or window. To open it again, please click here.
Close
ST MARK LUTHERAN CHURCH
KENTWOOD, MI
JACKSON COUNTY CENTRAL MS
LAKEFIELD, MN
SACRED HEART SCHOOL
WARNER ROBINS, GA
TRINITY LUTHERAN SCHOOL
DAVENPORT, IA
CASA GRANDE UNION HIGH SCHOOL
CASA GRANDE, AZ
THEATRE ARLINGTON
ARLINGTON, TX
YOUTH AND CHILD SERVICES
FORT DRUM, NY
ST GREGORY THE GREAT SCHOOL
SAN ANTONIO, TX
FAIRVIEW ELEMENTARY SCHOOL
MARYVILLE, TN
IMMANUEL LUTHERAN SCHOOL
HOUSTON, TX
ARNOLD PUBLIC SCHOOLS
ARNOLD, NE
GALLATIN COUNTY HIGH SCHOOL
WARSAW, KY
NW OKLAHOMA STATE UNIVERSITY
ALVA, OK
BRADY PUBLIC SCHOOL
BRADY, NE
TACOMA LITTLE THEATRE
TACOMA, WA
GIG HARBOR ACADEMY
GIG HARBOR, WA
GOLDEN CHAIN THEATRE
OAKHURST, CA
BELVOIR CHRISTIAN ACADEMY
CHATTANOOGA, TN
SMALL PARTS PLAYERS
VIRGINIA, MN
EASTERN ELEMENTARY
REEDSVILLE, OH
CAMDEN HISTORY MUSEUM
LINN CREEK, MO
TOWN OF HALTON HILLS
GEORGETOWN, ON, CANADA
TEEPEE CREEK ELEMENTARY
SEXSMITH, AB, CANADA
FLINT RIVER ACADEMY
WOODBURY, GA
HOUSTON CHRISTIAN SCHOOL
HOUSTON, BC, CANADA
COAL RIDGE MIDDLE SCHOOL
FIRESTONE, CO
FAIRLAND ELEMENTARY SCHOOL
SILVER SPRING, MD
MOUNTAIN HOME JR HIGH SCHOOL
MOUNTAIN HOME, AR
GENOA CENTRAL HIGH SCHOOL
TEXARKANA, AR
KINGWOOD TOWNSHIP BOARD OF ED
FRENCHTOWN, NJ
GREENHORN VALLEY PLAYERS
RYE, CO
HOLY ROSERY-WEA SCHOOL
BUCYRUS, KS
CLOUDCROFT LIGHT OPERA CO
CLOUDCROFT, NM
OROFINO JUNIOR HIGH SCHOOL
OROFINO, ID
GASLIGHT MELODRAMA THEATRE
BAKERSFIELD, CA
NEIGHBORHOOD CHURCH
CASTRO VALLEY, CA
LAMAR COMMUNITY THEATRE
LAMAR, MO
SPRUCE PINE MONTESSORI SCHOOL
SPRUCE PINE, NC
Close
Different versions of the
same or similar story:
Other titles
you may like:
Other products you might be interested in:
The Stage Management Handbook
This unique book takes the reader through the numerous phases of mounting and performing a show exclusively from the stage manager's perspective.