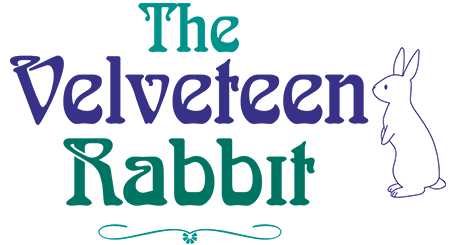 Based on the story by Margery Williams

Adapted by William S. Kilborne, Jr. and Albert T. Viola
Music by Albert T. Viola
Lyrics by William S. Kilborne, Jr.
Margery Williams' classic story of a stuffed toy rabbit made real by a boy's enduring love is now available as a fully staged musical. This adaptation captures all the tenderness and magic of the original story and adds six beautiful songs plus opportunities for dancers and incidental music. Your audiences will laugh at the antics of the living rabbits and cry when the Velveteen Rabbit lies discarded in the rubbish heap. But most of all, everyone will be moved when the little boy announces his Velveteen Rabbit is real, and the Nursery Magic Fairy turns this love into a miracle.
Additional products available:
Director's book: $17.50
Piano score: $20.00
Vocal score: $8.00
Production-rehearsal CD set: $65.00
CD sampler A: $4.00
CD sampler S: $4.00

Use this script sample — including the cast list, production notes and several pages of the actual script — to help you select your next show. It is open in a new browser tab or window. To open it again, please click here.
Close
PIKE COUNTY R-III (CLOPTON) HS
CLARKSVILLE, MO
SAINT JOSEPH SCHOOL
KNOXVILLE, TN
ACTING LOFT
MANCHESTER, NH
NORCAL ACADEMY OF PERF ARTS
SAN JOSE, CA
RILEY SCHOOL
ROCKLAND, ME
PRESBYTERIAN CHURCH AT
FRANKLIN LAKES, NJ
GRANDVIEW HIGH SCHOOL
GRANDVIEW, MO
STUDIO BE
CHICAGO, IL
SPACE ON THE FLOOR PRODUCTIONS
SALMO, BC, CANADA
JACKSON COUNTY YOUTH THEATRE
BLACK RIVER FALLS, WI
RURAL NOTES MUSIC SERVICE
ATHABASA, AB, CANADA
TACOMA MUSICAL PLAYHOUSE
TACOMA, WA
ROGER WHITE ACADEMY
NEWMARKET, ON, CANADA
SHAWE MEMORIAL JR/SR HIGH SCH
MADISON, IN
MONROE HIGH SCHOOL
MONROE, OR
BURLINGTON COUNTY FOOTLIGHTERS
CINNAMINSON, NJ
HOLY TRINITY SCHOOL
SOMERSET, OH
WINDERMERE PREPARATORY SCHOOL
WINDERMERE, FL
MOUNTAIN VIEW ACADEMY
CALGARY, AB, CANADA
MOTHER OF SORROWS SCHOOL
ROCHESTER, NY
MASTERS ACADEMY OF FINE ARTS
CRAWFORD, GA
FUTRAL ROAD ELEMENTARY
GRIFFIN, GA
LIMELIGHT TALENT
PETERSBURG, VA
FIRST PRESBY CHRISTIAN ACADEMY
HINESVILLE, GA
MELON PATCH PLAYERS
LEESBURG, FL
UNIV CNTR FOR PERFORMING ARTS
DAVIE, FL
RUSSELLVILLE ELEMENTARY SCHOOL
RUSSELLVILLE, TN
ALMAGUIN HIGHLANDS SECONDARY
SOUTH RIVER, ON, CANADA
TRAVERSE CITY CHILDREN THEATRE
TRAVERSE CITY, MI
CENTER THEATRE
DOVER-FOXCROFT, ME
COLUMBIA GRAMMAR & PREP SCH
NEW YORK, NY
WEST JEFFERSON ELEMENTARY
QUINTON, AL
RIVER OF LIFE CHRISTIAN CENTER
URBANA, OH
NEW ULM PARK & REC
NEW ULM, MN
HURLEY ELEMENTARY SCHOOL
HURLEY, VA
KINGSTON HIGH SCHOOL
KINGSTON, NY
Close
Different versions of the
same or similar story:
Other titles
you may like:
Other products you might be interested in:
Instant Period Costumes
This book includes over 65 ingenious costume designs with photos and diagrams for many periods. From Egyptian, Greek and Roman to the Old West to Renaissance and all the way to Punk.
Listen to a clip of every song from the show
Click on a song title to play that sound clip. Click again to pause, or simply click another title to switch songs.
Can't hear the song samples? Click here for a different song format.