Book and lyrics by R. Eugene Jackson
Music by David Ellis
Once again, the famous Three Little Pigs find themselves in the midst of a crisis! The younger pigs, Hooey and Pigtail, have just lost their houses to the Big Bad Wolf. The two pigs seek help from their older brother, Sooey. He decides that it is the perfect time for a vacation to soothe their frayed nerves. They head out west to Baby Bear's Dude Ranch. Baby Bear (who still wears a diaper) and his critters are all set to turn these Easterners into true "Cow-pigs!" But the excitement really begins when Big Bad Wolf and his cousin show up. Big Bad Wolf has come to Texas to get away from the pigs, to whom he has an allergy! While at the ranch, Cuz wants to set a trap for Little Red Riding Hood. Read more...
Additional products available:
Director's book: $20.00
Piano score: $20.00
Production-rehearsal CD set: $65.00
CD sampler B: $4.00
DVD of amateur performance: $10.00

Production Photos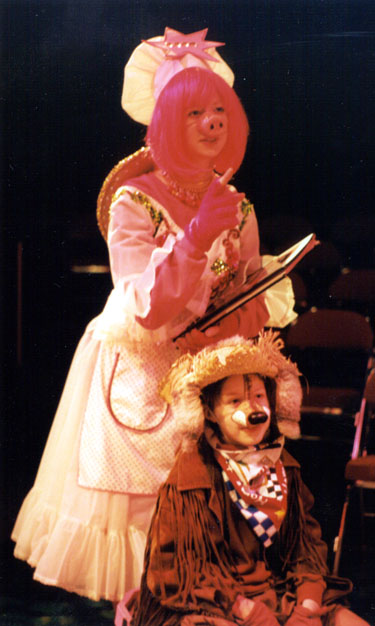 Use this script sample — including the cast list, production notes and several pages of the actual script — to help you select your next show. It is open in a new browser tab or window. To open it again, please click here.
Close
GARFIELD ELEMENTARY SCHOOL
CLOVIS, CA
ROBERT ONEILL
HICKSVILLE, NY
LITTLE THEATRE OF OWATONNA
OWATONNA, MN
NORTHEAST YOUTH THEATRE CO
DALLAS, PA
WISE COUNTY SCHOOLS
WISE, VA
OAK GROVE ELEMENTARY SCHOOL
RALEIGH, NC
WEALTHY ELEMENTARY SCHOOL
GRAND RAPIDS, MI
FIRELIGHT CHILDREN'S THEATRE
MILTON, LA
LUTHER HIGH SCHOOL
ONALASKA, WI
ST BERNARD SCHOOL-TAYLOR CREEK
CINCINNATI, OH
VILLA CRESTA ELEM SCHOOL
BALTIMORE, MD
LINCOLN COMMUNITY PLAYHOUSE
LINCOLN, NE
THE COLONY PLAYHOUSE
THE COLONY, TX
MARSHDALE ELEMENTARY SCHOOL
EVERGREEN, CO
LADY GREY ELEMENTARY
GOLDEN, BC, CANADA
SACRED HEART SCHOOL
PARK HILL, ON, CANADA
MIRAMONTE ELEMENTARY SCHOOL
EL MONTE, CA
NORTHWESTERN ELEMENTARY SCHOOL
KOKOMO, IN
CENTRAL WISC CHILDRENS THEATRE
WAUSAU, WI
MITCHELL ELEMENTARY SCHOOL
DENVER, CO
ST PHILIPS EPISCOPAL SCHOOL
BEEVILLE, TX
GORDO ELEMENTARY SCHOOL
GORDO, AL
WILKES-BARRE ACADEMY
WILKES-BARRE, PA
OXFORD ELEMENTARY SCHOOL
OXFORD, WI
ST THOMAS THE APOSTLE SCHOOL
HOUSTON, TX
KEYSTONE SCHOOL
SAN ANTONIO, TX
ALEXANDRIA COUNTRY DAY SCHOOL
ALEXANDRIA, VA
CLARKSVILLE ELEMENTARY
CLARKSVILLE, NY
WILLOW AVENUE ELEMENTARY
CORNWALL, NY
LAWSON COMMUNITY THEATRE
LAWSON, MO
STARCREATIONS THEATRE INC.
MANOMET, MA
NOTRE DAME ACADEMY
PARK HILLS, KY
HARMONIA SCHOOL OF MUSIC & ART
OAKTON, VA
FORUM THEATRE GROUP/KIDS FORUM
METUCHEN, NJ
CITY OF GRAND ISLAND
GRAND ISLAND, NE
SAMUEL CROWTHER MIDDLE SCHOOL
STRATHMORE, AB, CANADA
ROSEDALE ELEMENTARY SCHOOL
SAULT STE MARIE, ON, CANADA
HERITAGE CHRISTIAN SCHOOL
FLORENCE, AL
Close
Different versions of the
same or similar story:
Other titles
you may like:
Other products you might be interested in:
Acting Natural
Here are short-length scripts which include such important matters as the environment, diets, baby-sitting, self-image, drunk driving, teenage sex and more-all treated with humor, warmth and realism.
Listen to a clip of every song from the show
Click on a song title to play that sound clip. Click again to pause, or simply click another title to switch songs.
Can't hear the song samples? Click here for a different song format.