Or... Let's Give the Villain the Slip

By Billy St. John
CAST: 11M, 10F
SET: Single interior set
TIME: About 90 minutes
Script: $6.75

ROYALTY:
$55 First Performance
$45 Each Additional Performance

It's hard to be a hero when you're wearing a dress, but young actor Clarence Rawlins manages to do just that (and a lot more!) in this action-packed Western comedy. Clarence and his theatre company head west to Lucky Lady, Nevada, where Clarence discovers that he has misread his distant aunt's handwritten will. Thinking he was inheriting a profitable saloon where his acting career might flourish, he was actually bequeathed the Lucky Lady Salon, a beauty parlor. Flat broke, Clarence has no choice but to raid the costume trunk and transform himself into a down-on-her-luck British aristocrat, Lady Claire Rawl, now head hairstylist of the small town's only salon. His pal and fellow actor, Roger Gaines, becomes a French stylist, Rogaine. Read more...
Additional products available:

Production Photos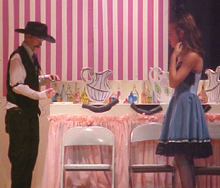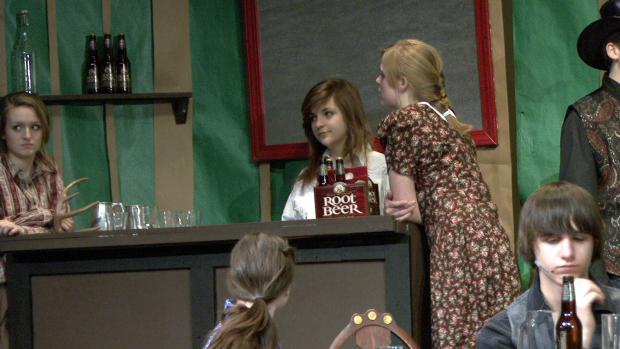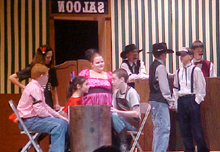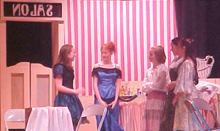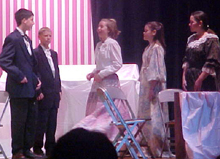 Use this script sample — including the cast list, production notes and several pages of the actual script — to help you select your next show. It is open in a new browser tab or window. To open it again, please click here.
Close
HARLAN COUNTY DAM PLAYHOUSE
REPUBLICAN CITY, NE
MADISON COUNTY HIGH SCHOOL
GURLEY, AL
SOUTH SHORE SCHOOL DISTRICT
PORT WING, WI
MORGAN COMMUNITY PLAYERS
MORGAN, MN
THE ROSE THEATRE
BASTROP, LA
MARQUETTE HIGH SCHOOL
BELLEVUE, IA
OAKWOOD SCHOOL
MORGAN HILL, CA
UNIVERSITY CHRISTIAN SCHOOL
JACKSONVILLE, FL
GRAND HAVEN HIGH SCHOOL
GRAND HAVEN, MI
LAKELAND CHRISTIAN ACADEMY
WINONA LAKE, IN
CHAFFEE R-2 SCHOOL DISTRICT
CHAFFEE, MO
BERKELEY HALL SCHOOL
LOS ANGELES, CA
FT SUMNER HIGH SCHOOL
FORT SUMNER, NM
NEWFOUND REGIONAL HIGH SCHOOL
BRISTOL, NH
JEAN BOWMAN
DEWBERRY, AB, CANADA
DRUMMOND SCHOOL COMMUNITY LBRY
DRUMMOND, MT
SAVANNA SCHOOL
SPIRIT RIVER, AB, CANADA
NORTH CACHE 8-9 CENTER
RICHMOND, UT
DIAGONAL COMMUNITY SCHOOL
DIAGONAL, IA
WOLSELEY HIGH SCHOOL
WOLSELEY, SK, CANADA
DIXON ELEMENTARY SCHOOL
DIXON, MT
WILSON AREA INTERMEDIATE SCHL
EASTON, PA
JAYHAWK LINN HIGH SCHOOL
MOUND CITY, KS
CUSTER COUNTY SCHOOL
WESTCLIFF, CO
WHITKO HIGH SCHOOL
SOUTH WHITLEY, IN
ST MARY'S HIGH SCHOOL
STORM LAKE, IA
JOHN GLENN MIDDLE SCHOOL
INDIO, CA
FIRST BAPTIST CHURCH
JOELTON, TN
C R GUMMOW PUBLIC SCHOOL
COBOURG, ON, CANADA
CALVARY UNITED METH CHURCH
LATHAM, NY
CHALLENGE TO EXCELLENCE SCHOOL
PARKER, CO
GRACE LUTHERAN SCHOOL
GLENDALE, AZ
GAYVILLE-VOLIN SCHOOL
GAYVILLE, SD
HUGH BOYD SECONDARY
RICHMOND, BC, CANADA
SOUTHERN CAL HIGH SCHOOL
LAKE CITY, IA
HOLY ROSARY SCHOOL
EVANSVILLE, IN
WILBER CLATONIA HIGH SCHOOL
WILBER, NE
NEWELL HIGH SCHOOL
NEWELL, SD
OXFORD JR/SR HIGH SCHOOL
OXFORD, KS
IOWA CENTRAL COMMUNITY COLLEGE
FORT DODGE, IA
VALLEY THEATRE COMPANY
RICHLAND, WA
WATERFORD HIGH SCHOOL
WATERFORD, CA
STERLING PUBLIC SCHOOL
STERLING, NE
MAPLE CREEK MIDDLE SCHOOL
FT WAYNE, IN
Close
Different versions of the
same or similar story:
Other titles
you may like:
Other products you might be interested in:
112 Acting Games
This book aims to give theatre teachers the tools they need to not only play a game or teach an exercise, but also to teach an understanding of the reasons and benefits of each exercise.
The Drama Teacher's Companion
The software contains dozens of fresh scripts, lesson plans and diagrams. It includes warm-ups and games, lesson plans for acting, directing, improvisation and other theatrical subject areas.
Hear what directors and critics are saying:
The space we had to work in made it challenging yet the results were unique and creative.