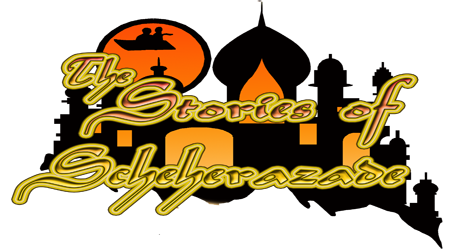 From The Arabian Nights stories

Adapted by Susan Pargman
Music and lyrics by Bill Francoeur
Take a dazzling trip on a musical magic carpet ride through the colorful legend of Scheherazade, the greatest storyteller of the ancient Arabian world. Scheherazade is called upon to use her tale-spinning talents to save her people from certain destruction. Betrayed by his betrothed, the hot-tempered King Raynah decides to punish all the women in his kingdom. Armed only with her wit and just a smattering of magic, Scheherazade weaves the classic Arabian tale — underscored by captivating musical themes — for the king himself. Her enchanted story transforms royal counselors into powerful genies and mutates the king into his own worst enemy — a woman. By the final curtain, the king has become a victim of his own revengeful plot. Read more...
Additional products available:
Director's book: $20.00
Piano score: $25.00
Vocal score: $8.00
Production-rehearsal CD set: $65.00
CD sampler F: $4.00
DVD of amateur performance: $10.00

Use this script sample — including the cast list, production notes and several pages of the actual script — to help you select your next show. It is open in a new browser tab or window. To open it again, please click here.
Close
BLUE RIDGE COMMUNITY COLLEGE
WEYERS CAVE, VA
BIRCHLAND PARK MIDDLE SCHOOL
EAST LONGMEADOW, MA
ALMIRA COULEE HARTLINE HS
COULEE CITY, WA
LENNARD HIGH SCHOOL
RUSKIN, FL
NORTH CEDAR COMMUNITY SCHOOL
STANWOOD, IA
JE SUIS TALENT
PARK FOREST, IL
HOLLY THEATRE COMPANY
DAHLONEGA, GA
FALLSTON MIDDLE SCHOOL
FALLSTON, MD
EDGEWOOD-COLESBURG HIGH SCHOOL
EDGEWOOD, IA
FRIENDS SCHOOL OF ATLANTA
DECATUR, GA
SOUTHWOOD MIDDLE SCHOOL
MIAMI, FL
LAKEWOOD THEATRE
MADISON, ME
CENTER FOR THE ARTS
MANASSAS, VA
TRINITY CHRISTIAN ACADEMY
BARNSTABLE, MA
RIDGEDALE PLAYERS
TROY, MI
PS/IS 270Q
ROSEDALE, NY
THE ACTOR'S EDGE
DULUTH, GA
EVERETT INC
MIDDLETOWN, DE
DIPLOMAT MIDDLE SCHOOL
CAPE CORAL, FL
CONFEDERATION CENTRE OF ARTS
CHARLOTTETOWN, PE, CANADA
THOMASTON GRAMMAR SCHOOL
THOMASTON, ME
CAROL MATTHEWS
CAPE MAY, NJ
LENT SCHOOL
PORTLAND, OR
CEDARWOOD WALDORF SCHOOL
PORTLAND, OR
THISTLEDOWN YOUNG ACTORS THEAT
NEWARK, OH
BEAVER HIGH SCHOOL
BEAVER, UT
AMERICAN INTL SCH OF BUDAPEST
KAKUKK UT 1-3, HUNGARY
PORT AUSTIN CMNTY PLAYERS
PORT AUSTIN, MI
BROOKVILLE MIDDLE SCHOOL
LYNCHBURG, VA
SAVANNAH CHILDREN'S THEATRE
SAVANNAH, GA
CHATELECH SECONDARY SCHOOL
SECHELT, BC, CANADA
ST JOSEPH'S SCHOOL
EL PASO, TX
THEATRE & KIDS/ON STAGE & OFF
LANSDALE, PA
ST PIUS X SCHOOL
BALTIMORE, MD
SOUTH STOKES HIGH SCHOOL
WALNUT COVE, NC
MOUNTAIN RIDGE MIDDLE SCHOOL
HIGHLANDS RANCH, CO
HL BOURGEOIS HIGH SCHOOL
GRAY, LA
LAWRENCE MIDDLE SCHOOL
LAWRENCEVILLE, NJ
MELVIN KREPS MIDDLE SCHOOL
EAST WINDSOR, NJ
GREENBRIAR MIDDLE SCHOOL
GREENBRIAR, TN
KIDZ THEATRE KOMPANY
FENTON, MI
ECOLE NOTRE-DAME
EDMUNDSTON, NB, CANADA
Close
Different versions of the
same or similar story:
Other titles
you may like:
Other products you might be interested in:
Teatro!
Introduce your students to the rich traditions of Hispanic culture. Each play will give young students a glimpse into the heart and soul of the Hispanic culture of the American Southwest!
Listen to a clip of every song from the show
Click on a song title to play that sound clip. Click again to pause, or simply click another title to switch songs.
Can't hear the song samples? Click here for a different song format.
Hear what directors and critics are saying:
Catchy tunes, funny lines, fast moving plot...