Or... How Many Beans Does It Take to End Up in Smithereens?

By Sue Rae
CAST: Flexible cast of 18 (about 7M, 3F plus 8 that can be either)
SET: Single set
TIME: About 60 minutes
Script: $6.25

ROYALTY:
$45 First Performance
$45 Each Additional Performance

Kaboom! When the town of Beanville is blown to Smithereens, the poor Bean children were far afield gathering cow pies with their tenderfoot teacher, Chuck Stake. The newly orphaned "Beans" are invited by Cornelia Meal and her lovely niece, Sweet Onion, to nearby Cornbread Flats to stay at their hotel and chili parlor. Meanwhile, local banker and all around bad guy Con Carne and his hench people, Sal Sa and Hal Apenio, are trying to "con" their way to Corny's secret chili ingredient in order to win a lucrative canned good contract. Hilarity ensues as Chuck Stake (in disguise) and western "high-tech" Sheriff Honey put their sleuthing skills together to discover what Con Carne is up to. Read more...
Additional products available:

Production Photos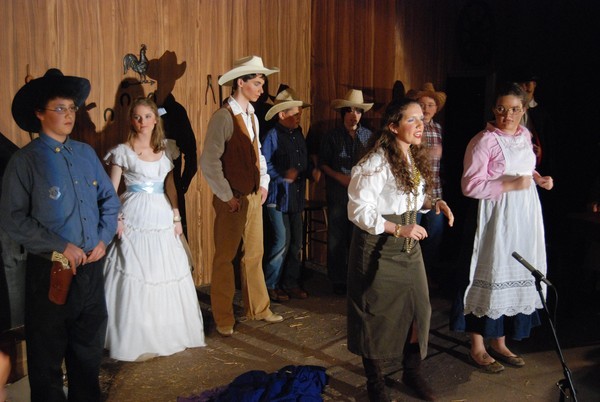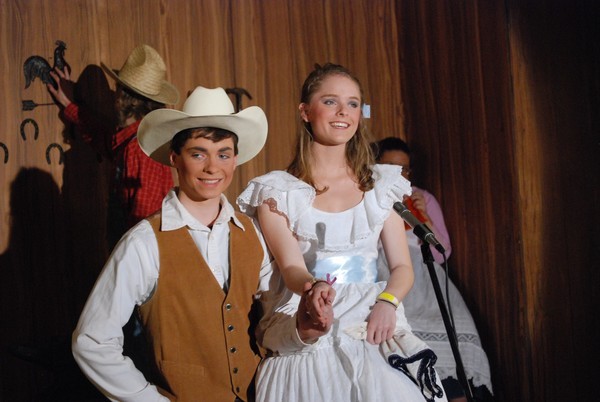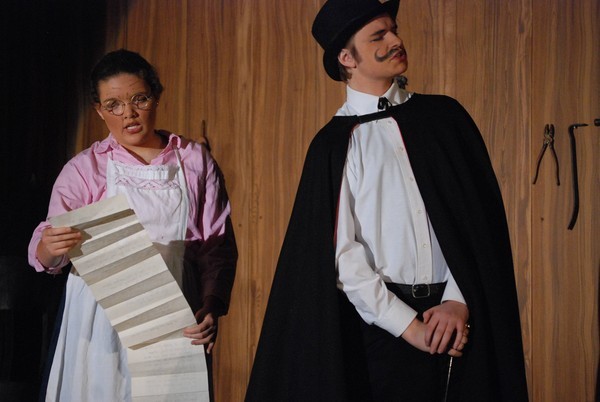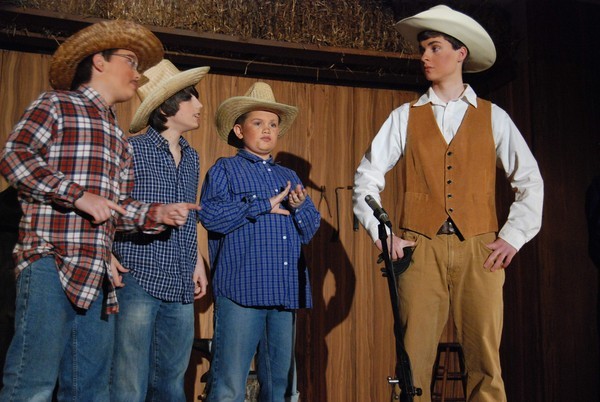 Use this script sample — including the cast list, production notes and several pages of the actual script — to help you select your next show. It is open in a new browser tab or window. To open it again, please click here.
Close
SALLY JUDE
HARTFORD, WI
GRACE UNITED METHODIST CHURCH
EDDYVILLE, NE
MASTERS ACADEMY
VERO BEACH, FL
PRAIRIE VIEW MIDDLE SCHOOL
LA CYGNE, KS
WAVERLY PRESBYTERIAN CHURCH
PITTSBURGH, PA
EUNICE PUBLIC SCHOOLS
EUNICE, NM
GEORGE WALTON ACADEMY
MONROE, GA
TRINITY LUTHERAN SCHOOL
PUEBLO, CO
RINGGOLD HIGH SCHOOL
MONONGAHELA, PA
CHARLESTON CATHOLIC SCHOOL
CHARLESTON, SC
SOUTHWEST HIGH SCHOOL
BARTLEY, NE
WORD OF MOUTH PRODUCTIONS
FRISCO, TX
TOWN OF WILEY-WILEY HAY DAYS
WILEY, CO
CHEROKEE STRIP LAND RUSH MUS
ARKANSAS CITY, KS
ST MARKS LUTHERAN CHURCH
CITRUS HEIGHTS, CA
PALO COMMUNITY SCHOOL
PALO, MI
KENOWA HILLS PUBLIC SCHOOLS
GRAND RAPIDS, MI
SACRED HEART CHURCH
NEW PHILADELPHIA, OH
DESERT HARBOR ELEMENTARY
PEORIA, AZ
HIGH DESERT MONTESSORI
RENO, NV
VALENTINE PLAYERS
VALENTINE, NE
ANDERSON UNION HIGH SCHOOL
ANDERSON, CA
Close
Other titles
you may like:
Other products you might be interested in:
Ten-Minute Plays for Middle School
These unique books contain much more than just a dozen age-appropriate plays — they are also a great source of supplemental material to facilitate any middle school group interested in scene work.
Thirty Short Comedy Plays for Teens
These 30 short plays, ranging in length from three to seven minutes, give actors the opportunity to create outrageous characters in the context of situations they know so well.
Hear what directors and critics are saying:
My high school students love melodramas. They loved combining a melodrama with dinner when we performed The Secret of Cornbread Flats. My students came up with a unique curtain call by forming little vignettes on different areas of the stage. Sue Wright, Memorial Christian Academy, West Brooklyn, IL
We always know that if we need to, we can condense some parts or write in a few.

Gwen Vargas, Waverly Presbyterian Church, Pittsburgh, PA