By Tim Kelly
CAST: Flexible cast of 12 (may be 2M, 10F), plus extras
SET: Simple interior set
TIME: About 30 minutes
Script: $5.50

ROYALTY:
$30 First Performance
$30 Each Additional Performance

A hot-tempered leprechaun shows up at Santa's Workshop. He's taller than all other leprechauns, and he wants Santa to "shrink" him. But Santa has other things to worry about. The Wicked Wazoo, a witch, plans to turn the territory into a kingdom for the "Mean and the Nasty." No more Christmas! To carry out her scheme she invented a Defroster! The leprechaun manages to defeat the Wicked Wazoo, and Santa manages to teach the leprechaun to "be himself."
Additional products available:

Production Photos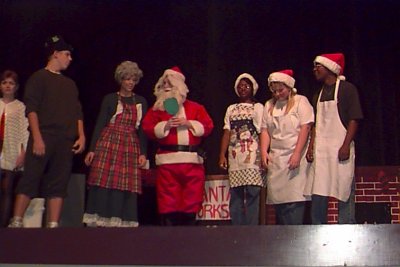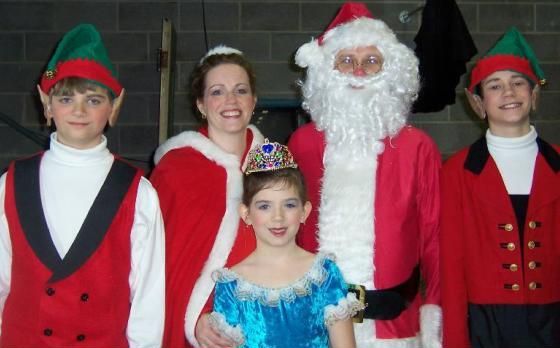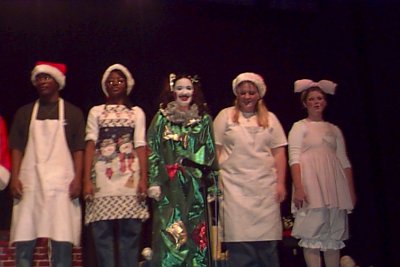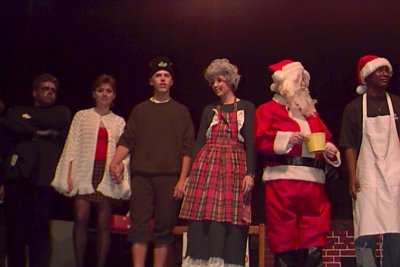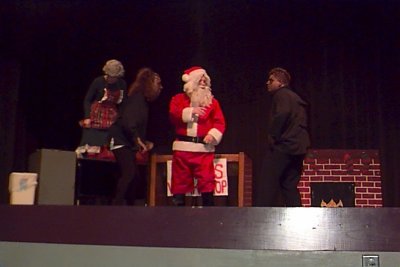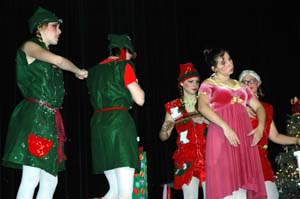 Use this script sample — including the cast list, production notes and several pages of the actual script — to help you select your next show. It is open in a new browser tab or window. To open it again, please click here.
Close
BENNETT MIDDLE SCHOOL
BENNETT, CO
HALLS HIGH SCHOOL
KNOXVILLE, TN
CHARLES R DREW MIDDLE SCHOOL
LINCOLN, AL
TINA BRYN
DAZEY, ND
PALACIOS HIGH SCHOOL
PALACIOS, TX
BLACK HILLS COMMUNITY THEATRE
RAPID CITY, SD
MOTLEY COUNTY ISD
MATADOR, TX
FOREVERMORE DANCE THEATRE ARTS
CHICAGO, IL
ADAIR COUNTY HIGH SCHOOL
COLUMBIA, KY
BUSH HIGH SCHOOL
RICHMOND, TX
LILIAN SCHICK SCHOOL
BON ACCORD, AB, CANADA
DEWBERRY SCHOOL
DEWBERRY, AB, CANADA
CLAYTON HIGH SCHOOL
CLAYTON, NM
STIGLER HIGH SCHOOL
STIGLER, OK
ST JOSEPH ACADEMY
SAINT AUGUSTINE, FL
BRADFORD CENTRAL SCHOOL DIST
BRADFORD, NY
CARDEN ACADEMY OF SANTA CLARA
SANTA CLARA, CA
BEATRICE RAFFERTY SCHOOL
PERRY, ME
UPPER PERKIOMEN VALLEY LIBRARY
RED HILL, PA
TRI-VALLEY HIGH SCHOOL
DRESDEN, OH
MANASSAS PARK HIGH SCHOOL
MANASSAS PARK, VA
MCANGUS WESTERN WEAR
PAHRUMP, NV
VALLEY MILLS HIGH SCHOOL
VALLEY MILLS, TX
WALDRON HIGH SCHOOL
WALDRON, AR
CHAZY CENTRAL SCHOOL
CHAZY, NY
G W CARVER MIDDLE SCHOOL
MIAMI, FL
GREENVILLE HIGH SCHOOL
GREENVILLE, AL
TRINITY EPISCOPAL DAY SCHOOL
NATCHEZ, MS
WOODLAWN MIDDLE SCHOOL
BATON ROUGE, LA
MERCY HIGH SCHOOL
BALTIMORE, MD
INDIAN CREEK HIGH SCHOOL
SHABBONA, IL
ST THOMAS AQUINAS SCHOOL
WICHITA, KS
STEVENS POINT AREA YMCA
STEVENS POINT, WI
BILL LONG
HOUSTON, TX
LAKE LINDEN-HUBBEL HIGH SCHOOL
LAKE LINDEN, MI
GREENBRIER HIGH SCHOOL
GREENBRIER, TN
Close
Other titles
you may like:
Other products you might be interested in:
Christmas on Stage
This book will make Christmas more meaningful — and fun! — for performer and audience alike with this diverse collection of 27 Christmas plays and readings suitable for classroom or youth presentations.
Hear what directors and critics are saying:
Not very many plays show Santa's 'human' side, but in this comedy, we see Santa's fears and worries... The play encourages everyone to look in the mirror and like what they see.

Children's Book and Play Review