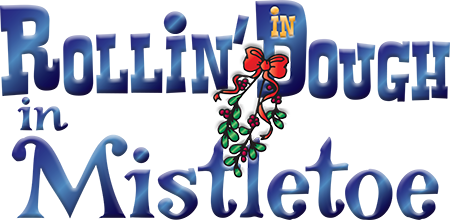 Or... Don't Crack Jingle Bell Rock

By Marietta Slater
CAST: 3M, 4F
SET: Simple set
TIME: About 20 minutes
Script: $5.50

ROYALTY:
$30 First Performance
$30 Each Additional Performance

It's Christmas Eve in Mistletoe, but everyone is far from "Holly Jolly." Rolland N. Dough is foreclosing on the entire town, which has everybody dreaming of a black Christmas! Will the townspeople be out in the cold, "walkin' in a winter wonderland"? Will the most wicked, the most dastardly, the most evil, the most despicable villain of all time finally win out this time? If only the town could find the "five golden rings" hidden near Jingle Bell Rock, they'd have enough money to pay off their loans and save the town. Their fate rests in the hands of Randolph the Bowlegged Cowboy. Will he go down in history? This clever Christmas melodrama rustles up laughter and silly fun by incorporating Christmas carol lyrics into dialogue. Read more...
Additional products available:

Use this script sample — including the cast list, production notes and several pages of the actual script — to help you select your next show. It is open in a new browser tab or window. To open it again, please click here.
Close
NEWELL COLONY SCHOOL
BASSANO, AB CANADA
HOLLAND TOWNSHIP SCHOOL
MILFORD, NJ
WEST LINCOLN HIGH SCHOOL
LINCOLNTON, NC
ALLEYCAT THEATRICS
COLORADO SPRINGS, CO
AIKEN COMMUNITY PLAYHOUSE
AIKEN, SC
SCHOLARS' HALL PRIVATE SCHOOL
KITCHENER, ON CANADA
PLEASANT GROVE UMC
JASPER, TN
AMY MASINO
THOUSAND OAKS, CA
SUGAR GROVE YOUTH ACTIVITIES
SUGAR GROVE, WV
WOODSON ISD
WOODSON, TX
RAYMOND JR HIGH SCHOOL
RAYMOND, AB CANADA
WOODLAWN CHAPEL PRES. CHURCH
WILDWOOD, MO
CONSORT SCHOOL
CONSORT, AB, CANADA
PLAYERS OF UTICA
NEW HARTFORD, NY
CHILDRENS HOME OF JEFFERSON CO
WATERTOWN, NY
NODAWAY COMMUNITY THEATER CO
MARYVILLE, MO
STRENGTH IN MOTION
GILBERTSVILLE, PA
CHISHOLM TRAIL MIDDLE SCHOOL
RHOME, TX
MCANGUS WESTERN WEAR
PAHRUMP, NV
OGLEBAY INSTITUTE
WHEELING, WV
DEWBERRY SCHOOL
DEWBERRY, AB, CANADA
KINDER STUDIOS
FERNANDINO BEACH, FL
LINCOLN MIDDLE SCHOOL
COTTAGE GROVE, OR
CRYSTAL SPRINGS HIGH SCHOOL
CRYSTAL SPRINGS, MS
AYLMER BAPTIST CHURCH
AYLMER, ON, CANADA
LAKIN HIGH SCHOOL
LAKIN, KS
EAST HARDY HIGH SCHOOL
BAKER, WV
BEREAN ACADEMY
SIERRA VISTA, AZ
LITTLE COMPTON CMNTY CENTER
LITTLE COMPTON, RI
JOHN DE LA HOWE SCHOOL
MCCORMICK, SC
COMMUNITY SCHOOL OF NAPLES
NAPLES, FL
ELSINORE MIDDLE SCHOOL
LAKE ELSINORE, CA
HI-PLAINS PLAYERS
PLAINVILLE, KS
HAWAII PREPARATORY ACADEMY
KAMUELA, HI
PARK VISTA RETIREMENT LIVING
EAST MOLINE, IL
YORK CATHOLIC DISTRICT SCH BD
AURORA, ON, CANADA
MERRITT SECONDARY SCHOOL
MERRITT, BC, CANADA
ST MATTHEW'S LUTH SCHOOL
HAWTHORN WOODS, IL
MARTIN LUTHER LUTHERAN LYO
CARMINE, TX
ARIEL-DATER HALL
GALLIPOLOS, OH
DERIDDER JUNIOR HIGH SCHOOL
DE RIDDER, LA
WANDERING RIVER SCHOOL
WANDERING RIVER, AB, CANADA
Close
Other titles
you may like:
Other products you might be interested in:
Between Hisses
This is a collection of authentic sing-alongs, theme music for melodrama characters and olio numbers. Also included is a section of illustrated gestures, which have become associated with melodramas.
Conducting Light DVD
This two part video program is ideal for any newcomer to this technical field from middle school to college level. The videos are clear and precise, energetic and reassuring with a sense of humor.
Hear what directors and critics are saying:
It was my favorite because I enjoyed the characters and the costumes. I liked the fact that it was a Christmas play without the traditional Christmas charaters (i.e. Santa, elves, etc.)