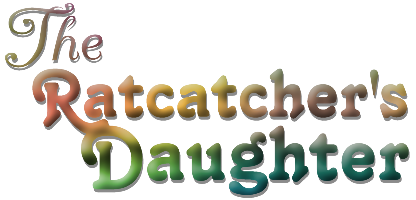 or... Death Valley Daze

By Tim Kelly
CAST: 5M, 7F, optional extras
SET: Simple interior set
TIME: About 60 minutes
Script: $6.25

ROYALTY:
$45 First Performance
$45 Each Additional Performance

Auntie Hush, famous for her "Hush Mush," runs an orphanage in an abandoned stagecoach stop but is soon to be tossed out by the unscrupulous Whiplash Snivel, a city slicker. His arrival has been preceded by the entrance of lovely Sweet Lotta Bliss from London (she's a foggy type). She plans to open a school. Seeking her is the infamous Lady Pilfer (driven out of San Francisco for stealing ponies from the Pony Express). She brings news that Lotta's father, a ratcatcher, has been left a fortune by his deceased parent, a Russian nobleman (Lotta didn't know she was a lady). Read more...
Additional products available:

Production Photos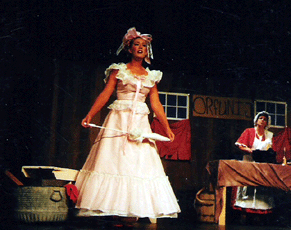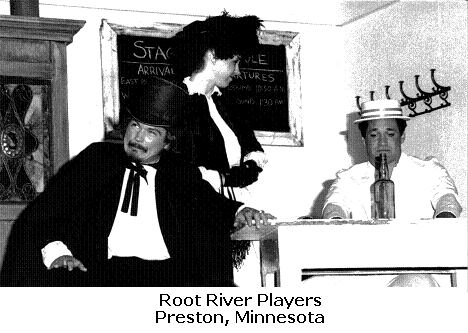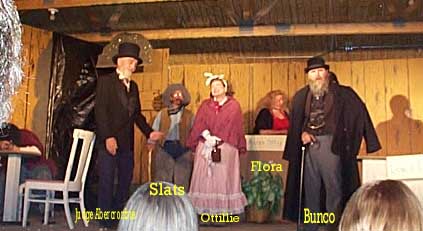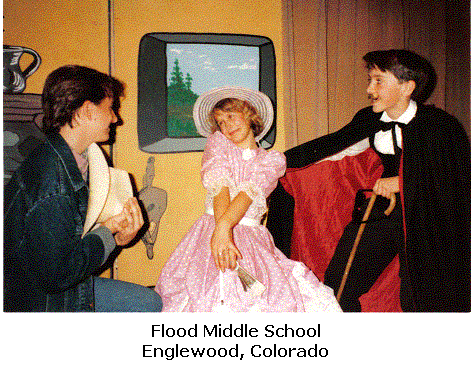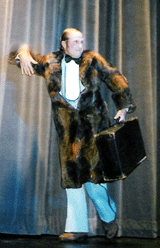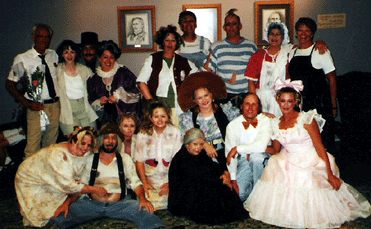 Use this script sample — including the cast list, production notes and several pages of the actual script — to help you select your next show. It is open in a new browser tab or window. To open it again, please click here.
Close
LYNN HAWKINS
BAKERSFIELD, CA
HELEN SMOOT
LAKE ISABELLA, CA
THE LANDING
LINCOLN, NE
SOROPTIMIST INTL OF HAYS
HAYS, KS
CITY OF MARLETTE
MARLETTE, MI
EDGE OF THE SEATERS
BLANDING, UT
BLACKFOOT HIGH SCHOOL
BLACKFOOT, ID
BICKLETON SD #203/HS
BICKLETON, WA
MANTORVILLE THEATRE COMPANY
PINE ISLAND, MN
FONTANA HIGH SCHOOL
FONTANA, CA
EARLHAM HIGH SCHOOL
EARLHAM, IA
SHORTGRASS THEATRE/PLAYHOUSE
HOBART, OK
CIDER HOUSE THEATRE
NEBRASKA CITY, NE
FORT SCOTT COMMUNITY COLLEGE
FORT SCOTT, KS
STARBUCK UNITED CHURCH PLAYERS
STARBUCK, MB, CANADA
SKYVIEW HIGH SCHOOL
THORNTON, CO
INDIAN VALLEY THEATRE
SANDWICH, IL
GULFPORT LITTLE THEATRE
GULFPORT, MS
CLOUDCROFT LIGHT OPERA CO
CLOUDCROFT, NM
FOREST HILLS UNITED CHURCH
DARTMOUTH, NS, CANADA
Close
Other titles
you may like:
Other products you might be interested in:
Between Hisses
This is a collection of authentic sing-alongs, theme music for melodrama characters and olio numbers. Also included is a section of illustrated gestures, which have become associated with melodramas.
Improve With Improv!
This book is a complete improvisational curriculum program divided into workshops. Each workshop contains exercises designed to help students focus on one aspect of a character's personality.