Adapted by Karen Boettcher-Tate
CAST: Flexible cast of 13-19, optional extras
SET: Representational set
TIME: About 45 minutes

Script: $6.00 DVD of amateur performance: $10.00


ROYALTY:
$40 First Performance
$40 Each Additional Performance

Rene Shwartzbuckle is cuckoo for a turnip-like vegetable called rapunzel. When she spots a mouth-watering patch of the plant in Witch Izwitch's garden, she sends her husband Walt out to "borrow" some. Witch Izwitch is certainly not amused! With her diabolical henchmen, the Glumpwarts, she terrorizes Walt into promising her his firstborn child in exchange for his freedom. We then jump ahead many years to Rapunzel (now you know where the name comes from!) Shwartzbuckle's 18th birthday. The witch and the Glumpwarts show up as promised and whisk poor, innocent Rapunzel away to a tower in the forest. From here, a boisterously entertaining rescue attempt begins! Read more...
Additional products available:
DVD of amateur performance: $10.00

Production Photos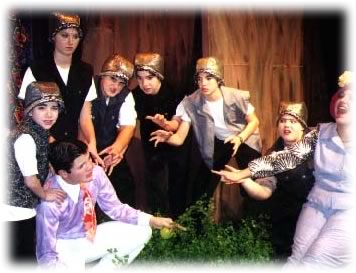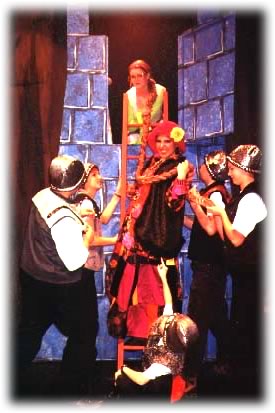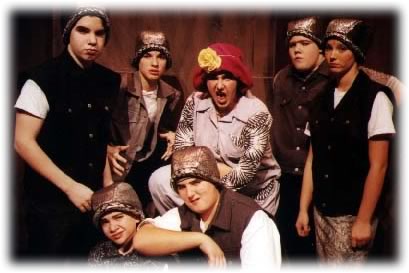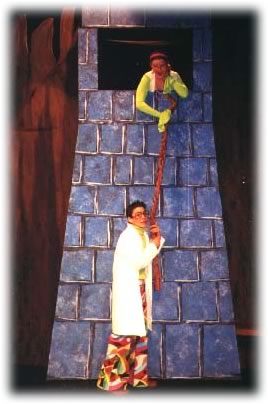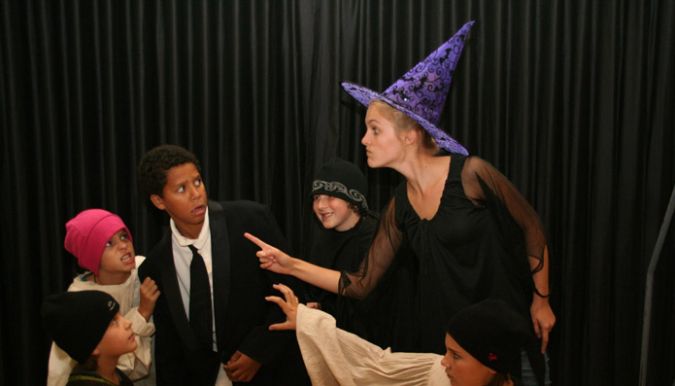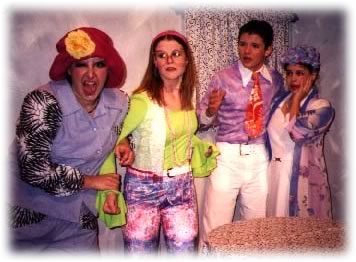 Use this script sample — including the cast list, production notes and several pages of the actual script — to help you select your next show. It is open in a new browser tab or window. To open it again, please click here.
Close
JUDAH CHRISTIAN SCHOOL
CHAMPAIGN, IL
EAST LANSING HANNAH CMNTY CTR
EAST LANSING, MI
CAROLYN DELANY-REIF
PORTLAND, OR
ARKPORT CENTRAL SCHOOL DIST
ARKPORT, NY
CONCORD ACADEMY BOYNE
BOYNE CITY, MI
PACT CHARTER SCHOOL
RAMSEY, MN
ARTISAN CENTER THEATER
HURST, TX
VICKSBURG THEATRE GUILD
VICKSBURG, MS
STEEL BEAM THEATRE
ST CHARLES, IL
XAVIER COLLEGE PREPARATORY
PHOENIX, AZ
CITY OF GRAND ISLAND
GRAND ISLAND, NE
JUNIOR SERVICE LEAGUE
CONCORD, NH
YOUNG ACTORS THEATRE
INDIANAPOLIS, IN
THOREAU HIGH SCHOOL
THOREAU, NM
TRABUCO HILLS HIGH SCHOOL
MISSION VIEJO, CA
WASHINGTON TOWNSHIP
DAYTON, OH
CHILDREN'S THEATRE TERRE HAUTE
TERRA HOUTE, IN
RJ GREY JUNIOR HIGH
ACTON, MA
PARAMOUNT LIVE
THUNDER BAY, ON, CANADA
NORMAL PARKS AND RECREATION
NORMAL, IL
TEMPLE CIVIC THEATRE
TEMPLE, TX
FORT SCOTT COMMUNITY COLLEGE
FORT SCOTT, KS
PENINSULA YOUTH THEATRE
MOUNTAIN VIEW, CA
SOUTH PARK THEATRE
SOUTH PARK, PA
CHRIST OUR REDEEMER LUTH SCH
AURORA, CO
ST VINCENT DE PAUL SCHOOL
EAST HAVEN, CT
NEW MEXICO YOUNG ACTORS
ALBUQUERQUE, NM
WILLIAM D. CUTS JUNIOR HS
SAINT ALBERT, AB, CANADA
BOULDER CITY HIGH SCHOOL
BOULDER CITY, NV
ATHENS LITTLE PLAYHOUSE
ATHENS, GA
DOWNTOWN ANTIOCH PRODUCTIONS
ANTIOCH, CA
JEFFERSON ACADEMY
BROOMFIELD, CO
MIAMI CHILDREN'S THEATRE
MIAMI, FL
LEMOORE HIGH SCHOOL
LEMOORE, CA
ANADARKO HIGH SCHOOL
ANADARKO, OK
CENTRAL HIGH SCHOOL
RAPID CITY, SD
STEVENSVILLE PLAYHOUSE INC
STEVENSVILLE, MT
CHARLEVOIX-EMMET ISD
CHARLEVOIX, MI
ARIZONA CONSERVATORY
PHOENIX, AZ
COWLEY COUNTY CMNTY COLLEGE
ARKANSAS CITY, KS
SOUTH JORDAN MIDDLE SCHOOL
SOUTH JORDAN, UT
ELKHART CIVIC THEATRE
BRISTOL, IN
WHITWORTH UNIVERSITY
SPOKANE, WA
NORTH DELTA SCHOOL
BATESVILLE, MS
Close
Different versions of the
same or similar story:
Other titles
you may like:
Other products you might be interested in:
Middle Mania!
These books help you use drama to bring pre-teens together in creative, collaborative ways. They're a great tool for fostering a drama-healthy curriculum.
Multicultural Theatre
These 37 scenes and monologs by writers of the multicultural experience are certain to inspire actors and directors. This is an excellent collection for expressing cultural diversity.
Hear what directors and critics are saying:
it is zany and fun and well written with great characters for young actors to play.