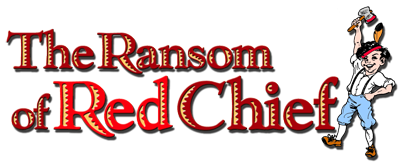 Based On The Short Story By O. Henry

Adapted by Pam Nagle and George Wingerter
The townspeople of Summit, Alabama are a happy folk whose bliss is marred only by young Johnny Dorset, a "two-legged skyrocket of a kid" whose mischief leaves no one unscathed. Two con-men kidnap Johnny in order to extort a large ransom from his mother. The scheme soon goes awry: the "supernatural tortures" imposed by Johnny, alias Red Chief, on the two hapless kidnappers wear their patience thin; the townspeople, overjoyed at the boy's disappearance, refuse to help the sheriff search for him; and the Widow Dorset offers to take the boy off the kidnappers' hands for a small fee. When Red Chief captures four friends and brings them to the hideout, the renegades' resolve is further weakened, and they decide to accept his mother's generous offer.
Additional products available:
Director's book: $20.00
Piano score: $25.00
Vocal score: $8.00
Production-rehearsal CD set: $65.00
CD sampler E: $4.00
Orchestral Parts [Bass, Percussion]: $6.00

Production Photos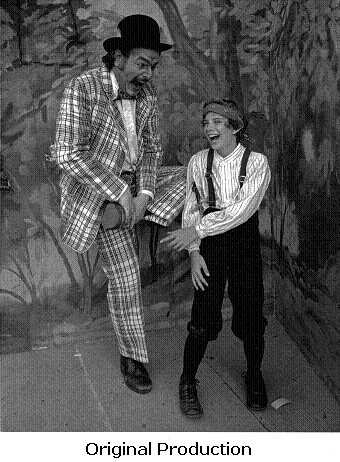 Use this script sample — including the cast list, production notes and several pages of the actual script — to help you select your next show. It is open in a new browser tab or window. To open it again, please click here.
Close
ALLEGANY LIMESTONE ELEMENTARY
ALLEGANY, NY
LINN-MAR COMMUNITY SCHOOL DIST
MARION, IA
XENIA CHRISTIAN HIGH SCHOOL
XENIA, OH
MARJORIE FLEGEL
KULM, ND
HANS CHRISTIAN ANDERSEN ELEM
ROCKLEDGE, FL
CORPUS CHRISTI SCHOOL
CHAMBERSBURG, PA
IMMANUEL LUTHERAN SCHOOL
BELVIDERE, IL
ST JOSEPH'S CATHOLIC SCHOOL
SCOTT CITY, MO
CALVARY LUTHERAN SCHOOL
DALLAS, TX
VICTORY LIFE ACADEMY
DURANT, OK
SIDNEY HIGH SCHOOL
SIDNEY, NE
THE KING'S ACADEMY
WOODSTOCK, GA
GALLATIN THEATRE LEAGUE
GALLATIN, MO
CLAIRMONT HILLS BAPTIST CHURCH
DECATUR, GA
GREELEY COUNTY SCHOOLS
TRIBUNE, KS
EUREKA ELEMENTARY SCHOOL
KEYSVILLE, VA
EVANGEL CLASSICAL CHRISTIAN
ALABASTER, AL
CURTAIN CALL CHILDRENS THEATRE
KOKOMO, IN
GREASEPAINT YOUTHEATRE
PHOENIX, AZ
FAITH BAPTIST SCHOOLS
CANOGA PARK, CA
FOLLOWERS OF JESUS SCHOOL
BROOKLYN, NY
PARKVIEW CHRISTIAN ACADEMY
WACO, TX
ST CHRISTOPHER SCHOOL
METAIRIE, LA
FINE ARTS GROUP
EDWARDSVILLE, IL
COLE ELEMENTARY SCHOOL
CLOVIS, CA
WHITE COUNTY MIDDLE SCHOOL
SPARTA, TN
AKRON HIGH SCHOOL
AKRON, CO
FRANKFORT CHRISTIAN ACADEMY
FRANKFORT, KY
THE MARIA MONTESSORI SCHOOL
LEVITTOWN, NY
PLAINVIEW CHRISTIAN ACADEMY
PLAINVIEW, TX
BAY SPRINGS MIDDLE SCHOOL
VILLA RICA, GA
OSCEOLA PUBLIC SCHOOL
OSCEOLA, NE
LOVELAND MIDDLE SCHOOL
LOVELAND, OH
ST ELIZABETH SCHOOL
ROCKVILLE, MD
CATHOLIC ACAD OF WEST BUFFALO
BUFFALO, NY
EVANGELINE ELEMENTARY SCHOOL
EVANGELINE, LA
CORPUS CHRISTI SCHOOL
SOUTH BEND, IN
LAMONT CHRISTIAN SCHOOL
COOPERSVILLE, MI
Close
Different versions of the
same or similar story:
Other titles
you may like:
Other products you might be interested in:
Sketch-O-Frenia
Actors have the chance to perform wildly different character types in off-the-wall situations. Imagine ants, fish and other unlikely creatures satirizing everything we consider normal and acceptable!
Listen to a clip of every song from the show
Click on a song title to play that sound clip. Click again to pause, or simply click another title to switch songs.
Can't hear the song samples? Click here for a different song format.
Hear what directors and critics are saying:
An absolutely delightful adaptation...

Plays for Children and Young Adults
Pam Nagle and George Wingerter have adapted O. Henry's well-known short story to the stage with an original score featuring ragtime, jazz, and blues styles. Ransom is a rollicking musical comedy for the entire family. The Herald, San Antonio, TX