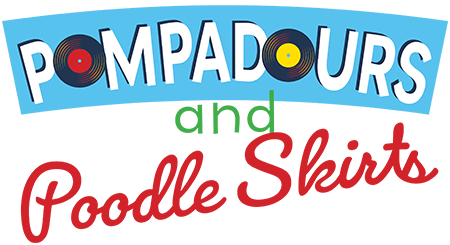 A 1950s One-Act Musical

Book and lyrics by Shubert Fendrich
Book, music and lyrics by Steven Fendrich and Christopher Mohr

Curtis Jackson, a rock 'n' roll star, pays an unlikely visit to the humble community of Victor. Our disguised singing star meets a bundle of wacky characters: Alex, the all-state football hero who is kidnapped before the big game by a greasy motorcycle gang; Tillie Thompson, the dense waitress who runs the local malt shop; a winsome, yet awkward couple, Wilbur and Bertha, who find mutual love in the stars. And who can resist rooting on a trio of cheerleaders who can never hold themselves back. Bring in hysterical impersonations of Elvis and Buddy, topped off with pompadours, poodle skirts and a sensational score of original rock 'n' roll songs, and you'll have a fabulous fifties smash hit.
Additional products available:
Director's book: $17.50
Piano score: $20.00
Vocal score: $8.00
Production-rehearsal CD set: $65.00
CD sampler G: $4.00
DVD of amateur performance: $10.00

Use this script sample — including the cast list, production notes and several pages of the actual script — to help you select your next show. It is open in a new browser tab or window. To open it again, please click here.
Close
COPELAND MIDDLE SCHOOL
ROCKAWAY, NJ
ST RAPHAEL SCHOOL
MEDFORD, MA
COLORADO CITY UNIFIED SCHOOL
COLORADO CITY, AZ
ST CROIX CATHOLIC SCHOOL
STILLWATER, MN
ST PHILIP CATHOLIC SCHOOL
MT VERNON, IN
COLLINS-MAXWELL HIGH SCHOOL
MAXWELL, IA
HURON MIDDLE SCHOOL
HURON, SD
OUR LADY OF POMPEII SCHOOL
LANCASTER, NY
ST MARTIN OF TOURS SCHOOL
SAN JOSE, CA
KENOWA HILLS PUBLIC SCHOOLS
GRAND RAPIDS, MI
ROGERS MIDDLE SCHOOL
ST LOUIS, MO
SIMMONS MIDDLE SCHOOL
OAK LAWN, IL
CENTER FOR THE ARTS
MANASSAS, VA
SOUTH LEWIS CENTRAL SCHOOL
TURIN, NY
BLESSED CARDINAL NEWMAN SCHOOL
CALGARY, AB, CANADA
PLEASANT VALLEY HIGH SCHOOL
JACKSONVILLE, AL
RISING STARS CHILDRENS THEATRE
ADAIR, IA
FISKE ELEMENTARY SCHOOL
LEXINGTON, MA
LAKE ASBURY JR HIGH SCHOOL
GREEN COVE SPRINGS, FL
WEST LINCOLN MIDDLE SCHOOL
LINCOLNTON, NC
ST MICHAEL SCHOOL
YORKTON, SK, CANADA
COLCHESTER MIDDLE SCHOOL
COLCHESTER, VT
CLARKE MIDDLE SCHOOL
FAYETTE, MO
HENLEY MIDDLE SCHOOL
CROZET, VA
CHESTER MIDDLE SCHOOL
CHESTER, VA
JESTERS PERF. ARTS LLC
LONGMONT, CO
PUTNAM CHILDRENS DISCOVERY CTR
CARMEL, NY
THAYER ACADEMY
BRAINTREE, MA
BRUNDAGE PARK PLAYHOUSE
RANDOLPH, NJ
MADCAP-MADISON CREATIVE ARTS
MADISON, WI
GYPSUM CREEK MIDDLE SCHOOL
GYPSUM, CO
PIGEON FORGE HIGH SCHOOL
PIGEON FORGE, TN
ST LUKES SCHOOL
SASKATOON, SK, CANADA
CONTINENTAL SCHOOL DISTRICT 39
GREEN VALLEY, AZ
BLOOMINGTON JUNIOR HIGH SCHOOL
BLOOMINGTON, IL
ST AGNES ACADEMY
MEMPHIS, TN
ST BARNABAS SCHOOL
NORTHFIELD, OH
WINSLOW JR HIGH SCHOOL
WINSLOW, ME
DIAMOND VIEW SCHOOL
SUSANVILLE, CA
WAYNE COMMUNITY SCHOOL
CORYDON, IA
BAXTER SPRINGS PUBLIC SCHOOLS
BAXTER SPRINGS, KS
WOODINVILLE MONTESSORI
BOTHELL, WA
Close
Different versions of the
same or similar story:
Other titles
you may like:
Other products you might be interested in:
One-Act Plays for Acting Students
Twenty-three short length plays for a cast of one, two or three actors are included in just one text. With absolutely no cuttings, each play is a complete dramatic work.
Listen to a clip of every song from the show
Click on a song title to play that sound clip. Click again to pause, or simply click another title to switch songs.
Can't hear the song samples? Click here for a different song format.
Hear what directors and critics are saying:
The content of this '50s-type musical is corny, but in a pleasant way.

Plays for Children and Young Audiences