Book by Vera Morris
Music and lyrics by Scott DeTurk
The "Wordspinner" and the rhythmic beat of the tom-toms open and close this charming musical adventure for all age groups. Pocahontas is the daughter of the mighty Algonquin Chief Powhatan. The princess delights in playing with Raven, Wolf and Squirrel. Pocahontas has also made friends with the English settlers of Jamestown, a community struggling with starvation and sickness. This enchanting musical is graced with a wonderful cast of characters: Little Running Rabbit, Brave Eagle, Aunt Morning Star, Forest Spirits, Mother Earth and, of course, the people of Jamestown. Filled with Native American lore and beautiful music, this play is true to the original legend. Read more...
Additional products available:
Director's book: $20.00
Piano score: $20.00
Vocal score: $8.00
Production-rehearsal CD set: $65.00
CD sampler C: $4.00

Production Photos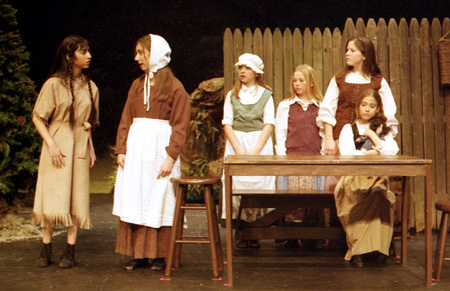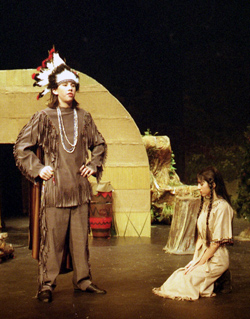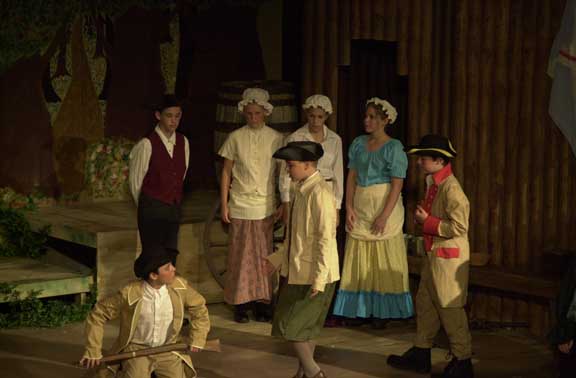 Use this script sample — including the cast list, production notes and several pages of the actual script — to help you select your next show. It is open in a new browser tab or window. To open it again, please click here.
Close
DIANA WOLTERECK
PARKTON, MD
CARROLL COUNTY ARTS COUNCIL
WESTMINSTER, MD
HST CULTURAL ARTS
ROCKVILLE, MD
ST ALBANS TOWN EDUCATIONAL CTR
SAINT ALBANS, VT
APRIL BISHOP
FREMONT, CA
INDIAN TRAILS MIDDLE SCHOOL
WINTER SPRINGS, FL
CHESTER PERFORMING ARTS STUDIO
CHESTER, VA
LUCINDA GIBSON
GULFPORT, MS
GARRARD COUNTY HIGH SCHOOL
LANCASTER, KY
RIVERSIDE CENTER
FREDERICKSBURG, VA
SYRACUSE CHILDREN'S THEATRE
EAST SYRACUSE, NY
STAGE ONE YOUTH THEATRE
RICHMOND, IN
ST ALPHONSUS CATHOLIC SCHOOL
LANGDON, ND
HEBREW ACADEMY NASSAU COUNTY
PLAINVIEW, NY
MASTERPEACE THEATRE
LONGMONT, CO
GERALD ADAMS ELEMENTARY SCHOOL
KEY WEST, FL
PERFORMING ARTS CONNECTION
SUDBURY, MA
WEEHAWKEN CREATIVE ARTS
RIDGWAY, CO
LIMELIGHT TALENT
PETERSBURG, VA
SOUTH DEARBORN MIDDLE SCHOOL
AURORA, IN
KATY VISUAL & PERFORMING ARTS
KATY, TX
MOUNT JULIET ELEMENTARY
MOUNT JULIET, TN
CHAGRIN VALLEY LITTLE THEATRE
CHAGRIN FALLS, OH
HERITAGE ELEMENTARY SCHOOL
WADDY, KY
CREATIVE CHARACTERS
ALLEN PARK, MI
THE ACADEMY OF MUSIC AND ART
SAINT AUGUSTINE, FL
ORPHEUS THEATRE
ONEONTA, NY
SAVANNAH CHILDREN'S THEATRE
SAVANNAH, GA
LAKE WORTH PLAYHOUSE
LAKE WORTH, FL
SECTION ANGLOPHONE DU COLLEGE
FONTAINEBLEAU, FRANCE
ESSEX HIGH SCHOOL
ESSEX JUNCTION, VT
BARSTOW MEMORIAL SCHOOL
CHITTENDEN, VT
CORTLAND HIGH SCHOOL
CORTLAND, NY
BURLINGTON DAY SCHOOL
BURLINGTON, NC
PELL CITY HIGH SCHOOL
PELL CITY, AL
TOWN OF MALTA
MALTA, NY
NATIONAL TRAIL HIGH SCHOOL
NEW PARIS, OH
TECUMSEH JR/SR HIGH SCHOOL
LYNNVILLE, IN
STAFFORD HIGH SCHOOL
STAFFORD SPRINGS, CT
WORD OF MOUTH PRODUCTIONS
FRISCO, TX
COLONIAL CHORUS PLAYERS
READING, MA
NEW LONDON BARN PLAYHOUSE
NEW LONDON, NH
ST THOMAS THE APOSTLE SCHOOL
DELMAR, NY
ROSE HILL SCHOOL
ALEXANDRIA, VA
KIDS FOR CREATIVITY, INC
RANCHO SANTA MARG, CA
DREAMWEAVERS
DECATUR, AL
Close
Different versions of the
same or similar story:
Other titles
you may like:
Other products you might be interested in:
On Stage — Theater Games and Activities for Kids
The activities range from vocal warm-ups to improvisational scene work. Exercises in puppetry, mask making, costuming, makeup and set design, as well as several short scripts, round out the book.
Listen to a clip of every song from the show
Click on a song title to play that sound clip. Click again to pause, or simply click another title to switch songs.
Can't hear the song samples? Click here for a different song format.
Hear what directors and critics are saying:
Beautiful music.
This show was a huge hit with cast and audience alike! The music by Scott DeTurk is absolutely beautiful! It is simple to learn and our young voices sounded wonderful singing it! Overall, this was a huge success for our group! So much so, that it was chosen by our students to be encored years later!

Carol-Ann Black, ShowBiz Kidz, Woodhaven, MI