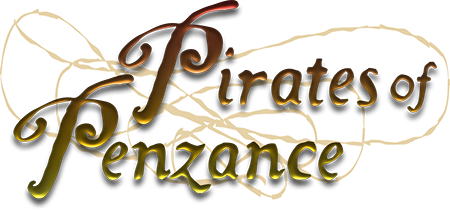 Adapted From Gilbert & Sullivan

By Shubert Fendrich and Jerry Waldrop

Frederic plans to give up life as a pirate on his 21st birthday and marry Mabel, daughter of Major-General Stanley. Alas, it is discovered that he was born in a leap year... February 29th to be exact. As birthdays go, he is only four and will not reach his 21st birthday for 66 years. When all seems lost, the pirate crew discovers they are peers of the realm, and they give up life on the high seas to settle down as gentlemen. The score includes wonderfully singable versions of the classic songs, including "I Am the Very Model of a Modern Major-General" and "Poor Wandering One."
Additional products available:
Piano score: $25.00
Production-rehearsal CD set: $65.00
CD sampler R: $4.00

E-view script also available
Close
DAVID SHAPKA
WILCOX, SK CANADA
RIVERSIDE MIDDLE SCHOOL
WATERTOWN, WI
HALSTED MIDDLE SCHOOL
NEWTON, NJ
HAMPSTEAD ACADEMY
HAMPSTEAD, NH
EISENHOWER MIDDLE SCHOOL
TOPEKA, KS
M-NCPPC
RIVERDALE, MD
SYRACUSE CHILDREN'S THEATRE
EAST SYRACUSE, NY
NEW TECHNOLOGY HIGH SCHOOL
NAPA, CA
APS OPTIONS SCHOOL
AURORA, CO
CECIL COLLEGE
ELKTON, MD
ST PETER SCHOOL
HUBER HEIGHTS, OH
ST MARY OF THE LAKES SCHOOL
MEDFORD, NJ
MERCY HIGH SCHOOL
BALTIMORE, MD
CHISAGO LAKES AREA ISD #2144
LINDSTROM, MN
CARROLLTON JR HIGH SCHOOL
CARROLLTON, GA
CEDAR VALLEY CHRISTIAN SCHOOL
CEDAR RAPIDS, IA
COLONEL MITCHELL PAIGE MS
LA QUINTA, CA
JUNO BEACH ACADEMY
CALGARY, AB, CANADA
MARTIN LUTHER HIGH SCHOOL
NORTHROP, MN
CENTRAL MIDDLE SCHOOL
MELBOURNE, FL
ST FRANCES XAVIER HIGH SCHOOL
EDMONTON, AB, CANADA
WESTCLIFFE CNTR FOR PERF ARTS
WESTCLIFFE, CO
JAMES IRVINE INTERMEDIATE
GARDEN GROVE, CA
MIDWAY R-1
CLEVELAND, MO
YATES CENTER ELEMENTARY SCHOOL
YATES CENTER, KS
KRISTY PACE
LOS ANGELES, CA
TOMMY DOUGLAS PERFORMING ARTS
WEYBURN, SK, CANADA
PEPPERELL HIGH SCHOOL
LINDALE, GA
WINDY RIDGE K-8 SCHOOL
ORLANDO, FL
ST LUKE SCHOOL
SHORELINE, WA
MADISONVILLE CMNTY COLLEGE
MADISONVILLE, KY
RISING STARS
ROEBLING, NJ
GOODING HIGH SCHOOL
GOODING, ID
LEESBURG CHRISTIAN SCHOOL
LEESBURG, VA
MOULTONBOROUGH CENTRAL SCHOOL
MOULTONBOROUGH, NH
MIRROR LAKE MIDDLE SCHOOL
CHUGIAK, AK
FAST FORWARD HIGH
LOGAN, UT
FENELON FALLS SECONDARY SCHOOL
FENELON FALLS, ON, CANADA
MOUNT LOGAN MIDDLE SCHOOL
LOGAN, UT
TREYNOR HIGH SCHOOL
TREYNOR, IA
THOM COLLEGIATE
REGINA, SK, CANADA
SOUTH SHORE CHARTER SCHOOL
NORWELL, MA
Close
Other titles
you may like:
Other products you might be interested in:
Sword Fighting
This text provides guidelines on how to train with historical weapons, as well as showing how authentic European fighting styles from the past can be adapted for the purpose of directing combats.
Listen to a clip of every song from the show
Click on a song title to play that sound clip. Click again to pause, or simply click another title to switch songs.
Can't hear the song samples? Click here for a different song format.
Hear what directors and critics are saying:
Children will enjoy their swashbuckling roles while being gently introduced to the operetta.

Plays for Children and Young Adults