CAST: Flexible cast of 41 (about 12M, 20F, plus 9 roles that can be either), optional extras, doubling
SET: Simple interior set
TIME: About 45 minutes
Script: $6.25

ROYALTY:
$45 First Performance
$45 Each Additional Performance

Every year, the commanding Olive Green directs the Christmas pageant for the Little Church in the Vale, but there is always something missing. Trying to get it right this year, she hires the flashy Hollywood Theater of Peace and Tidings of Great Joy Traveling Troupe with their real feather angel wings, a band and a camel! But when a snowstorm keeps Hollywood out, Olive's friends convince her to create a pageant with the church members already there. Everyone wants in on the act, from the feuding church board members who suddenly discover harmony to the women's auxiliary singing tidings of comfort and pie. Read more...
Additional products available:

Production Photos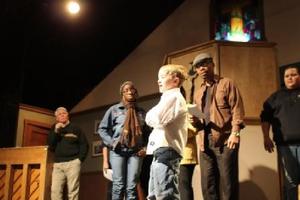 Use this script sample — including the cast list, production notes and several pages of the actual script — to help you select your next show. It is open in a new browser tab or window. To open it again, please click here.
Close
AMICALOLA EMC
JASPER, GA
ST JOSEPH SCHOOL
NELSON, BC CANADA
BARBARA HAMLETT
CHARLOTTE C.H., VA
COVINGTON LATIN SCHOOL
COVINGTON, KY
REICHER CATHOLIC HIGH SCHOOL
WACO, TX
MASSASOIT COMMUNITY COLLEGE
BROCKTON, MA
CHRIST UNITED METHODIST CHURCH
NEWPORT NEWS, VA
ALL SOULS SCHOOL
ENGLEWOOD, CO
14 HOLY HELPERS SCHOOL
WEST SENECA, NY
FIRST BAPTIST CHURCH
JAMESTOWN, TN
BRANSON JR HIGH SCHOOL
BRANSON, MO
SOLID ROCK CHURCH
ELK RIVER, MN
ST CHARLES SCHOOL
BOARDMAN, OH
CLAY COMMUNITY THEATRE
MANCHESTER, KY
RIVERFRONT PLAYHOUSE
REDDING, CA
ST LOUIS SCHOOL
MEMPHIS, TN
WESTMINSTER UNITED CHURCH
WHITBY, ON, CANADA
OUR LADY OF VICTORY
CINCINNATI, OH
CALVARY CHRISTIAN ACADEMY
NORMAL, IL
LINVILLE HILL MENNONITE SCHOOL
PARADISE, PA
BELLEISLE REGIONAL HIGH SCHOOL
SPRINGFIELD, NB, CANADA
CENTRAL KENTUCKY CMNTY THEATRE
SPRINGFIELD, KY
HAWKEYE COMMUNITY THEATRE
FORT DODGE, IA
DUTCH COUNTRY PLAYERS
TELFORD, PA
CATHOLIC ACAD OF HOLY FAMILY
JAMESTOWN, NY
RIVERDALE CHRISTIAN SCHOOL
RIVERDALE, CA
FOUR WINDS CHURCH
CONWAY, AR
FIRE MOUNTAIN ARTS COUNCIL
MORTON, WA
FAIRMONT OPERA HOUSE
FAIRMONT, MN
CHURCH OF SAVIOUR
WOOSTER, OH
NORTHUMBERLAND PLAYERS
COBOURG, ON, CANADA
CALVARY BAPTIST CHURCH
OSWEGO, IN
WALKER SCHOOL
MARIETTA, GA
HOLY FAMILY CATHOLIC SCHOOL
SAULT STE MARIE, ON, CANADA
ST JOHN'S CATHOLIC SCHOOL
HOT SPRINGS, AR
RIVERVIEW CHURCH
HOLT, MI
ST IRENAEUS SCHOOL
CYPRESS, CA
ST ANDREW SCHOOL
BRIDGEPORT, CT
Close
Other titles
you may like:
Other products you might be interested in:
Acting For Young Actors
If you want to learn about both the craft and the business of acting, this is the book for you!
Audition Monologs for Student Actors
Not found in other published texts, the 57 monologs in this book are all from recently produced plays from both established and emerging new writers and are specifically suited for auditioning.