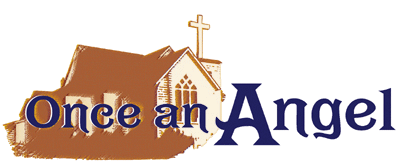 A play with traditional Christmas music

By Faye Couch Reeves
CAST: Flexible cast of 41 (about 12M, 20F, plus 9 angels that can be either), optional extras, doubling
SET: Simple interior set
TIME: About 60 minutes
Script: $6.00

ROYALTY:
$40 First Performance
$40 Each Additional Performance

You'll have the perfect celebration of the season when you combine the familiar songs of Christmas with this funny, sweet story of a faith tested. In the church's social hall at old St. Rufus, a band of young angels and their leaders are awaiting orders and the arrival of the gregarious Gregory and silent Chuck — two angels so inept, even Job has lost patience with them! Meanwhile, the daughter of the pastor at St. Rufus, Gracie Adams, utters a prayer. The scripture-spouting girl pleads for angelic help to save their beloved church, which is going to close down if they can't attract more congregants. But when Chuck and Gregory's plans fail to guarantee the survival of St. Rufus, Gracie questions if God really cares. Read more...
Additional products available:

Use this script sample — including the cast list, production notes and several pages of the actual script — to help you select your next show. It is open in a new browser tab or window. To open it again, please click here.
Close
ST EMILE SCHOOL
WINNIPEG, MB CANADA
CHRIST THE KING CHURCH
KAHULUI, HI
BAPTIST CHURCH AT EBENEZER
RINCON, GA
ST JOSEPH CATHOLIC SCHOOL
RICHARDSON, TX
MERCYMOUNT COUNTRY DAY SCHOOL
CUMBERLAND, RI
ST MATTHEW SCHOOL
OAKVILLE, ON, CANADA
ST PATRICK OF HEATHERDOWNS
TOLEDO, OH
CHRISTIAN LIFE ACADEMY
BATON ROUGE, LA
APPLETON CHRISTIAN SCHOOL
KIMBERLY, WI
LUTHERAN CHURCH OF REDEEMER
TRENTON, NJ
LIGHTHOUSE MINISTRIES
COLUMBUS, OH
ST FRANCIS XAVIER SCHOOL
BRUNSWICK, GA
RIVERVIEW CHURCH
HOLT, MI
ART CENTER THEATRE
HERNANDO, FL
INFANT JESUS SCHOOL
NASHUA, NH
MAIN STREET THEATRE COMPANY
PARLIN, NJ
ST MARGARET REGIONAL SCHOOL
BUZZARDS BAY, MA
BRUNSWICK CHRISTIAN ACADEMY
BRUNSWICK, GA
ST LOUISE DE MARILLAC SCHOOL
PITTSBURGH, PA
PRESBYTERIAN CHRISTIAN SCHOOL
HATTIESBURG, MS
Close
Other titles
you may like:
Other products you might be interested in:
Acting up in Church
There's nothing like a little holy humor to illustrate your sermons! Your congregation will applaud the wit and whimsy in these sketches.