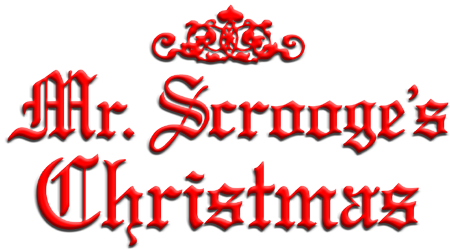 Adapted by Thomas Hischak
CAST: Flexible cast of 12-20
SET: Simple interior and exterior sets
TIME: About 60 minutes

Script: $6.00 DVD of amateur performance: $10.00


ROYALTY:
$40 First Performance
$40 Each Additional Performance


Emphasizing the ghost story aspect of A Christmas Carol, the play is narrated by Jacob Marley who, as he tells the audience, has been dead for seven years, but now returns to Earth to try and reform his ex-partner, Ebenezer Scrooge. The miserly Scrooge is seen frowning at carolers, chasing away charity collectors, and making life miserable for his clerk, Bob Cratchit. But Marley appears to Scrooge on Christmas Eve and sends three spirits: Christmas Past, Present and Future. Each spirit reveals a different aspect of Christmas and in the end, old Scrooge is changed and celebrates Christmas dinner with the Cratchit family.
Additional products available:
DVD of amateur performance: $10.00

Use this script sample — including the cast list, production notes and several pages of the actual script — to help you select your next show. It is open in a new browser tab or window. To open it again, please click here.
Close
NSU MIDDLE LAB SCHOOL
NATCHITOCHES, LA
KIRKSVILLE HIGH SCHOOL
KIRKSVILLE, MO
CHERYL HENRY
MARIETTA, GA
GRANT UNION JR/SR HIGH SCHOOL
JOHN DAY, OR
SHAKAMAK HIGH SCHOOL
JASONVILLE, IN
SABIS INTERNATIONAL SCHOOL
PHOENIX, AZ
MCCREARY COUNTY PERF ARTS CNCL
STEARNS, KY
SPEAKE HIGH SCHOOL
DANVILLE, AL
LOGAN HIGH SCHOOL
LA CROSSE, WI
PROVIDENCE PREBYTERIAN CHURCH
WEST COLUMBIA, SC
DERRY AREA HIGH SCHOOL
DERRY, PA
HOLY CROSS SCHOOL
GEORGETOWN, ON, CANADA
FAITH BIBLE HIGH SCHOOL
HILLSBORO, OR
GOODSON MIDDLE SCHOOL
CYPRESS, TX
WASHINGTON TOWNSHIP MS/HS
VALPARAISO, IN
CROWDER COLLEGE
NEOSHO, MO
HOLY TRINITY CHURCH
SAN PEDRO, CA
CJW SERVICES INC.
LITTLETON, CO
THE NEW ACADEMY
WINDERMERE, FL
KELLOGGSVILLE HIGH SCHOOL
GRAND RAPIDS, MI
BOBBIE ANN'S DANCE STUDIO
ELKTON, MD
FRANKLIN HIGH SCHOOL
ELK GROVE, CA
NORTHEAST MIDDLE SCHOOL
MERIDIAN, MS
THEATRE ARTS FOR CHILDREN
SPOKANE, WA
CALGARY FRENCH INTERNAT SCHOOL
CALGARY, AB, CANADA
COLONIAL BEACH HIGH SCHOOL
COLONIAL BEACH, VA
THEATRE NORTH
BERLIN, NH
WEST MIDDLE SCHOOL
DOWNEY, CA
VALLEY CENTER COMMUNITY THTRE
VALLEY CENTER, CA
DALLES WAHTONKA HIGH SCHOOL
THE DALLES, OR
CORONA CIVIC LIGHT OPERA ASSOC
CORONA, CA
HERITAGE ELEMENTARY SCHOOL
GLENDALE, AZ
MILLENNIUM MIDDLE SCHOOL
SOUTH LYON, MI
EAST CENTRAL HIGH SCHOOL
HURLEY, MS
WATERFORD MIDDLE SCHOOL
WATERFORD, CA
KIRKSVILLE HIGH SCHOOL
KIRKSVILLE, MO
ST GEORGE SCHOOL
ONTARIO, CA
FRONTIER ACADEMY
GREELEY, CO
ST LUKE'S SCHOOL
CULPEPPER, VA
KENWOOD HIGH SCHOOL
CLARKSVILLE, TN
Close
Different versions of the
same or similar story:
Other titles
you may like:
Other products you might be interested in:
Service with a Smile
Your congregation will love this year's worth of warmly humorous sketches designed to complement your weekly sermon.
Hear what directors and critics are saying:
I like the way this condensed version keeps the integrity of the original story. Audiences enjoy it and appreciate the show is under one hour. Thanks Pioneer for providing quality material! I like the way this condensed version keeps the integrity of the original story. Audiences enjoy it and appreciate the show is under one hour. Thanks Pioneer for providing quality material!

Denise Clark, Kirksville High School, Kirksville, MO
...it will charm you as though you are hearing the tale for the first time.

Valley News Dispatch, New Kensington/Tarentum/Vandergrift, PA