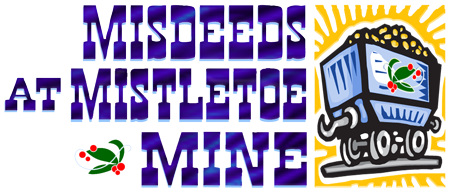 Or... The Sanity Clause

By Tim Koenig
CAST: 3M, 4F plus 1M non-speaking role
SET: Simple interior set
TIME: About 45 minutes
Script: $6.25

ROYALTY:
$45 First Performance
$45 Each Additional Performance


Here's a fun, versatile melodrama that's great for Christmas... or any time of year! Poor little Holly Hock. Orphaned, she has inherited a gold mine with no gold and a hotel with no guests. Her aunt, Rose Bush, has taken both her and the failing business under her wing. When handsome Redmond Wood rides into town, the future suddenly looks promising for Rose and Holly, but the villainous Mayor William Z. Lucifer has other plans. With the help of femme fatale Chiquita Rosarita Ricardo, Mayor Lucifer concocts a plan to drive Red out of town and take custody of Holly, thereby inheriting the hotel and gold mine. Read more...
Additional products available:

Use this script sample — including the cast list, production notes and several pages of the actual script — to help you select your next show. It is open in a new browser tab or window. To open it again, please click here.
Close
VENTURA COUNTY CHRISTIAN SCHL
VENTURA, CA
TOBIE HENLINE
HUTCHINSON, KS
ASCENSION CHRISTIAN HIGH
GONZALES, LA
TREVOR MATHESON
CALGARY, AB CANADA
SAWDUST THEATRE
COQUILLE, OR
SPRINGFIELD FIRST UMC
SPRINGFIELD, TN
JESUS NAME COMMUNITY CHURCH
WALNUT, MS
PENINSULA PLAYERS
OCEAN PARK, WA
DANVILLE COMM. HIGH SCHOOL
DANVILLE, IN
LINCOLN CHRISTIAN SCHOOL
LINCOLN, NE
ST BERNARD MIDDLE SCHOOL
ST BERNARD, LA
FIRST UNITED METHODIST CHURCH
COLORADO SPRINGS, CO
PULASKI FINE ARTS ASSOCIATION
WAYNESVILLE, MO
COLORADO ACTS
ARVADA, CO
NEW LIFE ASSEMBLY OF GOD
GENEVA, OH
PARKSIDE COMMUNITY THEATER
PARKSIDE, PA
CONNALLY HIGH SCHOOL
WACO, TX
FIRST UNITED METHODIST CHURCH
OKEECHOBEE, FL
FOOTLIGHTERS
PORTHILL, ID
DUANE RUNYAN
GROUSE CREEK, UT
MIAMI YODER SCHOOL
RUSH, CO
GILLETTE COMMUNITY THEATRE
GILLETTE, WY
SING HOSANNA!
BUTLER, PA
CLOUDCROFT LIGHT OPERA CO
CLOUDCROFT, NM
Close
Other titles
you may like:
Other products you might be interested in:
Melodrama: Beyond the Boos and Hisses
The professional actors on this instructional video will demonstrate for both director and actors all the exclusive aspects that make melodrama a unique form of theatre.
Christmas on Stage
This book will make Christmas more meaningful — and fun! — for performer and audience alike with this diverse collection of 27 Christmas plays and readings suitable for classroom or youth presentations.