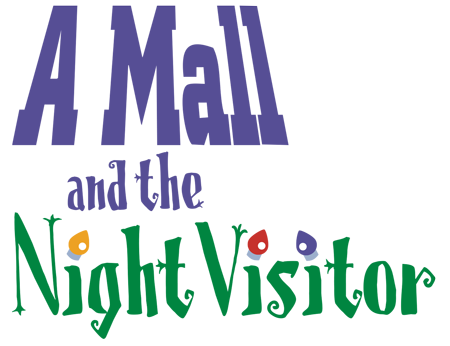 By Kristin Ettinger and Shubert Fendrich
CAST: Flexible cast of 18, extras
SET: One simple set
TIME: About 45 minutes
Script: $5.75

ROYALTY:
$35 First Performance
$35 Each Additional Performance

Last-minute shoppers flurry around the mall like snowflakes in a blizzard and the high school's student council charity drive is getting the cold shoulder. It's already Christmas Eve, and they still haven't received enough donated gifts to fulfill every Christmas wish on the "Angel Wreaths." Disenchanted student council members and disgruntled young mall employees share their complaints in the employee lounge as the down-to-business mall manager, Mrs. Hotchkiss, lectures about keeping the place tidy. Nick, the mall Santa, sees the students' efforts and also hears that the employees are scrimping and pinching to buy gifts for their family and friends. Read more...
Additional products available:

Use this script sample — including the cast list, production notes and several pages of the actual script — to help you select your next show. It is open in a new browser tab or window. To open it again, please click here.
Close
ST BRENDAN'S SCHOOL
ORMOND BEACH, FL
DANA WALKER
CEDAR HILL, TX
VILLAGO MIDDLE SCHOOL
CASA GRANDE, AZ
SOUTH MIDDLE SCHOOL
COWAN, TN
SHELBYVILLE CENTRAL HIGH
SHELBYVILLE, TN
CAIN MIDDLE SCHOOL
ROCKWALL, TX
PAUL BREAUX MIDDLE SCHOOL
LAFAYETTE, LA
PENN WOOD HIGH SCHOOL
LANSDOWNE, PA
BRENNAN MIDDLE SCHOOL
ATTLEBORO, MA
SIR GEORGE SIMPSON JHS
ST ALBERT, AB, CANADA
CITY OF ROSWELL
ROSWELL, GA
CHILDREN'S HOME OF JEFFERSON
WATERTOWN, NY
DOUBLE R PRIVATE SCHOOL
CHULUOTA, FL
NORTH BROOKFIELD YOUTH CENTER
NORTH BROOKFIELD, MA
MARGARETTA HIGH SCHOOL
CASTALIA, OH
NOTRE DAME DE GRACE SCHOOL
MONTREAL, QC, CANADA
OUR SAVIOR'S LUTHERAN CHURCH
SPRING VALLEY, MN
BOYD W ARTHURS MIDDLE SCHOOL
TRENTON, MI
CUTLER RIDGE MIDDLE SCHOOL
MIAMI, FL
NORTHUMBERLAND HIGH SCHOOL
HEATHSVILLE, VA
LIBERAL ARTS ACADEMY SCHOOL
BALTIMORE, MD
NORTH PONTOTOC HIGH SCHOOL
ECRU, MS
PORTSMOUTH LITTLE THEATRE
PORTSMOUTH, OH
TIOGA CENTRAL HIGH SCHOOL
TIOGA CENTER, NY
CALVARY BIBLE CHRISTIAN HOME-
EAST STROUDSBURG, PA
EDGEWOOD MIDDLE SCHOOL
WARSAW, IN
WANGENHEIM MIDDLE SCHOOL
SAN DIEGO, CA
KENWOOD HIGH SCHOOL
CLARKSVILLE, TN
Close
Different versions of the
same or similar story:
Other titles
you may like:
Other products you might be interested in:
Introduction to Theatre Arts
Here is a drama instructional program that that is classroom-tested. It includes a complete Teacher's Guide with study units for a full year of classroom drama activities.
The Perfect Stage Crew
Here is a must-have book for anyone producing a stage show without a Broadway-sized budget.