Book by Tim Kelly
Music by Arne Christiansen
Lyrics by Ole H. Kittleson
A merry mix of mayhem, melody and mania! It's Los Angeles' favorite gumshoe searching for the deadly "Pearl of Persia" and battling his old foes: "The Fat Man," mad Mrs. Mintworth, Brush Mohair, and the evil Conchita. It's a tough job but it has its up side — the "dames," who find him irresistible. So what if the bodies are piling up and Lucky's arrested on a murder rap because of that weird bird — The California Chicken. That's what private eyes are all about. Wait 'til you see what happens when our hero gets trapped in a madhouse run by the villainous Montrose Hogsbreath! No set problems, yet this ingenious spoof fills the stage like a Broadway musical. Read more...
Additional products available:
Director's book: $20.00
Piano score: $25.00
Vocal score: $8.00
Production-rehearsal CD set: $65.00
CD sampler M: $4.00
DVD of amateur performance: $10.00
Orchestral Parts [Clarinet/tenor sax, Bass, Guitar, Percussion]: $6.00

Production Photos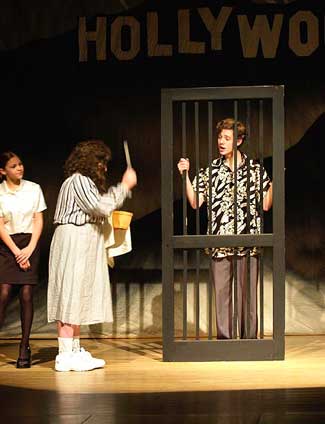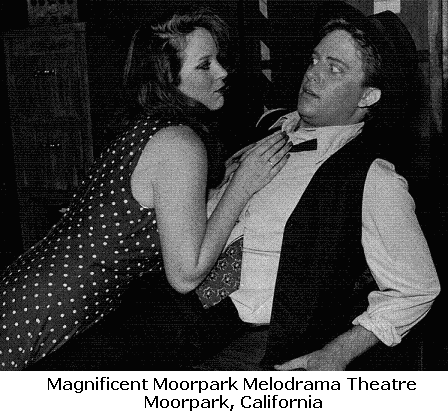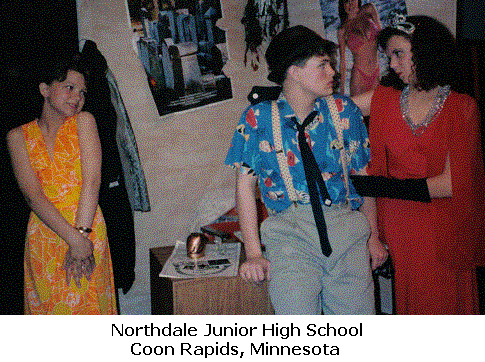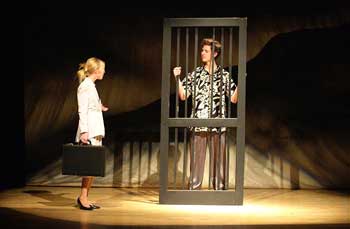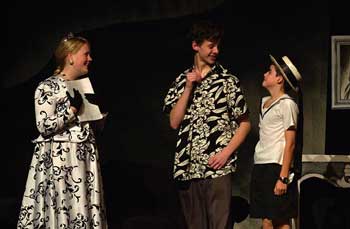 Use this script sample — including the cast list, production notes and several pages of the actual script — to help you select your next show. It is open in a new browser tab or window. To open it again, please click here.
Close
SAM FRISK
ANCASTER, ON CANADA
MELANIE MAYS
MONTICELLO, FL
MARK BILLS DRAMA CLUB
PEORIA, IL
RUTLAND COMMUNITY CLUB
RUTLAND, ND
LLOYDMINSTER DISTRICT SPCA
LLOYDMINSTER, AB, CANADA
MARYLAND ENSEMBLE THEATRE
FREDERICK, MD
COLONEL BY SECONDARY SCHOOL
GLOUCESTER, ON, CANADA
ROCKY MOUNT ACADEMY
ROCKY MOUNT, NC
MEADOWBROOK MIDDLE SCHOOL
AIRDRIE, AB, CANADA
SAVANNAH CHILDREN'S THEATRE
SAVANNAH, GA
BARNHART SCHOOL
ARCADIA, CA
GREENFIELD MIDDLE SCHOOL
EL CAJON, CA
SPRINGFIELD FIRST UMC
SPRINGFIELD, TN
HUTTONS HAMLET SCHOOL OF MUSIC
OAKDALE, CA
HOLY SEPULCHER SCHOOL
BUTLER, PA
CHICKASAW MIDDLE SCHOOL
MEMPHIS, TN
ROGERS MIDDLE SCHOOL
ST LOUIS, MO
ANGEVINE MIDDLE SCHOOL
LAFAYETTE, CO
THE NAPLES PLAYERS
NAPLES, FL
JOHNSTON MIDDLE SCHOOL
HOUSTON, TX
FIRST DENVER FRIENDS CHURCH
DENVER, CO
ST RITA SCHOOL FOR DEAF
CINCINNATI, OH
MARION HIGH SCHOOL
MARION, MI
LINCOLN MIDDLE SCHOOL
INDIANAPOLIS, IN
VICKERY CREEK MIDDLE SCHOOL
CUMMING, GA
SCHOOL DISTRICT OF WASHINGTON
WASHINGTON, MO
LARNED HIGH SCHOOL
LARNED, KS
MONTGOMERY-LONSDALE HIGH SCH
MONTGOMERY, MN
ST MARTIN DE PORRES SENIOR HS
AIRDRIE, AB, CANADA
BISHOP MONTGOMERY HIGH SCHOOL
TORRANCE, CA
Close
Different versions of the
same or similar story:
Other titles
you may like:
Other products you might be interested in:
Ben Nye Character Makeup Kits
Create exciting characters with any of our Character Kits. Each kit includes instructions that make it easy to obtain professional results. These creme makeups are washable and non-toxic.
Play Directing in the School
This text details the world of producing plays in schools. Whether it's budgeting, scheduling or the motivating and management of students, this is a must for anyone in an educational institution.
Listen to a clip of every song from the show
Click on a song title to play that sound clip. Click again to pause, or simply click another title to switch songs.
Can't hear the song samples? Click here for a different song format.