Book by William S. Kilborne, Jr. and Albert T. Viola
Music by Albert T. Viola
Lyrics by William S. Kilborne, Jr.
Little Red is wondering why life isn't more exciting, while Granny shows up in search of the Wolf, who has stolen her ten-speed bicycle. Granny, who is a karate expert, has no fear of the Wolf, a most unusual creature who is Harvard educated (he wrote his thesis on Wolfgang Mozart), enjoys being evil and loves little children (on whole wheat toast). When Granny has an accident (she breaks her hand practicing karate on a brick), Little Red sets out to deliver dinner to her. She goes through the woods, where she encounters a variety of forest creatures including, of course, the Wolf, who discovers her destination and arrives at Granny's house before she does. He locks up Granny and lays a trap for Little Red. It appears that Little Red will become dinner for the Wolf, but the Woodsman arrives in time to save her.
Additional products available:
Director's book: $17.50
Piano score: $20.00
Production-rehearsal CD set: $65.00
CD sampler A: $4.00

Production Photos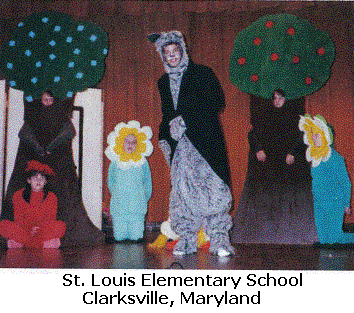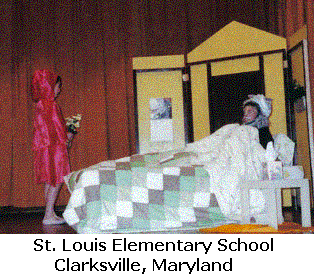 Use this script sample — including the cast list, production notes and several pages of the actual script — to help you select your next show. It is open in a new browser tab or window. To open it again, please click here.
Close
NORTHBROOK PARK DISTRICT/THTRE
NORTHBROOK, IL
DRY CREEK ELEMENTARY SCHOOL
CLOVIS, CA
BILLIE LEACH
SHREVEPORT, LA
ALBERTVILLE ELEMENTARY SCHOOL
ALBERTVILLE, AL
STEEL BEAM THEATRE
ST CHARLES, IL
MIDDLE RIVER COMMUNITY THEATRE
MIDDLE RIVER, MN
COLHAM FERRY ELEMENTARY
WATKINSVILLE, GA
ANDREA VAN AIRSDALE
ANDERSON, SC
BUCKS COUNTY PLAYHOUSE
NEW HOPE, PA
CITY OF SAN JUAN
SAN JUAN, TX
UNIV CNTR FOR PERFORMING ARTS
DAVIE, FL
ATHENS CREATIVE THEATRE
ATHENS, GA
CITY OF GRAND ISLAND
GRAND ISLAND, NE
CLASS ACT PRODUCTIONS
ALTOONA, IA
ZION LUTHERAN SCHOOL
BEECHER, IL
CHARITY LEAGUE OF LEXINGTON
LEXINGTON, NC
ST MARY SCHOOL
ST CLAIR, MI
EVERETT ELEMENTARY SCHOOL
LAKE FOREST, IL
KIMBERLY HIGH SCHOOL
KIMBERLY, WI
TRAVERSE CITY CHILDREN THEATRE
TRAVERSE CITY, MI
ST FRANCIS SCHOOL
SHERWOOD, OR
SOL CHILDREN THEATRE TROUPE
BOCA RATON, FL
BREWSTER ISD 513
BREWSTER, MN
ALL SAINTS CATHOLIC SCHOOL
ROSSFORD, OH
KIDSTAGE PRODUCTIONS, INC.
NORTHBROOK, IL
ALL CITY ELEMENTARY
SIOUX FALLS, SD
CENTRAL AVE SCHOOL
MADISON, NJ
WILMA PEREZ
INDIAN ROCKS BEACH, FL
CHILDRENS CREATIVE AND PERFOR-
SAN DIEGO, CA
BRUNDAGE PARK PLAYHOUSE
RANDOLPH, NJ
SUZANNE SEMANS DANCE AND
HOUSTON, TX
CHRIST THE REDEEMER ACADEMY
WEST WARWICK, RI
CYPRESS ACADEMY OF PERF ARTS
HOUSTON, TX
HARRISON STREET SCHOOL
GENEVA, IL
WYOMING AREA CATHOLIC SCHOOL
EXETER, PA
BRIARWOOD ELEMENTARY SCHOOL
FLORHAM PARK, NJ
JAMES URVANI SCHOOL
STOCKTON, CA
VILLAGERS THEATRE
SOMERSET, NJ
Close
Different versions of the
same or similar story:
Other titles
you may like:
Listen to a clip of every song from the show
Click on a song title to play that sound clip. Click again to pause, or simply click another title to switch songs.
Can't hear the song samples? Click here for a different song format.