Or... The Villain Made a Grab for the Lab

By Eddie Cope and Carl L. Williams
CAST: 3M, 3F
SET: Single interior set
TIME: About 30 minutes
Script: $5.75

ROYALTY:
$35 First Performance
$35 Each Additional Performance

Here's an easy-to-direct melodrama with a laugh-a-minute pace, lively characters and as many puns as plot twists. Adora Winsome, a lovelorn widow, is stuck with a cluttered workshop after the death of her husband, an unsuccessful inventor who left them nothing but a strange "talker box" — later to become the profitable walkie-talkie. She and her beautiful daughter Charmaine have sent for a patent application for the apparatus, but they don't know a thing about it. Frankie Fixitt, the old lab assistant, lends a helping hand. After all, he is secretly in love with Charmaine. But what good is the patent application if the talker box is in the clutches of greedy landlord Gustav Guttermost and his flirtatious confederate, Ima Foxx? Read more...
Additional products available:

Production Photos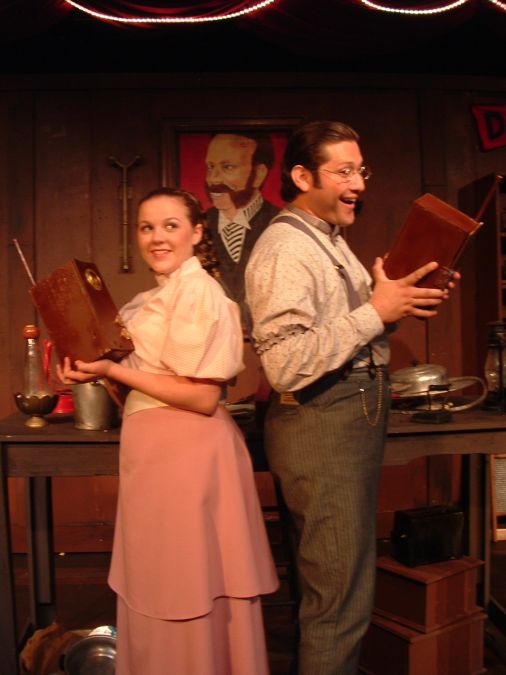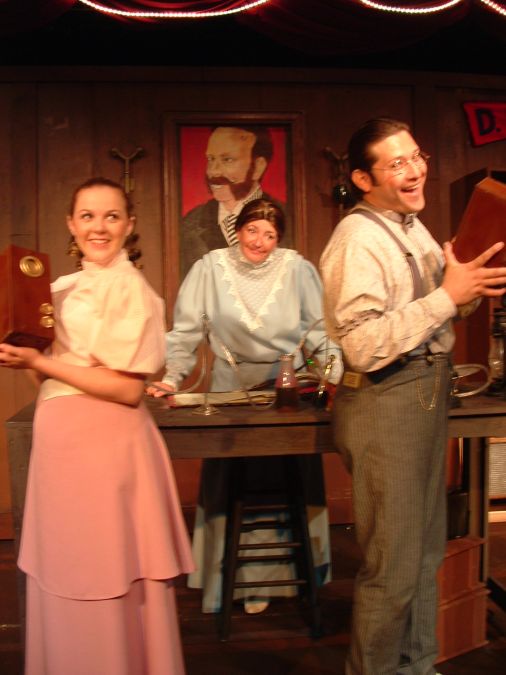 Use this script sample — including the cast list, production notes and several pages of the actual script — to help you select your next show. It is open in a new browser tab or window. To open it again, please click here.
Close
VALENTINE PLAYERS
VALENTINE, NE
VALLEY LUTHERAN HIGH SCHOOL
PHOENIX, AZ
CORVALLIS HIGH SCHOOL
CORVALLIS, MT
OLD HAVANA COURTHOUSE THEATRE
MOUNTOUR FALLS, NY
FROST COMMUNITY CLUB
FROST, MN
LANSING CHRISTIAN SCHOOL
LANSING, IL
CONCORD CHRISTIAN SCHOOL
JEFFERSON CITY, MO
HAZEN SENIOR HIGH SCHOOL
RENTON, WA
FRIENDS OF THE LIBRARY
GOLDTHWAITE, TX
FIRST UNITED METHODIST CHURCH
COLORADO SPRINGS, CO
RANDSBURG OPERA HOUSE
RANDSBURG, CA
OLD QUARRY SOCIETY
BRACKETTVILLE, TX
LEWISTON-ALTURA HIGH SCHOOL
LEWISTON, MN
INDIAN VALLEY THEATRE
SANDWICH, IL
RANDY PLAYERS
UNION CITY, IN
AR RIVER VALLEY MONTESSORI
LITTLE ROCK, AR
DOWNS ART COUNCIL
DOWNS, KS
ANDREW COUNTY FAIR BOARD
SAVANAH, MO
HOPE CHURCH
OAKDALE, MN
MODESTO CHRISTIAN SCHOOL
MODESTO, CA
BASALT HIGH SCHOOL
BASALT, CO
HARBOR PLAYHOUSE
CORPUS CHRISTI, TX
ST MARY'S STAR OF THE SEA
BEVERLY, MA
TRINITY LUTHERAN SCHOOL
BEND, OR
Close
Other titles
you may like:
Other products you might be interested in:
Stage Makeup
Filled with large color photographs and actors' design sketches, this gorgeous book will help you acquire the essential skills for doing period makeup, age makeup and special effects applications.
Young Playwrights 101
This clear and crisply written practical text will guide you through the playwriting process, from initial idea to production and submission.