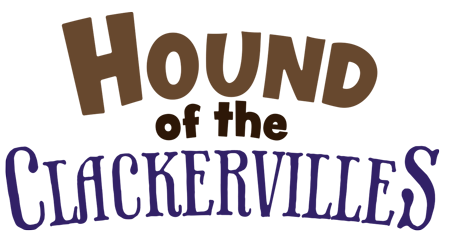 A spoof of the classic Sherlock Holmes story

Adapted by Craig Sodaro
CAST: 10M, 19F
SET: Interior parlor room set
TIME: About 90 minutes
Script: $6.75

ROYALTY:
$55 First Performance
$45 Each Additional Performance

The old curmudgeon, Charlie Clackerville, is very angry. He has received an anonymous letter telling him of a curse on the Clackervilles. When Granny, the local witch, arrives, she confirms the curse is true, for in a nightmare she saw a hound glowing in the dark! After rewriting his will, Charlie finds himself alone at the manor, and suddenly hears a hound howling. It creeps closer and closer until it literally frightens poor Charlie to death. The curse has come true! And now Granny warns Hank Bob Clackerville that the hound is after him! Luckily for Hank Bob, his faithful girl, Daisy Mae, has summoned the famous Sherlock Holmes and his ever-loyal sidekick, Dr. Watson, to the mansion to find out what really happened to Charlie. Read more...
Additional products available:

Production Photos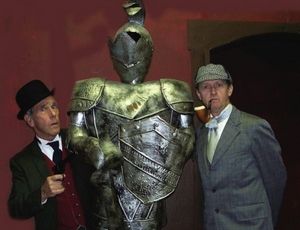 Use this script sample — including the cast list, production notes and several pages of the actual script — to help you select your next show. It is open in a new browser tab or window. To open it again, please click here.
Close
WEST CENTRAL MIDDLE SCHOOL
STRONGHURST, IL
APLINGTON-PARKERSBURG HIGH SCH
PARKERSBURG, IA
WENDELL SCHOOL DIST #232
WENDELL, ID
LINN HIGH SCHOOL
LINN, KS
BRIGHTON ACADEMY
GRANTS PASS, OR
HUTTONS HAMLET SCHOOL OF MUSIC
OAKDALE, CA
SOUTH OLDHAM MIDDLE SCHOOL
CRESTWOOD, KY
KENASTON CMNTY DINNER THEATRE
KENASTON, SK, CANADA
WHEELER MIDDLE/HIGH SCHOOL
NORTH STONINGTON, CT
MAYERTHORPE HIGH SCHOOL
MAYERTHORPE, AB, CANADA
SEWARD HIGH SCHOOL
SEWARD, AK
SACRED HEART SCHOOL
RICH FOUNTAIN, MO
KEWASKUM MIDDLE SCHOOL
KEWASKUM, WI
ASCENSION SCHOOL
OAK PARK, IL
OXFORD JR/SR HIGH SCHOOL
OXFORD, KS
ST MARY'S SCHOOL
BLOOMINGTON, IL
PIED PIPER PLAYHOUSE
SALTILLO, MS
HERITAGE HUNT LITTLE THEATRE
GAINESVILLE, VA
HARDING MIDDLE SCHOOL
CEDAR RAPIDS, IA
WEST LAKE JR. HIGH SCHOOL
WEST VALLEY CITY, UT
Close
Other titles
you may like:
Other products you might be interested in:
Improve With Improv!
This book is a complete improvisational curriculum program divided into workshops. Each workshop contains exercises designed to help students focus on one aspect of a character's personality.
Neil Simon Monologues
Neil Simon holds the distinction of being the only playwright in history to have four plays running simultaneously on Broadway.