CAST: Flexible cast of 19-35
SET: Interior castle set
TIME: About 90 minutes

Script: $7.00 Director's book: $22.50


ROYALTY:
$55 First Performance
$45 Each Additional Performance

Tons of magical fun awaits in this original, one-of-a-kind fractured fairy tale farce! A kind king and queen have trouble in their royal family — four obnoxious, bratty, adult children who do not live up to their royal titles. There's the mean Princess Cinnamon, the not-so-bright Princess Peppermint, the vain Prince Hairgel and Prince Slacker, who thinks being a prince is just way, way too hard. The king and queen try everything to bring happiness and harmony to their family. They hire a royal therapist, bring in royal teachers and even attempt to marry off their children, all to no avail. The king and queen are ready for a happily-ever-after that doesn't include adult children still living at home, so they call upon the fairy godmother to help. However, after learning the outrageous cost of hiring the fairy godmother (let alone the permits required), the king and queen decide to create a do-it-yourself fairy tale with the help of supplies purchased at The Enchanted Depot. Royal chaos! Of course, nothing goes as planned, but everyone is changed by their experiences. And through a serious of haphazard events, the royal family just might live happily ever after, after all.
Additional products available:
Director's book: $22.50

Production Photos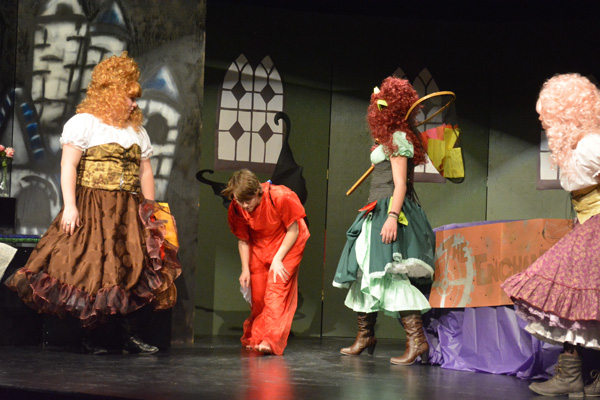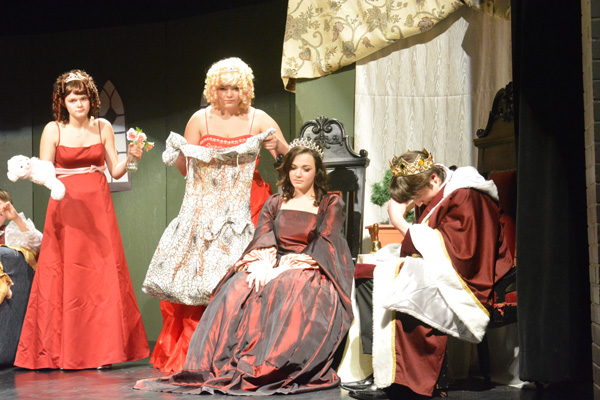 Use this script sample — including the cast list, production notes and several pages of the actual script — to help you select your next show. It is open in a new browser tab or window. To open it again, please click here.
MILFORD MIDDLE SCHOOL
MILFORD, NH
FLUSHING COMMUNITY SCHOOLS
FLUSHING, MI
ST THOMAS THE APOSTLE SCHOOL
WEST SPRINGFIELD, MA
JOHN F KENNEDY MIDDLE SCHOOL
FLORENCE, MA
ST PETER'S LUTHERAN SCHOOL
REEDSBURG, WI
HUGH SUTHERLAND SCHOOL
CARSTAIRS, AB CANADA
OWASSO EIGHTH GRADE CENTER
OWASSO, OK
ST JOSEPH CATHOLIC SCHOOL
JACKSONVILLE, FL
MONTMORENCY SCHOOL
ROCK FALLS, IL
ST STEPHEN PROTOMARTYR SCHOOL
SAINT LOUIS, MO
HACKETTSTOWN BD OF EDUCATION
HACKETTSTOWN, NJ
WETMORE HIGH SCHOOL
WETMORE, KS
MENTOR PUBLIC SCHOOLS
MENTOR, OH
RIDGELY MIDDLE SCHOOL
LUTHERVILLE, MD
HILLCREST CHRISTIAN ACADEMY
BETHEL PARK, PA
GREENWOOD HIGH SCHOOL
GREENWOOD, WI
CENTRAL JUNIOR HIGH SCHOOL
EAST PEORIA, IL
KEARNEY COMMUNITY THEATRE
KEARNEY, NE
MARTICVILLE MIDDLE SCHOOL
PEQUEA, PA
DUTTON CHRISTIAN SCHOOL
CALEDONIA, MI
SUTTON MIDDLE SCHOOL
SUTTON, MA
SAN CARLOS CHILDRENS THEATER
SAN CARLOS, CA
HOPE LUTHERAN CHURCH
BOZEMAN, MT
SAINTS PETER & PAUL CATH SCHL
WATERLOO, IL
TRICKUM MIDDLE SCHOOL
LILBURN, GA
THOMAS GROVER MIDDLE SCHOOL
PRINCETON JUNCTION, NJ
ST ANTHONY CATHEDRAL SCHOOL
BEAUMONT, TX
ANNUNCIATION SCHOOL
STOCKTON, CA
CLOVIS POINT INTERMEDIATE SCHL
EAST WENATCHEE, WA
SPRINGFIELD JEWISH COMM CTR
SPRINGFIELD, MA
LEONIA MIDDLE SCHOOL
LEONIA, NJ
CALEDONIA-MUMFORD MIDDLE SCHL
CALEDONIA, NY
LIEDERKRANZ CHILDRENS THEATRE
GRAND ISLAND, NE
TWIN FALLS SCHOOL DIST #411
TWIN FALLS, ID
COUNTRYSIDE ELEMENTARY SCHOOL
SURPRISE, AZ
SCHOOL DISTRICT OF KEWASKUM
KEWASKUM, WI
MATTHEW HENSON MIDDLE SCHOOL
INDIAN HEAD, MD
IMMACULATE HEART OF MARY
LANSING, MI
LAMONT HIGH SCHOOL
LAMONT, AB CANADA
HILLTOP HIGH SCHOOL
WHITECOURT, AB CANADA
DECATUR HIGH SCHOOL
DECATUR, MI
SPRING-FORD MIDDLE SCHOOL
ROYERSFORD, PA
Close
Different versions of the
same or similar story:
Other titles
you may like:
Other products you might be interested in:
Comedy Improvisation
This book presents fun comic improvisation exercises and structures, ranging from the very simple and basic to the very sophisticated, which require considerable skill to pull off.