CAST: Flexible cast of 22 (6M, 10F, plus 6 roles that can be either)
SET: Area staging
TIME: About 60 minutes

Script: $6.50 Director's book: $17.50


ROYALTY:
$50 First Performance
$50 Each Additional Performance

The supremely bratty Prince Rupert and the equally obnoxious Princess Iphigenia have been exiled to the wild woods of Wychwood and can't return home until they find true love. But who would love such spoiled brats? Could it be Rapunzel and her brother Bill, trapped in an enchanted tower because they refused to get a haircut? Or perhaps Elton and his sister Ernestine, peasant children who sell all the family's electronics for a measly five beans that might be magic? With a fairy-tale committee that includes a super-cool big bad wolf and a bumbling fairy godmother making the rules, this romp through the forest of Wychwood is filled with twists and turns. Read more...
Additional products available:
Director's book: $17.50

Production Photos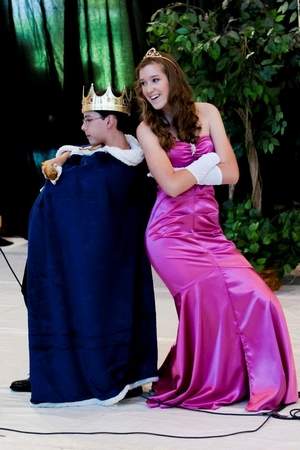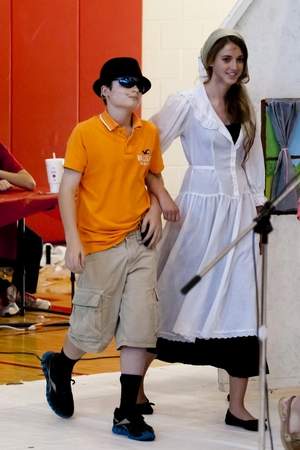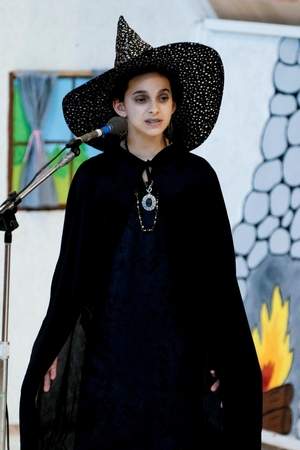 Use this script sample — including the cast list, production notes and several pages of the actual script — to help you select your next show. It is open in a new browser tab or window. To open it again, please click here.
Close
SHELLY MATTHEWS
PHILOMATH, OR
HARRIET BERGMAN
TIPP CITY, OH
PALATINE PARK DISTRICT
PALATINE, IL
BRYAN REMKE
CINCINNATI, OH
APPLE BLOSSOM SCHOOL
SEBASTOPOL, CA
FOSKETT RANCH ELEMENTARY
LINCOLN, CA
SISTERS MIDDLE SCHOOL
SISTERS, OR
BERNICE AYER MIDDLE SCHOOL
SAN CLEMENTE, CA
CANTERBURY SCHOOL
GREENSBORO, NC
ST JOHNS PUBLIC SCHOOLS
SAINT JOHNS, MI
GRANT FAIR
EAST CALAIS, VT
NAPERVILLE N HIGH SCHOOL
NAPERVILLE, IL
SPRING CREEK MIDDLE SCHOOL
SPRING CREEK, NV
EAST MILLS MIDDLE SCHOOL
HASTINGS, IA
WEST MIDDLE SCHOOL
MOUNT GILEAD, NC
CREATIVE KIDS
CHARLOTTE, NC
ROSSVILLE HIGH SCHOOL
ROSSVILLE, IN
HEATHER HALLOCK
CORPUS CHRISTI, TX
HILLTOP HIGH SCHOOL
WHITECOURT, AB CANADA
MAPLE CREEK MIDDLE SCHOOL
FT WAYNE, IN
ST PIUS X SCHOOL
TECUMSEH, ON, CANADA
WEST CENTRAL MIDDLE SCHOOL
STRONGHURST, IL
ST MARY'S SCHOOL
BELLEVUE, NE
HOLY ANGELS SCHOOL
DAYTON, OH
OUR LADY OF THE ASSUMPTION
CALGARY, AB, CANADA
WILLIAM H BARTON INTERMEDIATE
QUEENSBURY, NY
FRANKLIN JUNIOR HIGH
FRANKLIN, OH
ST MARY SCHOOL
LAKE LEELANAU, MI
JACKSONVILLE THEATRE GUILD
JACKSONVILLE, IL
O W BEST MIDDLE SCHOOL
DEARBORN HEIGHTS, MI
WATERFORD HIGH SCHOOL
WATERFORD, OH
JEWISH COMMUNITY ASSOCIATION
AUSTIN, TX
RUSSELLVILLE MIDDLE SCHOOL
RUSSELLVILLE, AL
SCHUYLERVILLE CMNTY THEATER
SCHUYLERVILLE, NY
SPINDRIFT SCHOOL
PACIFICA, CA
HUNTER ELEMENTARY SCHOOL
RALEIGH, NC
ST CHARLES BORROMEO CATHOLIC
PICAYUNE, MS
NEW KENT MIDDLE SCHOOL
NEW KENT, VA
HAZELBROOK MIDDLE SCHOOL
TUALATIN, OR
SAFETY HARBOR MONTESSORI ACAD
CLEARWATER, FL
O M IRWIN MIDDLE SCHOOL
SWIFT CURRENT, SK, CANADA
REDEEMER LUTHERAN SCHOOL
SALT LAKE CITY, UT
FORTS FERRY ELEMENTARY SCHOOL
LATHAM, NY
OUR LADY OF THE LAKES
WATERFORD, MI
ARNOLD PUBLIC SCHOOLS
ARNOLD, NE
PEMBROKE PINES CHARTER SCHOOL
PEMBROKE PINES, FL
ST. MARY OF MOKENA SCHOOL
MOKENA, IL
SEAMAN MIDDLE SCHOOL
TOPEKA, KS
HILLCREST ELEMENTARY SCHOOL
OREM, UT
PLYMOUTH CMNTY ARTS COUNCIL
PLYMOUTH, MI
Close
Different versions of the
same or similar story:
Other titles
you may like:
Other products you might be interested in:
Childsplay
Scenes and monologues come from such plays and films as The Diary of Anne Frank, Brighton Beach Memoirs, The Secret Garden and most appropriately, from writings by children themselves.
Stage Makeup
Filled with large color photographs and actors' design sketches, this gorgeous book will help you acquire the essential skills for doing period makeup, age makeup and special effects applications.