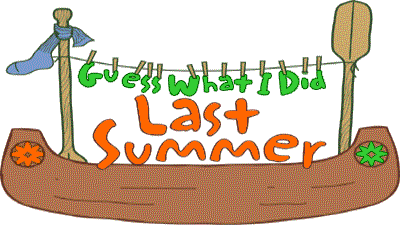 A One-Act Musical Comedy

Book by Tim Kelly
Music and lyrics by Bill Francoeur
It's a mess, what a mess, everybody's under stress! And still they come to summer camp! Those goofy dudes from Camp John Smith take refuge in an exclusive resort for girls, and, before they're through, both places are tottering on the edge of disaster. Totally! Runaways, spoiled campers, poison ivy, confused health inspectors and even a moth-eaten buffalo mix in with the madcap action. Since both camps are deemed "unfit for teenage habitation," what's to be done? And what great songs: "Gentlemen of John Smith," "Poison Ivy Blues" and the completely hilarious "The Mo Sisters." Shirts are available for Camp Pocahontas and Camp John Smith — call for details.)
Additional products available:
Director's book: $20.00
Piano score: $20.00
Vocal score: $8.00
Production-rehearsal CD set: $65.00
CD sampler I: $4.00
DVD of amateur performance: $10.00

Use this script sample — including the cast list, production notes and several pages of the actual script — to help you select your next show. It is open in a new browser tab or window. To open it again, please click here.
Close
ST JOHN VIANNEY SCHOOL
GRAND RAPIDS, MI
EUREKA ELEMENTARY SCHOOL
KEYSVILLE, VA
HASLETT MIDDLE SCHOOL
HASLETT, MI
ANAHEIM UNION HS DISTRICT
ANAHEIM, CA
NASHWAUK-KEEWATIN HIGH SCHOOL
MASHWAUK, MN
WOODLANDS CHRISTIAN ACADEMY
CONROE, TX
LIBERTY PUBLIC SCHOOLS
MOUNDS, OK
MT OLIVE LUTHERAN SCHOOL
APPLETON, WI
ST MARTIN LUTHERAN SCHOOL
CLINTONVILLE, WI
HOLY TRINITY SCHOOL
AVON, OH
TIFFANY SHANNON PRODUCTIONS
CHESTER, MD
UNIV CNTR FOR PERFORMING ARTS
DAVIE, FL
PLEASANTDALE SCHOOL
ESTEVAN, SK, CANADA
COMMODORE PERRY SCHOOL DIST
HADLEY, PA
MEMORIAL OPERA HOUSE
VALPARAISO, IN
SAINT JOSEPH SCHOOL
ROUND LAKE, IL
KIDZ THEATRE KOMPANY
FENTON, MI
EAST SIDE ELEMENTARY
EDINBURGH, IN
ST BENEDICT SCHOOL
JOHNSTOWN, PA
ST FRANCIS SOLANUS SCHOOL
QUINCY, IL
INNERKIP CENTRAL PUBLIC SCHOOL
INNERKIP, ON, CANADA
ROCKY MOUNTAIN THEATRE
BOULDER, CO
SOUTH MIAMI K-8 CENTER
MIAMI, FL
CLAIBORNE HIGH SCHOOL
NEW TAZEWELL, TN
PITMAN MIDDLE SCHOOL
PITMAN, NJ
PINEWOOD SCHOOL MIDDLE CAMPUS
LOS ALTOS, CA
CARL SANDBURG MIDDLE SCHOOL
LEVITTOWN, PA
SOUTH MIAMI MIDDLE SCHOOL
MIAMI, FL
BRUNDAGE PARK PLAYHOUSE
RANDOLPH, NJ
CAL YOUNG MIDDLE SCHOOL
EUGENE, OR
OUR LADY OF THE GREENWOOD
GREENWOOD, IN
JEFFERSON MIDDLE SCHOOL
ROCKY FORD, CO
ABIGAIL ADAMS MIDDLE SCHOOL
WEYMOUTH, MA
TOWNSHIP OF LIVINGSTON
LIVINGSTON, NJ
SACRED HEART SCH FOR PERF ARTS
LOUISVILLE, KY
CONCORDIA LUTHERAN SCHOOL
HYATTSVILLE, MD
WEST BOYD SCHOOL
SPENCER, NE
ST BERNARD CATHOLIC SCHOOL
OMAHA, NE
SOUTH DEARBORN MIDDLE SCHOOL
AURORA, IN
JEFFERSON ACADEMY CHARTER SCH
BROOMFIELD, CO
Close
Different versions of the
same or similar story:
Other titles
you may like:
Other products you might be interested in:
Staging Musicals for Young Performers
This step-by-step guidebook starts at the very beginning-selecting a musical, planning your rehearsal schedule, teaching theatrical basics and introducing your chosen musical to the group.
Listen to a clip of every song from the show
Click on a song title to play that sound clip. Click again to pause, or simply click another title to switch songs.
Can't hear the song samples? Click here for a different song format.
Hear what directors and critics are saying:
Guess What I Did Last Summer was one of my favorite plays as I directed it with middle school students. The humor was right at their level. They could just have fun with it. Louise Seekins, Marsh River Theater, Brooks, ME
The action is quick, and the musical interludes are entertaining.

Plays for Children and Young Audiences