By Tim Kelly
CAST: 5M, 7F
SET: One interior set
TIME: About 45 minutes
Script: $6.00

ROYALTY:
$40 First Performance
$40 Each Additional Performance

Baroness Frankenstein has opened her castle to all those who can't cope with the outside world, including a descendant of Dr. Jekyll and Mr. Hyde, a Medusa with snakes in her hair, Vampira, the Mummy, the mad Igor, a Phantom Bride and–the Invisible Man. The castle belongs to an American society matron who sends monthly checks to pay for the staff she imagines is working at the castle. What to do? What else but have the creatures pose as servants. Mrs. Hoople arrives with her young niece and her husband to inspect the premises and discovers her gardener is Igor, the butler is a mummy, the cleaning woman is a vampire and the Monster is stretched out on the dining table! The highlight takes place when a werewolf fights the Invisible Man in full view of the audience!
Additional products available:

Production Photos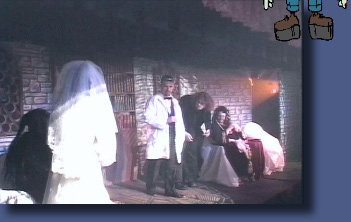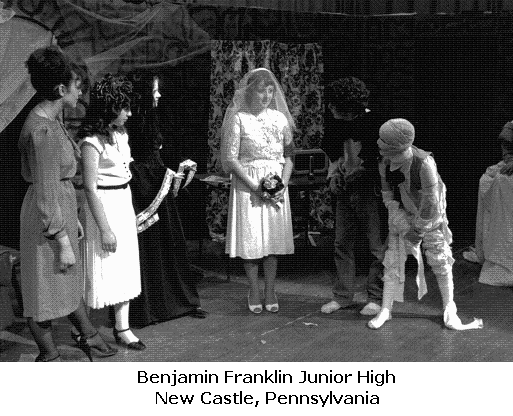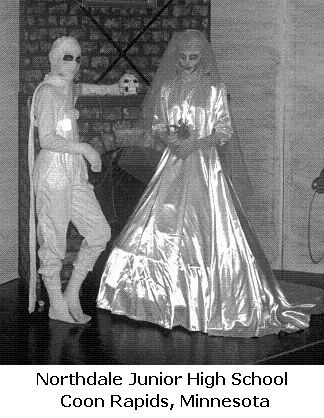 Use this script sample — including the cast list, production notes and several pages of the actual script — to help you select your next show. It is open in a new browser tab or window. To open it again, please click here.
Close
PERTH-ANDOVER MIDDLE SCHOOL
PERTH-ANDOVER, NB CANADA
DARA TAYLOR
EL SOBRANTE, CA
SOUTHWEST HIGH SCHOOL
BARTLEY, NE
PARADISE HILL SCHOOL
PARADISE HILL, SK CANADA
ROSWELL ADULT REC CENTER
ROSWELL, GA
KECOUGHTAN HIGH SCHOOL
HAMPTON, VA
CENTRAL HIGH SCHOOL
WARTBURG, TN
YOUNG ARTISTS ENSEMBLE
THOUSAND OAKS, CA
FAIRVIEW HIGH SCHOOL
CULLMAN, AL
CITY OF WESTERVILLE PARKS AND
WESTERVILLE, OH
MENASHA HIGH SCHOOL
MENASHA, WI
MILL ROAD SCHOOL PTA
RED HOOK, NY
FLOYD LIGHT MIDDLE SCHOOL
PORTLAND, OR
HARMONY TOWNSHIP SCHOOL
PHILLIPSBURG, NJ
LYON MIDDLE SCHOOL
OVERTON, NV
PLAINVIEW HIGH SCHOOL
RAINSVILLE, AL
CENTRAL ACADEMY
MACON, MS
ITUNA SCHOOL
ITUNA, SK, CANADA
VALLEY SPRINGS MIDDLE SCHOOL
ARDEN, NC
OUR SAVIOUR LUTHERAN SCHOOL
HOUSTON, TX
SOROPTIMIST INTL OF HAYS
HAYS, KS
EAGLETON MIDDLE SCHOOL
MARYVILLE, TN
GLENWOOD LEADERSHIP ACADEMY
EVANSVILLE, IN
FIRST LUTHERAN HIGH SCHOOL
SYLMAR, CA
MOUNT PROSPECT PARK DISTRICT
MOUNT PROSPECT, IL
ELSINORE MIDDLE SCHOOL
LAKE ELSINORE, CA
SHADOWLAND THEATRE
ELLENVILLE, NY
MARPLE-NEWTOWN PLAYERS
BROOMALL, PA
TALOGA PUBLIC SCHOOL
TALOGA, OK
TOMBSTONE REPERTORY THEATRE
TOMBSTONE, AZ
COOSA HIGH SCHOOL
ROME, GA
MCINTOSH COUNTY ACADEMY HS
DARIEN, GA
LAUREL SCHOOL
SAN FRANCISCO, CA
BRADFORD CENTRAL SCHOOL DIST
BRADFORD, NY
MADISON HIGH SCHOOL
REXBURG, ID
EUNICE PUBLIC SCHOOLS
EUNICE, NM
PARKER JUNIOR HIGH SCHOOL
FLOSSMOOR, IL
EMERY HIGH SCHOOL
CASTLE DALE, UT
ST CLAIR COMMUNITY COLLEGE
PORT HURON, MI
WEST GREENE HIGH SCHOOL
MOSHEIM, TN
PINE RIVER AREA SCHOOL
LEROY, MI
VOLCANO SCHL OF ARTS & SCIENCE
VOLCANO, HI
SAINTS PETER & PAUL SCHOOL
CARY, IL
RIVER HIGH SCHOOL
HANNIBAL, OH
ST GREGORY SCHOOL
MARYVILLE, MO
HOLY REDEEMER SCHOOL
MARSHALL, MN
Close
Different versions of the
same or similar story:
Other titles
you may like:
Other products you might be interested in:
Drama Games and Improvs
Select from more than 134 games adaptable to all age groups. Within the book's 30 units are 74 lessons covering all elements of drama.
Get in the Act!
There are 60 original short scripts for laughter and scripts for pathos. They create an awareness of the perils of passage as teens reach for adulthood. It's ideal for any school theatre library.
Hear what directors and critics are saying:
The actors had as much fun as the audience!
Frankenstein Slept Here was a huge success and so much fun to a part of. It gave the characters a chance to get zany with their roles. We are considering doing it again. Glaphry E. Duff, Council of the Arts, Cool, CA