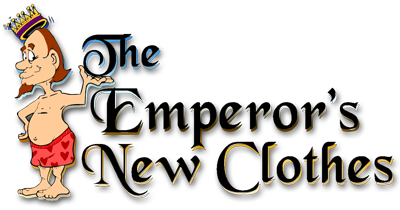 Adapted by Karen Boettcher-Tate
CAST: 7M, 8F, plus 4 roles that can be either, optional extras
SET: Simple set
TIME: About 60 minutes
Script: $6.25

ROYALTY:
$45 First Performance
$45 Each Additional Performance

The kingdom of Glump has been taxed to abstraction ever since their emperor became a pampered clothes horse with a lack of taste! Not only is he an egotistical hypochondriac, he has three "lovely" daughters who are quickly becoming chips off the old blockhead. The emperor and his family are so busy mismatching their wardrobe, the rest of the kingdom is in a shambles. Enter two con artists who devise an ingenious plan for fleecing the emperor. Their pitch: a magic cloth which appears invisible to people unworthy of their position. Naturally, everyone chooses to "see" the magic cloth, until the innocent candor of a child "reveals all." The emperor is shamed into reforming his leadership role in society, and his spoiled daughters learn a valuable lesson in humility. Based on the tale by Hans Christian Andersen.
Additional products available:

Production Photos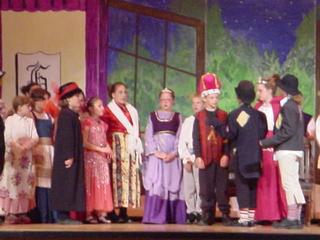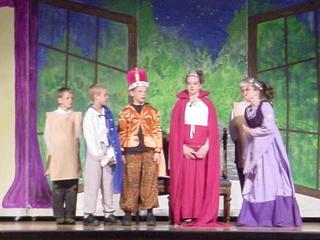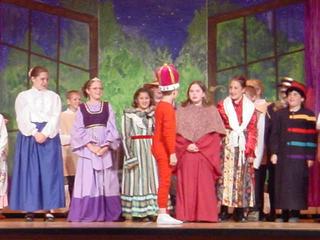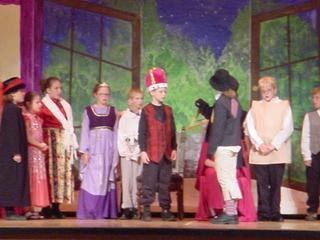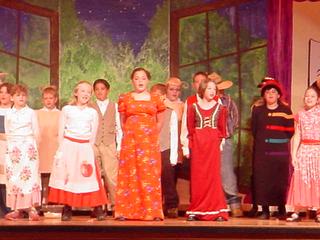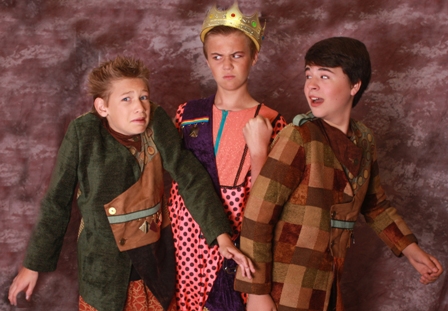 Use this script sample — including the cast list, production notes and several pages of the actual script — to help you select your next show. It is open in a new browser tab or window. To open it again, please click here.
Close
JANET HATFIELD
MILLGROVE, ON CANADA
CARBON HILL ELEM/JHS
CARBON HILL, AL
TRAVERSE CITY WEST SR HS
TRAVERSE CITY, MI
CAMDEN COUNTY HIGH SCHOOL
KINGSLAND, GA
JACK STEELE
CUYAHOGA FALLS, OH
MARTIN LUTHER COLLEGE FORUM
NEW ULM, MN
SCHAUMBURG PARK DISTRICT
SCHAUMBURG, IL
VERNON HIGH SCHOOL
VERNON, FL
OSWEGO HIGH SCHOOL
OSWEGO, IL
MCKINNEY REPERTORY THEATRE
MCKINNEY, TX
NORTH PULASKI HIGH SCHOOL
JACKSONVILLE, AR
ELLIS MIDDLE SCHOOL
ELGIN, IL
BEAUFORT HIGH SCHOOL
BEAUFORT, SC
TREEHOUSE FOR CREATIVE KIDS
ASHBURN, VA
ST MARY ACADEMY
DOVER, NH
DOWNTOWN ANTIOCH PRODUCTIONS
ANTIOCH, CA
YOUNG PEOPLE'S THEATRE GUILD
DEFIANCE, OH
HOLY TRINITY SCHOOL
SOUTH ST. PAUL, MN
SALLIE B HOWARD SCHOOL
WILSON, NC
SACRED HEART CATHEDRAL SCHOOL
KNOXVILLE, TN
TRINITY LUTHERAN SCHOOL
ROSELLE, IL
WASHINGTON PARK HIGH SCHOOL
RACINE, WI
BOYS/GIRLS CLUB OF
MILFORD, NH
JACKSONVILLE THEATRE GUILD
JACKSONVILLE, IL
CHESAPEAKE MONTESSORI SCHOOL
ANNAPOLIS, MD
PALM DESERT CHARTER MIDDLE SCH
PALM DESERT, CA
DERBY USD 260
DERBY, KS
FRONTIER MIDDLE SCHOOL
HAMBURG, NY
CHARLTON HEIGHTS ELEMENTARY
BALLSTON LAKE, NY
STEEL BEAM THEATRE
ST CHARLES, IL
HAILE MIDDLE SCHOOL
BRADENTON, FL
LAS POSITAS COLLEGE
LIVERMORE, CA
WASHBURN ELEMENTARY SCHOOL
WASHBURN, ME
WM E DOAR JR PUBLIC CHARTER
WASHINGTON, DC
BERKNER HIGH SCHOOL
RICHARDSON, TX
SANTA ROSA CHRISTIAN SCHOOL
SANTA ROSA, CA
HERITAGE HIGH SCHOOL
MARYVILLE, TN
BYRON CENTER CHRISTIAN SCHOOL
BYRON CENTER, MI
PINE CREST SCHOOL NORTHRIDGE
NORTHRIDGE, CA
EL CAMPANIL THEATRE
ANTIOCH, CA
SLAVENS K-8 SCHOOL
DENVER, CO
FRANCIS HOWELL NORTH HS
SAINT CHARLES, MO
SPOTLIGHT YOUTH THEATRE
WAYNESVILLE, NC
AURORA PLAYERS INC
EAST AURORA, NY
Close
Different versions of the
same or similar story:
Other titles
you may like:
Other products you might be interested in:
On Stage! Short Plays for Acting Students
These short one-act plays are easily adaptable to classroom or stage performance. With small cast plays, monologs and duologs, here is a versatile source book for many uses.
On With the Show!
This straight-forward guide — which is really three books in one — gives you the tools to work more effectively and efficiently toward the final production.
Hear what directors and critics are saying:
Flexible casting. Humorous characters. Easy to stage. Had some artistic challenges for my actors.
Elementary-aged children would especially enjoy seeing this play, while actors, looking for good character roles, would enjoy its production.

Children's Book and Play Review
The techniques are very effective.

Plays for Children and Young Audiences